Dr. Michael Taylor
Co-Leader, Brain Cancer TRI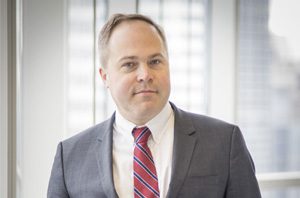 Dr. Michael Taylor is a paediatric neurosurgeon and senior scientist at the Hospital for Sick Children. He co-leads OICR's Brain Cancer Translational Research Initiative.
Dr. Taylor's laboratory focuses on the genetics of paediatric medulloblastoma and ependymoma, two of the most common malignant paediatric brain tumours. Through a better understanding of the molecular biology of these tumours, Dr. Taylor's lab hopes to devise novel, more effective treatment strategies.
Dr. Taylor is also a principal investigator at the Arthur and Sonia Labatt Brain Tumour Research Centre. He has appointments at the Developmental & Stem Cell Biology Program at the SickKids Research Institute, the Department of Surgery at the University of Toronto and the Department of Laboratory Medicine and Pathobiology at the University of Toronto.
Current affiliations
Co-Leader, Brain Cancer Translational Research Initiative;
Staff Neurosurgeon, The Hospital for Sick Children;
Professor, Surgery, University of Toronto;
Senior Scientist, The Hospital for Sick Children.
Research interests
Brain cancer;
Cancer genetics;
Ependymoma;
Meduloblastoma;
Molecular biology;
Neurosurgery;
Pediatrics.
Select publications
Garzia L, Kijima N, Morrissey AS, De Antonellis P, Guerreiro-Stucklin A, Holgado BL, Wu X, Wang X, Parsons M, Zayne K, Manno A, Kuzan-Fisher C, Nor C, Donovan LK, Lui J, Qin L, Garancher A, Liu KW, Mansouri S, Luu B, Thompson YY, Ramaswamy V, Peacock J, Farooq H, Skowron P, Shih DJH, Li A, Ensan S, Robbins CS, Cybulsky M, Mitra S, Ma Y, Moore R, Mungall A, Cho YJ, Weiss WA, Chan JA, Hawkins CE, Massimino M, Jabado N, Zapatocky M, Sumeraurer D, Bouffet E, Dirks P, Tabori U, Sorenson PHB, Brastianos PK, Aldape K, Jones SJM, Marra MA, Woodgett JR, Wechsler-Reya RJ, Fults DW, Taylor MD.
A Hematogenous Route for Medulloblastoma Leptomeningeal Metastases.
Cell. 2018; 173(6):1549.
Mack SC, Pajtler KW, Chavez L, Okonechnikov K, Bertrand KC, Wang X, Erkek S, Federation A, Song A, Lee C, Wang X, McDonald L, Morrow JJ, Saiakhova A, Sin-Chan P, Wu Q, Michaelraj KA, Miller TE, Hubert CG, Ryzhova M, Garzia L, Donovan L, Dombrowski S, Factor DC, Luu B, Valentim CLL, Gimple RC, Morton A, Kim L, Prager BC, Lee JJY, Wu X, Zuccaro J, Thompson Y, Holgado BL, Reimand J, Ke SQ, Tropper A, Lai S, Vijayarajah S, Doan S, Mahadev V, Minan AF, Grobner SN, Liehard M, Zapatka M, Huang Z, Aldape KD, Carcaboso AM, Houghton PJ, Keir ST, Milde T, Witt H, Li Y, Li CJ, Bian XW, Jones DTW, Scott I, Singh SK, Huang A, Dirks PB, Bouffet E, Bradner JE, Ramaswamy V, Jabado N, Rutka JT, Northcott PA, Lupien M, Lichter P, Korshunov A, Scacheri P, Pfister SM, Kool M, Taylor MD, Rich JN.
Therapeutic targeting of ependymoma as informed by enhancer profiling.
Nature. 2018; 553(7686):101-105.
Northcott PA, Buchhalter I, Morrissey AS, Hovestadt V, Weischenfeldt J, Ehrenberger T, Grobner S, Segura-Wang M, Zichner T, Rudneva VA, Warnatz HJ, Sidiropoulos N, Phillips AH, Schumacher S, Kleinheinz K, Waszak SM, Erkek S, Jones DTW, Worst BC, Kool M, Zapatka M, Jager N, Chavez L, Hutter B, Bieg M, Paramasivam N, Heingold M, Gu Z, Ishaque N, Jager-Schmidt C, Imbusch CD, Jugold A, Hubschmann D, Risch T, Amstislavskiy V, Gonzalez FGR, Weber UD, Wolf S, Robinson GW, Zhou X, Wu G, Finkelstein D, Lui Y, Cavalli FMG, Luu B, Ramaswamy V, Wu X, Koster J, Ryzhova M, Cho YJ, Pomeroy SL, Herold-Mende C, Schuhmann M, Ebinger M, Liau LM, Mora J, McLendon RE, Jabado N, Kumabe T, Chuah E, Ma Y, Moore RA, Mungall AJ, Mungall KL, Thiessen N, Tse K, Wong T, Jones SJM, Witt O, Milde T, Von Deimling A, Capper D, Korshunov A, Yaspo ML, Kriwacki R, Gajjar A, Zhang J, Beroukhim R, Freaenkel E, Korbel JO, Brors B, Schlesner M, Eils R, Marra MA, Pfister SM, Taylor MD, Lichter P.
The whole-genome landscape of medulloblastoma subtypes.
Nature. 2017;547(7663):311-317.
Cavalli FMG, Remke M, Rampasek L, Peacock J, Shih DJH, Luu B, Garzia L, Torchia J, Nor C, Morrissy AS, Agnihotri AS, Thompson YY, Kuzan-Fischer CM, Farooq H, Isaev K, Daniels C, Cho BK, Kim SK, Wang KC, Lee JY, Grajkowska WA, Perek-Polnik M, Vasiljevic A, Faure-Conter C, Jouvet A, Giannini C, Nageswara Rao AA, Li KKW, Ng HK, Eberhart CG, Pollack IF, Hamilton RL, Gillespie GY, Olson JM, Leary S, Weiss WA, Lach B, Chambless LB, Thompson RC, Cooper MK, Vibhaker R, Hauser P, van Veelen MC, Kros JM, French PJ, Ra YS, Kumabe T, Lopez-Aguilar E, Zitterbart K, Sterba J, Finocchiaro G, Massimino M, Van Meir EG, Osuka S, Shofuda T, Klekner A, Zollo M, Leonard JR, Rubin JB, Jabado N, Albrecht S, Mora J, Van Meter TE, Jung S, Morre AS, Hallahan AR, Chan JA, Tirapelli DPC, Carlotti CG, Fouladi M, Pimental J, Faria CC, Saad AG, Massimi L, Liau LM, Wheeler H, Nakamura H, Elbabaa SK, Perezpena-Diazconti M, Chico Ponce de Leon, Robinson S, Zapotocky M, Lassaletta A, Huang A, Hawkins CE, Tabori U, Bouffet E, Bartels U, Dirks PB, Rutka JT, Bader GD, Reimand J, Goldenberg A, Ramaswamy V, Taylor MD.
Intertumoral Heterogeneity within Medulloblastoma Subgroups.
Cancer Cell. 2017;31(6):737-754.e6.
Morrissy AS, Cavalli FMG, Remke M, Ramaswamy V, Shih DJH, Holgado BL, Farooq H, Donovan LK, Garzia L, Agnihotri S, Kiehna EN, Mercier E, Mayoh C, Papillion-Cavanagh S, Nikbakht H, Gaydin T, Torchia J, Picard D, Merino DM, Luu B, Wu X, Horswell S, Thompson YY, Hovestadt V, Northcott PA, Jones DTW, Peacock J, Wang X, Mack SC, Reimand J, Albrecht S, Fontebasso A, Thiessen N, Li Y, Schein JE, Lee D, Carlsen R, Mayo M, Tse K, Tam A, Dhala N, Ally A, Chuah E, Cheng Y, Plettner P, Li HI, Corbett RD, Wong T, Long W, Loukides J, Buczkowicz P, Hawkins CE, Tabori U, Rood BR, Myseros JS, Packer RJ, Korshunov A, Lichter P, Kool M, Pfister SM, Schuller U, Dirks P, Huang A, Bouffet E, Rutka JT, Bader GD, Swanton C, Ma Y, Moore RA, Mungall AJ, Majewski J, Jones SJM, Das S, Malkin D, Jabado N, Marra MA, Taylor MD.
Spatial Heterogeneity in medulloblastoma.
Nat Genet. 2017;49(5):780-788.
Morrissy AS, Garzia L, Shih DJH, Zuyderduyn S, Huang X, Skowron P, Remke M, Cavalli FMG, Ramaswamy V, Lindsay P, Jelveh S, Donovan LK, Wang X, Luu B, Zayne K, Li Y, Mayoh C, Thiessen N, Mercier E, Mungall KL, Yusanne M, Tse K, Zeng T, Shumansky K, Roth AJL, Shah S, Farooq H, Kijima N, Holgado BL, Lee JJY, Matan-Lithwick S, Liu J, Mack SC, Manno A, Michaelraj KA, Nor C, Peacock J, Qin L, Reimand J, Rolider A, Thompson YY, Wu X, Pugh T, Ally A, Bilenky M, Butterfied YSN, Carlsen R, Cheng Y, Chuah E, Corbett RD, Dhalla N, He A, Lee D, Li HI, Long W, Mayo M, Plettner P, Qian JQ, Schein JE, Tam A, Wong T, Birol I, Zhao Y, Faria CC, Pimentel J, Bendel AE, Fults DW, Walter AW, Kumabe T, Tominaga T, Collins VP, Cho YJ, Hoffman C, Lyden D, Wisoff J, Garvin JH, Stearns DS, Massimi L, Schuller U, Sterba J, Zitterbart K, Puget S, Ayrault O, Dunn SE, Tirapelli DPC, Carlotti CG, Wheeler H, Hallahan AR, Ingram W, MacDonald TJ, Olson JJ, Van Meir EG, Lee JY, Wang KC, Kim SK, Cho BK, Pietsch T, Fleischack G, Tippelt S, Ra YS, Bailey S, Lindsay JC, Clifford SC, Eberhart CG, Cooper MK, Packer R, Massimino M, Garre ML, Bartels U, Tabori U, Hawkins C, Dirks P, Bouffet E, Rutka JT, Wechsler-Reya RJ, Weiss WA, Collier LS, Dupuy AJ, Korshunov A, Jones DTW, Kool M, Northcott PA, Pfister SM, Largaespada DA, Mungall AJ, Moore RA, Jabadao N, Bader GD, Jones JM, Malkin D, Marra MA, Taylor MD.
Divergent clonal selection dominates medulloblastoma at recurrence.
Nature. 2016; 529(7586):351-7.
Ramaswamy V, Hielscher T, Mack SC, Lassaletta A, Lin T, Pajtler KW, Jones DTW, Luu B, Cavalli FMG, Aldape K, Remke M, Mynarek M, Rutkowski S, Gururangan S, McLendon RE, Lipp ES, Dunham C, Hukin J, Eisenstat D, Fulton D, van Landeghem FKH, Santi M, van Veelen MLC, Van Meir EG, Osuka S, Fan X, Muraszko KM, Tirapelli DPC, Oba-Shinjo SM, Marie SKN, Carlotti CG, Lee JY, Rao N, Giannini C, Faria CC, Nunes S, Mora J, Hamilton RL, Hauser P, Jabado N, Petrecca K, Jung S, Massimi L, Zollo M, Cinalli G, Laszlo B, Klekner A, Hortobagyi T, Leary S, Ermoian RP, Olson JM, Leonard JR, Gardner C, Grajkowska WA, Chambless LB, Cain J, Eberhart CG, Ahsan S, Masssimino M, Giangaspero F, Buttareli FR, Packer RJ, Emery L, Yong WH, Soto H, Liau LM, Everson R, Grossbach A, Shalaby T, Grotzner M, Karajannis MA, Zagzag D, Wheeler H, von Hoff K, Alonso MM, Tunon T, Schuller U, Zitterbart K, Sterba J, Chan JA, Guzman M, Elbabaa SK, Colman H, Dhall G, Fisher PG, Fouladi M, Gajjar A, Goldman S, Hwang E, Kool M, Ladha H, Vera-Bolanos E, Wani K Lieberman F, Mikkelson T, Omuro AM, Pollack IF, Prados M, Robins HI, Soffietti R, Wu J, Metellus P, Tabori U, Bartels U, Bouffet E, Hawkins CE, Rutka JT, Dirks PB, Pfister SM, Merchant TE, Gilbert MR, Armstrong TS, Korshunov A, Ellison DW, Taylor MD.
Therapeutic Impact of Cytoreductive Surgery and Irradiation of Posterior Fossa Ependymoma in the Molecular Era: A Retrospective Multicohort Analysis.
J Clin Oncol. 2016; 34(21):2468-77.
See Dr. Taylor's recent publications on PubMed or on Google Scholar.
Awards
Canadian Cancer Society, William E. Rawls Prize, 2015;
The Hospital for Sick Children and the University of Toronto, Garron Family Endowed Chair in Childhood Cancer Research, 2013;
George-Armstrong Peters Research Award for Research Excellence in Surgery, 2011;
Royal College of Physicians and Surgeons of Canada, Gold Medal in Surgery, 2010;
Canadian Institutes of Health Research, Clinician-Scientist Phase II Award, 2007, 2010;
Canadian Cancer Society, Young Investigator Award in Biomedical Science, 2009;
Caldwell Partners, Canada's Top 40 Under 40, 2008.
Previous experience
PhD, University of Toronto;
MD, University of Western Ontario.
Opportunities to collaborate
To collaborate with Dr. Taylor, please contact him directly.
Visit OICR's Collaborative Research Resources directory for more opportunities to collaborate with OICR researchers.
Related links
The Hospital for Sick Children Researcher Page – Dr. Michael Taylor
Contact
Dr. Michael Taylor
mdtaylor@sickkids.ca