Dr. Benjamin Haibe-Kains
Associate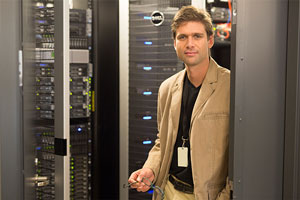 Dr. Haibe-Kains' research focuses on the integration of high-throughput data from various sources to simultaneously analyze multiple facets of carcinogenesis. He and his team are analyzing high-throughput pharmacogenomic datasets to develop new prognostic and predictive models and to discover new therapeutic regimens to improve disease management. Haibe-Kains' main scientific contributions include several prognostic gene signatures in breast cancer, subtype classification models for ovarian and breast cancers, as well as genomic predictors of drug response in cancer cell lines.
Current affiliations
Associate, OICR;
Senior Scientist, Princess Margaret Cancer Centre;
Associate Professor, Department of Medical Biophysics, University of Toronto;
Adjunct Assistant Professor, Department of Computer Science, University of Toronto;
Affiliate, Vector Institute.
Research interests
Bioinformatics;
Computational biology;
Cancer;
Genomics;
Pharmacogenomics;
Machine learning.
Select publications
Haibe-Kains B, El-Hachem N, Birkbak NJ, Jin AC, Beck AH, Aerts HJ, Quackenbush J.
Inconsistency in large pharmacogenomic studies.
Nature. 2013;504(7480):389-93.
Smirnov P, Kofia V, Maru A, Freeman M, Ho C, El-Hachem N, Adam GA, Ba-alawi W, Safikhani Z, Haibe-Kains B.
PharmacoDB: an integrative database for mining in vitro anticancer drug screening studies.
Nucleic Acids Res. 2018;46(D1):D994-D1002.
Safikhani Z, Smirnov P, Thu KL, Silvester J, Lupien M, Mak TW, Cescon D, Haibe-Kains B.
Gene isoforms as expression-based biomarkers predictive of drug response in vitro.
Nat Commun. 2018;9(1):166.
El-Hachem N, Gendoo DM, Soltan Ghoraie L, Safikhani Z, Smirnov P, Chung C, Deng K, Fang A, Birkwood E, Ho C, Isserlin R, Bader G, Goldenberg A, Haibe-Kains B.
Integrative cancer pharmacogenomics to infer large-scale drug taxonomy.
Cancer Res. 2017;77(11):3057-3069.
Aerts HJ, Velazquez ER, Leijenaar RT, Parmar C, Grossmann P, Cavalho S, Bussink J, Monshouwer R, Haibe-Kains B, Rietveld D, Hoebers F, Rietbergen MM, Leemans CR, Dekker A, Quackenbush J, Gillies RJ, Lambin P.
Decoding tumour phenotype by noninvasive imaging using a quantitative radiomics approach.
Nat Commun. 2014;5:4006.
See Dr. Haibe-Kains' recent publications on PubMed or on Google Scholar.
Tools
CrosstalkNet is a web-application focused on exploring the interactions between tumor epithelial and stromal cells in a bipartite graph.
PharmacoDB is a web-application and database enabling efficient mining of a compendium of large pharmacogenomic studies where panels of immortalized cancer cell lines have been screened against hundreds of approved and experimental drug compounds.
More of Dr. Haibe-Kains' tools can be found on his laboratory page.
Patents
Biomarkers for TTK Inhibition, US62/675228, 2018.
Methods and tools for prognosis of cancer in HER2+ patients, WO 2010/118782, 2009.
Methods and tools for prognosis of cancer in ER- patients, US 2010/0298160, 2009.
Method and kit for the detection of genes associated with PIK3CA mutation and involved in PI3K/AKT pathway activation in the ER­positive and HER2­ positive subtypes with clinical implications, WO 2009/103790, 2009.
Awards
Canadian Institutes of Health Research – Institute of cancer Research, Canadian Cancer Society, Ontario Institute for Cancer Research, Early Career Researcher Program Award, 2017;
Canadian Institutes of Health Research, New Investigator Award, 2015;
Ministry of Economic Development and Innovation/Ministry of Research & Innovation in Ontario, Early Researcher Award, 2015;
Canadian Cancer Society Research Institute, Junior Investigator Grant Panel Travel Award, 2014;
Committee of the Translational Bioinformatics Conference, Travel Grant, 2012;
National Cancer Institute, Travel Grant, 2011;
European Society for Medical Oncology, Travel Grant, 2010;
Solvay Institutes, Solvay Awards for doctoral research, 2010.
Previous experience
PhD, Computer Science, Université Libre de Bruxelles;
Master's degree, Advanced Studies in Science, Université Libre de Bruxelles;
Master's degree, Bioinformatics, Université Libre de Bruxelles;
BSc, Computer Science, Université Libre de Bruxelles
Opportunities to collaborate
For opportunities to collaborate with Dr. Haibe-Kains, please contact him directly.
Visit OICR's Collaborative Research Resources directory for more opportunities to collaborate with OICR researchers.
Related links
Bioinformatics and Computational Genomics Laboratory of Benjamin Haibe-Kains
University Health Network Researcher Page – Dr. Benjamin Haibe-Kains
University of Toronto, Department of Medical Biophysics Faculty Page – Dr. Benjamin Haibe-Kains
Contact
Dr. Benjamin Haibe-Kains
bhaibeka@uhnresearch.ca
Benjamin.haibe.kains@utoronto.ca
https://www.linkedin.com/in/benhaibekains/
@bhaibeka