Dr. Bret Pearson
Investigator II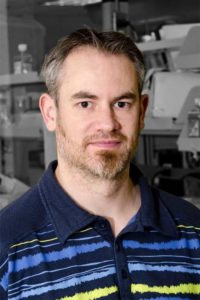 Despite intense research involving embryonic stem cells, relatively little is known about how adult stem cells make their cellular lineages or the ways in which this process can go awry, possibly contributing to the development of diseases such as cancer.
Dr. Bret Pearson's lab is trying to understand the connection between adult stem cells and cancer by using the freshwater planarian as an in vivo model system. Recently, researchers in Pearson's lab have cloned planarian homologs of human disease genes, removed their function in adult stem cells and assayed changes either in the stem cell population or in lineage output. They recently showed that the p53 tumour suppressor pathway also functions in planarian stem cells to promote differentiation while suppressing cell division – similar to how p53 functions in mammals to suppress cancer. This suggests that planarians are a relevant model system to understand human stem cell biology and dysfunction.
Currently, the lab employs both standard and high-throughput approaches to discover new regulators of adult stem cells. Ultimately, Pearson will apply information from these discoveries into therapies designed to target new genes involved in cancer development across a wide array of stem cell driven cancers.
Current affiliations
Investigator II, OICR
Associate Professor, Department of Molecular Genetics, University of Toronto
Senior Scientist, The Hospital for Sick Children (SickKids)
Director, Collaborate Specialization in Developmental Biology, University of Toronto
Research interests
Cancer stem cells
Regeneration
Neurogenesis
Stem cell lineage development
Planarians
Genomics
Select publications
Swapna LS, Molinaro AM, Lindsay-mosher N, Pearson BJ, Parkinson J. Comparative transcriptomic analyses and single-cell RNA sequencing of the freshwater planarian Schmidtea mediterranea identify major cell types and pathway conservation. Genome Biol. 2018; 19(1):124.
Brown DDR, Molinaro AM, Pearson BJ. The planarian TCF/LEF factor Smed-tcf1 is required for the regeneration of dorsal-lateral neuronal subtypes. Dev Biol. 2018; 433(2):374-383.
Molinaro AM, Pearson BJ. Myths vs. FACS: what do we know about planarian stem cell lineages? Int J Dev Biol. 2018; 62(6-7-8):527-535.
He X, Lindsay-mosher N, Li Y, …, Pearson BJ. FOX and ETS family transcription factors regulate the pigment cell lineage in planarians. Development. 2017; 144(24):4540-4551.
Zhu SJ, Pearson BJ. (Neo)blast from the past: new insights into planarian stem cell lineages. Curr Opin Genet Dev. 2016; 40:74-80.
See Dr. Pearson's recent publications on PubMed or on Google Scholar.
Awards
Canadian Institutes for Health Research, Early Career Salary Award, 2015
Ontario Ministry of Research and Innovation, Early Career Award, 2015
Canadian Institutes for Health Research, Early Career Award in Cancer, 2014
OICR, New Investigator Award, 2010
Damon Runyon Image Contest, 2006
Larry Sandler Graduate Thesis Award Runner Up, 2006
Fred Hutchinson Cancer Research Center, Harold M. Weintraub Graduate Research Award, 2005
Previous experience and education
Postdoctoral Fellow, Laboratory of Dr. Alejandro Sánchez Alvarado, Howard Hughes Medical Institute, University of Utah
PhD, Howard Hughes Medical Institute, Laboratory of Dr. Chris Q. Doe, University of Oregon
Research Technician, University of Wisconsin-Madison. Laboratory of Dr. Nansi Jo Colley
Related links
Collaboration
Dr. Pearson welcomes collaboration. Please contact him directly for more information.
For more opportunities to collaborate with OICR researchers, visit OICR's Collaborative Research Resources directory.
Contact
Dr. Bret Pearson
bret.pearson@sickkids.ca