Dr. Craig Earle
Head, Clinical Translation and Director, Health Services Research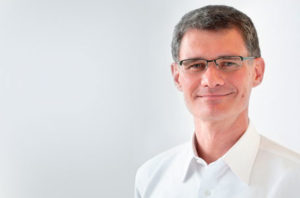 Health Services Research is the study of how the organization and delivery of healthcare can affect the access to care, quality of care, outcomes, and cost. The mission of the OICR/CCO Health Services Research Network is to "provide the knowledge needed to optimize the delivery of cancer services today and to ensure appropriate dissemination of health service innovations and well-evaluated technologies". As leader of the network, Dr. Earle seeks to identify the questions of highest priority to decision-makers related to cancer care delivery, design studies to identify potential solutions and test these interventions in a way that can directly benefit the people of Ontario.
Current affiliations
Head, Clinical Translation, OICR;
Director, Health Services Research, OICR;
Medical Oncologist, Odette Cancer Centre, Sunnybrook;
Cancer Program Lead, Institute for Clinical Evaluative Sciences (ICES);
Professor of Medicine, University of TorontoChair, Ontario Steering Committee for Cancer Drug Programs;
Member, pan-Canadian Oncology Drug Review (pCODR) Expert Review Panel;
Co-chair, Cancer System Quality Index (CSQI) Project Leadership Team.
Research interests
Quality of care;
Health technology assessment;
Healthcare policy;
Knowledge translation.
Select publications
Wright AA, Keating NL, Ayanian JZ, Chrischilles EA, Kahn KL, Ritchie CS, Weeks JC, Earle CC, Landrum MB.
Family Perspectives on Aggressive Cancer Care Near the End of Life.
JAMA. 2016 Jan 19;315(3):284-92
---
Jacobson M, Earle CC, Newhouse JP.
Geographic variation in physicians' responses to a reimbursement change.
N Engl J Med. 2011 Dec;365(22):2049-52. Epub 2011 Nov 2.
---
El Emam K, Hu J, Mercer J, Peyton L, Kantarcioglu M, Malin B, Buckeridge D, Samet S, Earle CC.
A Secure Protocol for Protecting the Identity of Providers when Disclosing Personal Data for Disease Surveillance.
JAMIA. 2011 May;18(3):212-7.
---
Earle CC, Landrum MB, Souza JM, Neville BA, Weeks JC, Ayanian JZ.
Aggressiveness of cancer care near the end of life: is it a quality-of-care issue?
J Clin Oncol. 2008 Aug 10;26(23):3860-6.
---
Earle CC, Neville BA.
Underuse of necessary care among cancer survivors.
Cancer. 2004 Oct;101(8):1712-9
Awards
2016 William J. Sibbald Faculty Mentorship Award;
2015 Fellow of the American Society of Clinical Oncology;
2014 Division of Medical Oncology Quality Improvement Award;
2011 Sunnybrook Health Sciences Centre Senior Investigator Award.
Previous experience and education
Active Staff, Center for Gastrointestinal Oncology, Dana-Farber Cancer Institute, Boston, Massachusetts;
Associate Professor, Harvard Medical School;
Associate Professor, Health Policy and Management, Harvard School of Public Health;
Director, Perini Adult Survivorship Program, Dana-Farber Cancer Institute.
Opportunities to collaborate
Health Services Research is always looking for good ideas to support, particularly for health services intervention studies in the Ontario context.
The Network also supports access to Ontario administrative data for research through a program called 'cd-link'.
Related links
Contact