Dr. David LeBrun
Leader, Ontario Molecular Pathology Research Network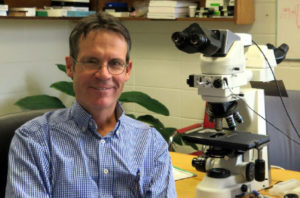 Dr. LeBrun's research group studies perturbations in the regulation of gene transcription that underlie acute lymphoblastic leukemia (ALL). In particular, his group has been elucidating protein-protein interactions and patterns of genomic binding associated with the oncogenic transcription factor E2A-PBX1 (also called TCF3-PBX1). They also perform correlative research aimed at identifying prognostic and predictive biomarkers in malignant lymphoma, particularly follicular lymphoma and diffuse large B-cell lymphoma.
Current affiliations
Principal Investigator, Queen's Cancer Research Institute;
Professor, Department of Pathology and Molecular Medicine, Queen's University;
Academic Director, Queen's Laboratory for Molecular Pathology.
Research interests
Acute lymphoblastic leukemia;
Lymphoma;
Gene transcription;
E2A-PBX1;
Chromatin;
Genomics;
Immunohistochemistry;
Tissue microarrays;
Multi-spectral immunofluorescence;
Gene expression profiling.
Select publications
Weberpals JI, et al:
First application of the Automated Quantitative Analysis (AQUA) technique to quantify PTEN protein expression in ovarian cancer: a correlative study of NCIC CTG OV.16.
Gynecol Oncol, 140(3):486-93, 2016
---
Woodcroft M, et al:
Retrovirus-mediated expression of E2A-PBX1 blocks lymphoid fate but permits retention of myeloid potential in early hematopoietic progenitors.
PLoS One 10(6):e0130495, 2015
---
Alhejaily A, et al:
Inactivation of the CDKN2A tumour suppressor gene by deletion or methylation is common at diagnosis in follicular lymphoma and associated with poor clinical outcome.
Clin Cancer Res, 20(6):1676, 2014
---
Denis CM, et al:
Structural basis of CBP/p300 recruitment in leukemia induction by E2A-PBX1.
Blood 120(19):3968, 2012
Previous experience and education
MD, Queen's University;
Residency, Anatomical Pathology, University of Toronto;
Postdoctoral fellowship in molecular oncology, Stanford University.
Opportunities to collaborate
LeBrun's group is open to many types of collaboration. For example, they have assembled cohorts of cases of follicular lymphoma or diffuse large B-cell lymphoma from their institution. Pre-treatment FFPE biopsy samples are represented on tissue microarrays and baseline and outcome clinical data are available on all cases.
Related links
Queen's Cancer Research Institute – Dr. David LeBrun
Contact