Dr. Eva Grunfeld
Director, Knowledge Translation Research, Health Services Research Program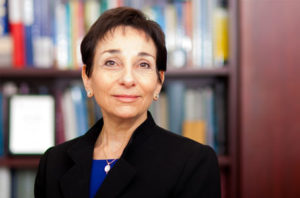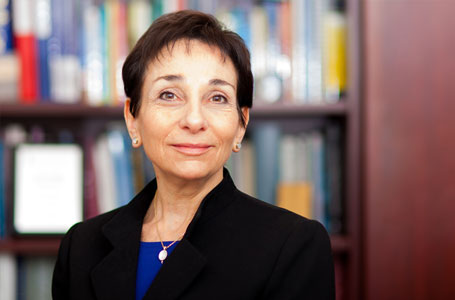 The focus of Dr. Eva Grunfeld's research is the evaluation of access to, and quality of, cancer care across the cancer control continuum – from screening to end-of-life care.
The objective of her research is to understand the complex factors that may limit the application of research within the healthcare system and to find and test ways to overcome them. Her research goal is to accelerate the translation of research into practice so that it is implemented throughout the cancer control system to benefit the population. She is internationally recognized for her knowledge of cancer survivorship and on integration of cancer care.
Current affiliations
Director, Knowledge Translation Research, Health Services Research Program, Cancer Care Ontario and OICR;
Giblon Professor and Vice Chair (Research) Department of Family and Community Medicine, University of Toronto;
Clinician Scientist II, OICR;
Chair, Institute Advisory Board, Institute for Cancer Research, Canadian Institute for Health Research;
Professor, Institute for Health Policy, Management and Evaluation;
Professor, Dalla Lana School of Public Health.
Research interests
Knowledge translation;
Cancer survivorship;
Coordination and quality of cancer care;
Pragmatic clinical trials;
Integration of cancer care.
Select publications
Krzyzanowska MK, Enright K, Moineddin R, Yun L, Powis M, Ghannam M, Grunfeld E.
Can Chemotherapy-Related Acute Care Visits Be Accurately Identified in Administrative Data?
J Oncol Pract. 2018;14(1):e51-e58.
Grunfeld E.
It takes a team: CanIMPACT: Canadian team to improve community-based cancer care along the continuum.
Can Fam Physician. 2016; 62(10):781-782.
Rubin G, Berendsen A, Crawford SM, Dommett R, Earle C, Emery J, Fahey T, Grassi L, Grunfeld E, Gupta S, Hamilton W, Hiom S, Hunter D, Lyratzopoulos G, Macleod U, Mason R, Mitchell G, Neal RD, Peake M, Roland M, Seifert B, Sisler J, Sussman J, Taplin S, Vedsted P, Voruganti T, Walter F, Wardle J, Watson E, Weller D, Wender R, Whelan J, Whitlock J, Wilkinson C, de Wit N, Zimmermann C.
The expanding role of primary care in cancer control.
Lancet Oncol. 2015; 16(12):1231-72.
Grunfeld E, Manca D, Moineddin R, Thorpe KE, Hoch JS, Campbell-Scherer D, Meaney C, Rogers J, Beca J, Krueger P, Mamdani M.
Improving chronic disease prevention and screening in primary care: results of the BETTER pragmatic cluster randomized controlled trial.
BMC Fam Pract. 2013; 14:175.
Grunfeld E, Julian J, Pond G, Maunsell E, Coyle D, Folkes A, Joy A, Provencher A, Rayson D, Rheaume D E, Porter G, Paszat LF, Pritchard K, Robidoux A, Smith S, Sussman J, Dent S, Sisler J, Wiernikowski J, Levine MN.
Evaluating survivorship care plans: results of a randomized clinical trial with breast cancer patients.
J Clin Oncol. 2011;29(36): 4755-62.
See Dr. Grunfeld's recent publications on PubMed or on Google Scholar.
Awards
College of Family Physicians of Canada, Lifetime Achievement Award in Family Medicine Research, 2018;
Department of Family and Community Medicine, University of Toronto, Award for Research Mentorship, 2018;
Department of Family and Community Medicine, University of Toronto, Excellence In Leadership, 2018;
Israel Cancer Research Fund, Scientific Honoree, 2014;
Department of Family and Community Medicine, University of Toronto, Gibon Professorship, 2008 (ongoing);
Dalhousie University, Cameron Chair, 2007-2008;
Cancer Care Nova Scotia, Peggy Davison Cancer Research Scientist, 2004-2008;
Dalhousie University, Senior Clinical Research Scholar, 2004-2008;
Ontario Ministry of Health, Career Scientist (Provincial competition), 1995-2005.
Previous experience
Director, Cancer Outcomes Research, Cancer Care Nova Scotia;
Active Staff, Division of Medical Oncology, Queen Elizabeth II Health Sciences Centre;
Professor and Senior Clinical Scholar, Division of Medical Oncology, Department of Medicine, Dalhousie University, Halifax, Nova Scotia;
Associate Professor and Clinician Scientist, Division of Medical Oncology, University of Ottawa;
Active Staff, Division of Medical Oncology, The Ottawa Hospital;
Fellow, National Cancer Institute of Canada, University of Oxford;
D.Phil., Epidemiology, University of Oxford;
MD, McMaster University, Hamilton.
Opportunities to collaborate
Co-Principal Investigator of Building on Existing Tools to Improve Cancer and Chronic Disease Prevention and Screening in Primary Care for Wellness of Cancer Survivors and Patients: The BETTER WISE Project. Alberta Innovates – Health Solutions Cancer Prevention Research Opportunity. PI: Dr. Donna Manca.
Principal Investigator of the Knowledge Translation Research Network: Implementation of Innovations at OICR.
Principal Investigator of the Canadian Team to Improve Community-Based Cancer Care along the Continuum (CanIMPACT) with the Canadian Institutes of Health Research.
Visit OICR's Collaborative Research Resources directory for more opportunities to collaborate with OICR researchers.
Related links
BETTER: Building on existing tools to improve chronic disease prevention and screening
Dalla Lana School of Public Health Faculty Page – Dr. Eva Grunfeld
Institute of Clinical Evaluative Science Scientist Page – Dr. Eva Grunfeld
Department of Family and Community Medicine (U of T)
Contact information
Julia Baxter
Program Coordinator
family.healthcare@utoronto.ca