Dr. Harriet Feilotter
OICR Associate, Diagnostic Development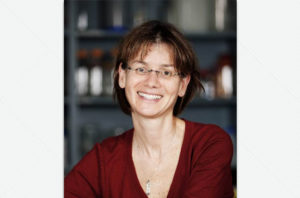 Dr. Harriet Feilotter's research focuses on the development of biomarkers to be used in the screening, diagnosis or treatment of human diseases, including cancer. Because the research laboratory is closely aligned with the clinical genetics laboratory service at Kingston General Hospital, the research in the lab is geared towards clinical applications for targeted biomarkers.
Her research includes the study of DNA, RNA and protein biomarkers in diseases ranging from cancer (breast, brain, melanoma, bladder, colon, CLL) to major depression. In particular, her lab is currently focused on the use of circulating biomarkers such as miRNA and protein species that can be found in the plasma of patients. Profiling these molecules, and then integrating the information from multiple types of biomarkers to provide information about disease state or likely response to therapy, is the primary goal of these studies.
Feilotter's lab makes use of multiple platforms, including next generation sequencing, quantitative mass spectrometry, real time PCR and microarray to generate targeted biomarker data. She also has an emerging interest and focus in informatics, including the proper handling and storage of biomarker data, the preprocessing pipelines required to ensure high quality data and the analytic pipelines needed to deliver an effective clinical tool.
Current affiliations
OICR Associate, Diagnostic Development, OICR;
Chief Scientific Officer, Indoc Research, Ontario Cancer Biomarker Network;
Associate Professor, Dept. of Pathology and Molecular Medicine, Queen's University;
Member, Indoc Research, Ontario Cancer Biomarker Network;
Service Chief, Division of Laboratory Genetics, Kingston General Hospital;
Director, Molecular Genetics Laboratory, Kingston General Hospital;
Associate Member, Cancer Research Institute, Queen's University.
Select publications
Wang, A., Ramjeesingh, R., Chen, C., Hurlbut, D., Hammad, N., Mulligan, L., Nicol, C., Feilotter, H. and Davey, S.
Reduction in membraneous immunostaining of EpCAM-ICD correlates with poor patient outcome in primary colorectal adenocarcinoma.
In press. Current Oncology
---
Abraham, K., Zhang, X., Vidal, R., Pare, G., Feilotter, H. and Tron, V.
Roles for microRNA-375 in neuroendocrine differentiation and tumour suppression via Notch pathway suppression in Merkel cell carcinoma
In press. Am. J. Path
---
Vidal, R., Hawrysh, A., Davey, S. and Feilotter, H.
Eligibility criteria and genetic testing results from a high-risk cohort for hereditary breast and ovarian cancer syndrome in Southeastern Ontario
In press. J Mol Diag
---
Feilotter, H.E., Michel, C., Uy, P., Bathurst, L., and Davey S.
BRCA1 haploinsufficiency leads to altered expression of genes involved in cellular proliferation and development.
PLoS One 9:e100068.
---
Haslehurst AM, Koti M, Dharsee M, Nuin P, Evans K, Geraci J, Childs T, Chen J, Li J, Weberpals J, Davey S, Squire J, Park PC, Feilotter H.
EMT transcription factors snail and slug directly contribute to cisplatin resistance in ovarian cancer.
BMC Cancer. 2012 Mar 19;12:91
Previous experience and education
Genetics Consultant, St. Michael's Hospital, Toronto;
Clinical Chief, Genetics, Laboratory Medicine, Eastern Health, Newfoundland;
Assistant Professor, Dept. of Pathology and Molecular Medicine, Queen's University;
CCMG Fellow, Kingston General Hospital;
PhD research, Dept. of Microbiology, University of Oxford;
PhD candidate, Dept. of Biology, Queen's University;
M.Sc. candidate, Dept. of Biology, Queen's University.