Dr. Janet Dancey
Clinician Scientist I
Scientific Director, Canadian Cancer Clinical Trials Network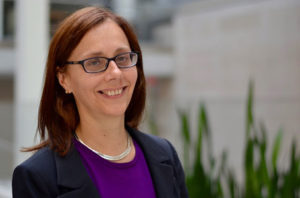 Dr. Janet Dancey is the leader of the Canadian Cancer Clinical Trials Network (3CTN) and the Canadian Cancer Trials Group (CCTG). 3CTN is a pan-Canadian initiative to improve the efficiency and quality of clinical trials in Canada. 3CTN coordinates and supports a network of teams at cancer treatment centres and hospitals to enable sites to increase their capacity and capability to conduct academic-led cancer trials. CCTG is Canada's largest cancer trial network with over 80 centres, 3,100 investigators and trial staff conducting Phase I-III trials of cancer therapeutics.
Current affiliations
Research interests
Experimental therapeutics and biomarkers to improve treatments for patients with cancer;
Clinical trial methodology;
Clinical application of precision medicine strategies.
Select publications
Seymour L, Bogaerts J, Perrone A, Ford R, Schwartz LH, Mandrekar S, Lin NU, Litière S, Dancey J, Chen A, Hodi FS, Therasse P, Hoekstra OS, Shankar LK, Wolchok JD, Ballinger M, Caramella C, de Vries EG; RECIST working group.
iRECIST: guidelines for response criteria for use in trials testing immunotherapeutics.
Lancet Oncol. 2017; 18(3):e143-e152.
Camidge DR, Lee EQ, Lin NU, Margolin K, Ahluwalia MS, Bendszus M, Chang SM, Dancey J, de Vries EGE, Harris GJ, Hodi FS, Lassman AB, Macdonald DR, Peereboom DM, Schiff D, Soffietti R, van den Bent MJ, Wefel JS, Wen PY.
Clinical trial design for systemic agents in patients with brain metastases from solid tumours: a guideline by the Response Assessment in Neuro-Oncology Brain Metastases working group.
Lancet Oncol. 2018; 19(1):e20-e32.

Schwartz LH, Seymour L, Litière S, Ford R, Gwyther S, Mandrekar S, Shankar L, Bogaerts J, Chen A, Dancey J, Hayes W, Hodi FS, Hoekstra OS, Huang EP, Lin N, Liu Y, Therasse P, Wolchok JD, de Vries E.
RECIST 1.1 – Standardisation and disease-specific adaptations: perspectives from the RECIST Working Group.
Eur J Cancer. 2016; 62:138-45.
Boyd N, Dancey JE, Gilks CB, Huntsman DG.
Rare cancers: a sea of opportunity.
Lancet Oncol. 2016; 17(2):e52-e61.
Monzon JG, Hay AE, McDonald GT, Pater JL, Meyer RM, Chen E, Chen BE, Dancey JE.
Correlation of single arm versus randomised phase 2 oncology trial characteristics with phase 3 outcome.
Eur J Cancer. 2015; 51(17):2501-7.
Dancey JE.
Assessing benefit in trials: are we making progress in assessing progression in cancer clinical trials?
Cancer. 2015; 121(11):1728-30.
An MW, Dong X, Meyers J, Han Y, and Response Evaluation Criteria in Solid Tumors Steering Committee.
Evaluating Continuous Tumor Measurement-Based Metrics as Phase II Endpoints for Predicting Overall Survival.
J Natl Cancer Inst. 2015; 107(11).
See Dr. Dancey's publications on PubMed or on Google Scholar.
Previous experience and education
Associate Chief, Investigational Drug Branch, Cancer Therapy Evaluation Program, Division of Cancer Treatment and Diagnosis, National Cancer Institute;
Senior Clinical Investigator, Investigational Drug Branch, Cancer Therapy Evaluation Program, Division of Cancer Treatment and Diagnosis, National Cancer Institute;
Active Staff, Department of Medicine, Division of Hematology/Oncology, The Toronto Hospital/Ontario Cancer Institute/Princess Margaret Cancer Centre;
Clinical Research Fellow, Institut Gustave Roussy. Supervisor: Dr. Thierry Le Chevalier;
Clinical Research Fellow, NCIC Clinical Trials Group. Supervisors: Dr. Joseph L. Pater and Dr. Elizabeth Eisenhauer;
Consultant, Kingston Regional Cancer Clinic;
Lecturer, Faculty of Medicine, University of Toronto;
FRCPC Certification in Medical Oncology;
Medical Oncologist, St. Michael's Hospital, Department of Medicine;
MD, Magna Cum Laude, University of Ottawa.
Opportunities to collaborate
To collaborate with Dr. Dancey, please contact her directly. Visit OICR's Collaborative Research Resources directory for more opportunities to collaborate with OICR researchers.
Related links
Canadian Cancer Clinical Trials Network
Contact
Dr. Janet Dancey
Janet.Dancey@oicr.on.ca