Dr. Janet Dancey
Clinician Scientist I
Scientific Director, Canadian Cancer Clinical Trials Network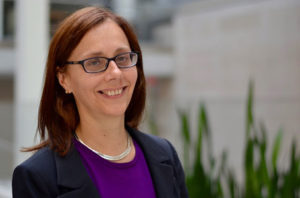 Dr. Janet Dancey is the leader of the Canadian Cancer Clinical Trials Network (3CTN) and the Canadian Cancer Trials Group (CCTG). 3CTN is a pan-Canadian initiative to improve the efficiency and quality of clinical trials in Canada. 3CTN coordinates and supports a network of teams at cancer treatment centres and hospitals to enable sites to increase their capacity and capability to conduct academic-led cancer trials. CCTG is Canada's largest cancer trial network with over 80 centres, 3,100 investigators and trial staff conducting Phase I-III trials of cancer therapeutics.
Current affiliations
Research interests
Experimental therapeutics and biomarkers to improve treatments for patients with cancer;
Clinical trial methodology;
Clinical application of precision medicine strategies.
Select publications
Schwartz LH, Seymour L, Litière S, et al.
RECIST 1.1 – Standardisation and disease-specific adaptations: perspectives from the RECIST Working Group.
Eur J Cancer. 2016 Jul;62:138-45. doi: 0.1016/j.ejca.2016.03.082.
PubMed PMID:27237360.
---
Boyd N, Dancey JE, Gilks CB, Huntsman DG.
Rare cancers: a sea of opportunity.
Lancet Oncol. 2016 Feb;17(2):e52-61. doi: 10.1016/S1470-2045(15)00386-1.
PubMed PMID: 26868354.
---
Monzon JG, Hay AE, McDonald et al.
Correlation of single arm versus randomised phase 2 oncology trial characteristics with phase 3 outcome.
Eur J Cancer. 2015 Nov;51(17):2501-7. doi: 10.1016/j.ejca.2015.08.004.
PubMed PMID: 26338195.
---
Dancey JE.
Assessing benefit in trials: are we making progress in assessing progression in cancer clinical trials?
Cancer. 2015 Jun 1;121(11):1728-30. doi:10.1002/cncr.29084.
PubMed PMID: 25336284.
---
An MW, Dong X, Meyers J, Han Y, and Response Evaluation Criteria in Solid Tumors Steering Committee.
Evaluating Continuous Tumor Measurement-Based Metrics as Phase II Endpoints for Predicting Overall Survival.
J Natl Cancer Inst. 2015 Aug 21;107(11). pii: djv239. doi:10.1093/jnci/djv239.
PubMed PMID: 26296640 | PubMed Central PMCID: PMC4643633.
Previous experience and education
Associate Chief, Investigational Drug Branch, Cancer Therapy Evaluation Program, Division of Cancer Treatment and Diagnosis, National Cancer Institute;
Senior Clinical Investigator, Investigational Drug Branch, Cancer Therapy Evaluation Program, Division of Cancer Treatment and Diagnosis, National Cancer Institute;
Active Staff, Department of Medicine, Division of Hematology/Oncology, The Toronto Hospital/Ontario Cancer Institute/Princess Margaret Cancer Centre;
Clinical Research Fellow, Institut Gustave Roussy. Supervisor: Dr. Thierry Le Chevalier;
Clinical Research Fellow, NCIC Clinical Trials Group. Supervisors: Dr. Joseph L. Pater and Dr. Elizabeth Eisenhauer;
Consultant, Kingston Regional Cancer Clinic;
Lecturer, Faculty of Medicine, University of Toronto;
FRCPC Certification in Medical Oncology;
Medical Oncologist, St. Michael's Hospital, Department of Medicine;
MD, Magna Cum Laude, University of Ottawa.
Related links
Opportunities to collaborate
Contact Dr. Dancey directly with opportunities to collaborate: janet.dancey@oicr.on.ca