Dr. John Bartlett
Program Director, Diagnostic Development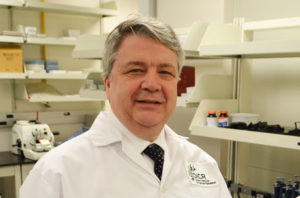 Personalized medicine requires personalized diagnostics. As the impact of the deep molecular characterization of cancer and other diseases is translated into clinical management of patients a new wave of molecular diagnostic tools are emerging. Dr. John Bartlett's research is focused on the development of novel diagnostic approaches to stratified medicine predominantly in breast and prostate cancer. By deep molecular analysis across large clinical cohorts, linked to mechanistic understanding of pathways driving therapeutic resistance, he is developing and validating novel approaches to molecular diagnostics in cancer. These novel approaches will increasingly enable a personalized or stratified treatment approach, in the clinical setting, for cancer patients across Ontario and beyond.
Current affiliations
Program Director, Diagnostic Development, OICR;
Honorary Professor, College of Medicine and Veterinary Medicine, University of Edinburgh;
Provincial Principal Investigator, Ontario Tumour Bank;
Affiliate Scientist, University Health Network, Toronto;
Professor (Status-Only), Department of Laboratory Medicine and Pathobiology, University of Toronto.
Research interests
Breast cancer;
Prostate cancer;
Molecular diagnostics;
Molecular pathology;
Clinical trials;
Targeted therapeutics.
Select publications
Bayani J, Yao CQ, Auintayo MA, Yan F, Haider S, D'Costa A, Brookes CL, van de Velde CJH, Hasenburg A, Kieback DG, Markopoulos C, Dirix L, Seynaeve C, Rea D, Boutros PC, Bartlett JMS.
Molecular stratification of early breast cancer identifies drug targets to drive stratified medicine.
NPJ Breast Cancer. 2017;3:3.
Bartlett JMS, Parelukar W.
Breast cancers are rare diseases-and must be treated as such.
NPJ Breast Cancer. 2017;3:11.
Kalatskaya I, Trinh QM, Spears M, Mcpherson JD, Bartlett JMS, Stein L.
ISOWN: accurate somatic mutation identification in the absence of normal tissue controls.
Genome Med. 2017;9(1):59.
Bartlett JMS, Ahmed I, Regan MM, et al.
HER2 status predicts for upfront AI benefit: A TRANS-AIOG meta-analysis of 12,129 patients from ATAC, BIG 1-98 and TEAM with centrally determined HER2.
Eur J Cancer. 2017;79:129-138.
Cameron D, Morden JP, Canney P, et al.
Accelerated versus standard epirubicin followed by cyclophosphamide, methotrexate, and fluorouracil or capecitabine as adjuvant therapy for breast cancer in the randomised UK TACT2 trial (CRUK/05/19): a multicentre, phase 3, open-label, randomised, controlled trial.
Lancet Oncol. 2017;18(7):929-945.
Cardoso F, Bartlett JMS, Slaets L, et al.
Characterization of male breast cancer: results of the EORTC 10085/TBCRC/BIG/NABCG International Male Breast Cancer Program.
Ann Oncol. 2018;29(2):405-417.
---
Rimm DL, Leung SCY, Mcshane LM, et al.
An international multicenter study to evaluate reproducibility of automated scoring for assessment of Ki67 in breast cancer.
Mod Pathol. 2018; (epub ahead of print).
Dodson A, Parry S, Ibrahim M, et al.
Breast cancer biomarkers in clinical testing: analysis of a UK national external quality assessment scheme for immunocytochemistry and in situ hybridisation database containing results from 199 300 patients.
J Pathol Clin Res. 2018;4(4):262-273.
Lee M, Tayyari F, Pinnaduwage D, et al.
Tumoral BRD4 expression in lymph node-negative breast cancer: association with T-bet+ tumor-infiltrating lymphocytes and disease-free survival.
BMC Cancer. 2018;18(1):750.
Golan T, Stossel C, Atias D, et al.
Recapitulating the clinical scenario of BRCA-associated pancreatic cancer in pre-clinical models.
Int J Cancer. 2018;143(1):179-183.
Le page C, Rahimi K, Köbel M, et al.
Characteristics and outcome of the COEUR Canadian validation cohort for ovarian cancer biomarkers.
BMC Cancer. 2018;18(1):347.
---
Wolff AC, Hammond MEH, Allison KH, et al.
Human Epidermal Growth Factor Receptor 2 Testing in Breast Cancer: American Society of Clinical Oncology/College of American Pathologists Clinical Practice Guideline Focused Update.
J Clin Oncol. 2018;36(20):2105-2122.
---
Brown ER, Bartlett J, Chalulu K, et al.
Development of multi-disciplinary breast cancer care in Southern Malawi.
Eur J Cancer Care (Engl). 2017;26(1).
See Dr. Bartlett's recent publications on PubMed or on Google Scholar.
Previous experience
Reader, University Department of Surgery, Level II Queen Elizabeth Building, Glasgow Royal Infirmary, University of Glasgow;
Reader in Molecular Pathology, School of Molecular and Clinical Medicine, College of Medicine and Veterinary Medicine, The University of Edinburgh;
Professor of Molecular Pathology, School of Molecular and Clinical Medicine, College of Medicine and Veterinary Medicine, The University of Edinburgh.
Opportunities to collaborate
Collaboration is the key to solving the big questions faced by researchers across the cancer spectrum. In Bartlett's program there are opportunities to collaborate through technology access, partnership and mentorship. Bartlett's expertise in diagnostic development and both in situ and deep molecular analysis of clinical specimens provides an ideal platform for partnership with researchers across Ontario, Canada and beyond. Bartlett is always willing to discuss scientific opportunities and solutions (over a coffee!) and to foster a collaborative approach with research and industry partners. For more opportunities to collaborate, please visit OICR's Collaborative Research Resources page.
Related Links
University of Toronto Department of Laboratory Medicine & Pathobiology Faculty Page – Dr. John Bartlett
Contact
William To
Program Manager
william.to@oicr.on.ca