Dr. Jordan Lerner-Ellis
OICR Associate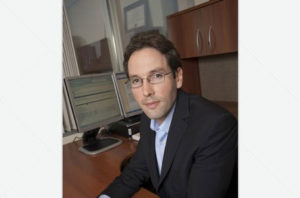 Dr. Jordan Lerner-Ellis is a molecular geneticist who serves as Head of Advanced Molecular Diagnostics at Toronto's Mount Sinai Hospital. His laboratory provides clinical diagnostic services for hereditary breast, ovarian and colon cancer, and other genetic testing areas, for downtown Toronto and the province of Ontario.
His core interest is the application of molecular diagnostics to breast and colon cancer. His research is focused on providing major improvements in the clinical sensitivity of genetic testing through greater reliance on new sequencing technologies. As part of this effort, he and his colleagues are developing a framework for the analysis and identification of a wide range of genetic disorders characterized by late onset and variable penetrance.
Lerner-Ellis is currently looking at the extent to which genomic information can be used in the diagnosis, treatment and prevention of disease. In one study, he is sequencing the exomes of hereditary cancer patients with a view to identifying novel genes and developing improved therapies.
Current affiliations
OICR Associate

, OICR;

Director and Head,

Advanced Molecular Diagnostics, Division of Diagnostic Medical Genetics, Department of Pathology and Laboratory Medicine, Mount Sinai Hospital;

Assistant Professor ,

Laboratory Medicine and Pathobiology, University of Toronto;

Affiliate,

Zane Cohen Centre, Familial Gastrointestinal Cancer Registry, Mount Sinai Hospital.
Select publications
Lerner-Ellis JP
The clinical implementation of whole genome sequencing: a conversation with seven scientific experts.
J Inherit Metab Dis. 2012 Mar 9.
---
Gowrisankar S*, Lerner-Ellis JP*, Cox S, Manion M, LeVan K, Liu J, Iartchouk O, Rehm HL, Funke B.
Evaluation of Next Generation Sequencing of 19 Dilated Cardiomyopathy Genes for Clinical Applications.
J Mol Diagn. 2010 Nov;12(6):818-27.
---
Lerner-Ellis JP, N Anastasia, T Suormala, D Coelho, J Liu, D Watkins, A Loewy, M Baumgartner, T Pastinen, D Rosenblatt, B Fowler.
Spectrum of Mutations in MMACHC, Allelic Expression and Evidence for Genotype-Phenotype Correlations.
Hum Mutation. 2009 Jul;30(7):1072-81. Manuscript.
---
Coelho D, Suormala T, Stucki M, Lerner-Ellis JP, Rosenblatt DS, Newbold RF, Baumgartner MR, Fowler B.
Gene identification for the cblD defect of vitamin B12 metabolism.
N Engl J Med. 2008 Apr 3;358(14):1454-64.
---
Lerner-Ellis JP, Tirone JC, Pawelek P, Dore C, Atkinson J, Watkins D, Morel C, Fujiwara TM, Moras E, Hosack AR, Dunbar GV, Antonicka H, Forgetta V, Dobson C, Leclerc D, Gravel R, Shoubridge EA, Coulton JW, Lepage P, Rommens JM, Morgan K, Rosenblatt DS.
Identification of the gene responsible for methylmalonic aciduria and homocystinuria, cblC type.
Nat Genet. 2006 Jan;38(1):93-100.
Previous experience and education
Clinical Diagnostic R&D Group Leader, Partners Center for Personalized Genetic Medicine & Laboratory for Molecular Medicine, Brigham and Women's Hospital and Harvard Medical School;
Clinical Molecular Fellow, ABMG Clinical Molecular Genetics Training Program, Harvard Medical School;
Clinical Fellow, Partners Center for Personalized Genetic Medicine & Laboratory for Molecular Medicine, Brigham and Women's Hospital and Harvard Medical School;
Postdoctoral Fellow, Molecular Biology, Massachusetts General Hospital, Harvard Medical School.
Postdoctoral Fellow, Medical & Population Genetics, Broad Institute;
Human Genetics, Division of Medical Genetics (MUHC) & Genome Quebec Innovation Centre, McGill University;
Postdoctoral Fellow, Metabolic Unit, Universistät Kinderspitäl Beiter Basel.
Opportunities to collaborate
Dr. Lerner-Ellis welcomes collaboration. Contact him below for more information.
Related links
Lunenfeld-Tanenbaum Research Institute – Dr. Jordan Lerner-Ellis
University of Toronto – Dr. Jordan Lerner-Ellis
Contact
Chelo Shalland
Assistant to Dr. Lerner-Ellis
cshalland@mtsinai.on.ca