Dr. Ken Aldape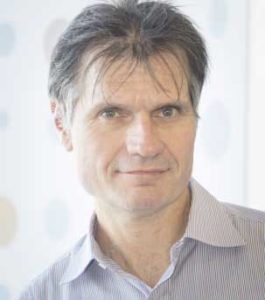 Associate
Dr. Ken Aldape is a neuropathologist and laboratory scientist with research interests in brain tumours and cancer genomics in general. While department chair of pathology at MD Anderson Cancer Center, he prioritized investigational work to translate improvements in diagnosis and outcome, including the integration of next generation sequencing technology in the clinic. He is a neuropathology consultant, and a key reviewer of national and international glioma clinical trials. He is a participant in the World Health Organization panel developing updated guidelines for the classification of brain tumours and spearheads the integration of molecular information in pathology. He is a member of the Ontario Molecular Pathology Research Network (OMPRN), with a mandate to enhance research capacity, collaboration and leadership in cancer pathology at cancer centres in Ontario.
Current affiliations
Member, Steering Committee, Ontario Molecular Pathology Research Network;
Neuropathologist, Senior Scientist, Princess Margaret Cancer Centre;
Director of MacFeeters-Hamilton Neuro-oncology Program;
Professor, Laboratory Medicine and Pathobiology, University of Toronto.
Research interests
Cancer;
Genetics;
Genomics and proteomics;
Glioma;
Clinical trials;
Brain cancer.
Select publications
Agnihotri S, Jalali S, Wilson M, Danesh A, Li M, Klironomos G, Krieger JR, Bruce JP, Mansouri A, Khan O, Mamatjan Y, Landon-Brace N, Tung T, Dowar M, Li T, Burrell KE, Tonge PD, Alamsahebpour A, Krischek B, Agarwalla PK, Bi WL, Dunn I, Beroukhim R, Fehlings MG, Bril V, Pagnotta SM, Iavarone A, Pugh TJ, Aldape KD, Zadeh G.
The genomic landscape of schwannoma.
Nat Genet. 2016; 48(11):1339-1348.
Bhat KP, Balasubramaniyan V, Vaillant B, Ezhilarasan R, Hummelink K, Hollingsworth F, Wani K, Heathcock L, James JD, Goodman LD, Conroy S, Long L, Lelic N, Wang S, Gumin J, Raj D, Kodama Y, Raghunathan A, Olar A, Joshi K, Pelloski CE, Heimberger A, Kim SH, Cahill DP, Rao G, Den Dunnen WF, Boddeke HW, Phillips HS, Nakano I, Lang FF, Colman H, Sulman EP, Aldape K.
Mesenchymal differentiation mediated by NFκB promotes radiation resistance in glioblastoma.
Cancer Cell.2013; 24(3):331-46.
Noushmehr H, Weisenberger DJ, Diefes K, Phillips HS, Pujara K, Berman BP, Pan F, Pelloski CE, Sulman EP, Bhat KP, Verhaak RG, Hoadley KA, Hayes DN, Perou CM, Schmidt HK, Ding L, Wilson RK, Van Den Berg D, Shen H, Bengtsson H, Neuvial P, Cope LM, Buckley J, Herman JG, Baylin SB, Laird PW, Aldape K, Cancer Genome Atlas Research Network.
Identification of a CpG Island Methylator Phenotype that Defines a Distinct Subgroup of Glioma.
Cancer Cell. 2010; 17(5):510-22.
Olar A, Wani KM, Alfaro-Munoz KD, Heathcock LE, van Thuijl HF, Gilbert MR, Armstrong TS, Sulman EP, Cahill DP, Vera-Bolanos E, Yuan Y, Reijneveld JC, Ylstra B, Wesseling P, Aldape KD.
IDH mutation status and role of WHO grade and mitotic index in overall survival in grade II-III diffuse gliomas.
Acta Neuropathol. 2015; 129(4):585-96.
Phillips HS, Kharbanda S, Chen R, Forrest WF, Soriano RH, Wu TD, Misra A, Nigro JM, Colman H, Soroceanu L, Williams PM, Modrusan Z, Feuerstein BG, Aldape K.
Molecular subclasses of high-grade glioma predict prognosis, delineate a pattern of disease progression, and resemble stages in neurogenesis.
Cancer Cell. 2006;9(3):157-73.
See Dr. Aldape's recent publications on PubMed.
Awards
Web of Science Citation Index, H-index of 92, 2015;
Society for Neuro-Oncology, Guha Award for Excellence in Neuro-Oncology Research;
Society for Neuro-Oncology, Levin Award for Contributions to Neuro-Oncology Research;
Society for Neuro-Oncology Annual Meeting, Translational Research Award;
Best Doctors, Best Doctors in America, 2005.
Previous experience and education
Senior Scientist, Princess Margaret Cancer Centre;
Director, MacFeeters-Hamilton Centre for Neuro-Oncology Research;
Section Chief, Neuropathology, Toronto General Hospital;
Director, Translational Genomics Laboratory, OICR.
Opportunities to collaborate
Aldape is spearheading the Translational Genomics Laboratory, where he welcomes opportunities for collaboration on clinically relevant studies related to cancer genomics. The TGL aims for deep genomic profiling of cancer samples to assist in correlative studies as well as identifying actionable vulnerabilities that can aid patient treatment decisions for refractory cancers.
Related links
University of Toronto Faculty Page – Dr. Kenneth Aldape
University Health Network Researcher Page – Dr. Kenneth Aldape
Contact
Dr. Ken Aldape
ken.aldape@uhn.ca