Dr. Michael Rauh
Transformative Pathology Fellow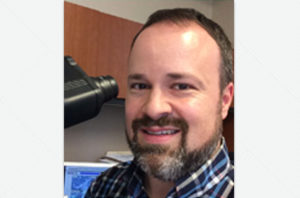 Myeloid cancers (MC) include myeloproliferative neoplasms, myelodysplastic syndromes (MDS) and acute myeloid leukemia. Diagnosis requires invasive bone marrow (BM) sampling and is reliant on subjective microscopy, especially for MDS. Dr. Michael Rauh's research vision is to enact a paradigm shift from reactive BM tests to proactive peripheral blood surveillance for MC; from subjective morphology to objective genetic criteria; and from supportive/late interventions to targeted/early cures. His research aims to develop novel somatic mutation and digital gene expression assays to improve MC diagnosis, risk and treatment stratification. Moreover, Rauh aims to elucidate clone-immune environment interactions to inform novel therapeutic directions.
Current affiliations
Transformative Pathology Fellow, OICR;
Attending Hematopathologist, Kingston General Hospital;
Fellow (Hematological Pathology), Royal College of Physicians of Canada;
Assistant Professor, Pathology and Molecular Medicine, Queen's University.
Select publications
Rauh MJ.
Standardizing dysgranulopoiesis in MDS and AML: refining diagnostics and laying the foundation for novel morphological-genetic correlations.Leuk Res. 2014 Apr;38(4):428-9.
---
Rauh MJ, Liesveld J, Burack RW, Bennett JM.
Emergence of JAK2-mutant primary myelofibrosis in myelodysplastic syndrome: rare case report, literature review, and implications for clonal progression.
J Hematopath. 2012 Sept;5(3):135-9.
---
Rauh MJ, Rahman F, Good D, Silverman J, Brennan MK, Dimov N, Liesveld J, Ryan DH, Burack WR, Bennett JM.
Blastic plasmacytoid dendritic cell neoplasm with leukemic presentation, lacking cutaneous involvement: Case series and literature review.
Leuk Res. 2012 Jan;36(1):81-6.
---
Rauh MJ, Ho V, Pereira C, Sham A, Sly LM, Lam V, Huxham L, Minchinton AI, Mui A, Krystal G.
SHIP represses the generation of alternatively activated macrophages.
Immunity. 2004 Aug;21(2):227-39.
---
Sly LM, Rauh MJ, Kalesnikoff J, Song CH, Krystal G.
LPS-induced upregulation of SHIP is essential for endotoxin tolerance.
Immunity. 2004 Aug;21(2):227-39.
Previous experience and education
Translational Research Training in Hematology, American Society of Hematology and European Hematology Agency;
Resident Physician , Hematological Pathology, University of Toronto;
PhD, Experimental Medicine , Terry Fox Laboratory/British Columbia Cancer Agency/UBC;
MD, University of British Columbia;
M.Sc., Medical Science, McMaster University, Hamilton.
Related links
Collaboration and contact
Dr. Rauh welcomes collaboration. Contact him at michael.rauh@queensu.ca for more information.