Dr. Naoto Hirano
Clinician-Scientist I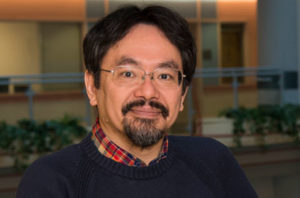 The overarching research goal of Dr. Naoto Hirano is to devise novel anti-tumour immunotherapeutic modalities that can cure cancer. His team has developed a series of human cell-based artificial antigen-presenting cells (APC) that can generate in vitro large numbers of HLA class I-restricted CD8 T-cells, class II-restricted CD4 T-cells, polyclonal CD3 T-cells, and CD1d-restricted iNKT cells. Using these artificial APC, he is conducting basic, translational and clinical research in human T-cell immunology. His team is particularly interested in understanding how the interactions between T-cells and APC affect priming, expansion, persistence and differentiation of T-cells. They also seek to clarify how this leads to the subsequent generation and maintenance of T-cell memory.
Current affiliations
Clinician-Scientist I, OICR;
Associate Director for Research, Tumour Immunotherapy Program, Princess Margaret Cancer Centre;
Senior Scientist, Princess Margaret Cancer Centre;
Associate Professor of Medicine, Department of Immunology, University of Toronto.
Research interests
Cancer immunotherapy;
Adoptive T-cell therapy.
Select publications
Kagoya Y et al.
BET bromodomain inhibition enhances T cell persistence and function in adoptive immunotherapy models.
J Clin Invest. 2016
---
Ochi et al.
Optimization of T-cell Reactivity by Exploiting TCR Chain Centricity for the Purpose of Safe and Effective Antitumor TCR Gene Therapy.
Cancer Immunol Res. 2016
---
Nakatsugawa M et al.
Specific roles of each TCR hemichain in generating functional chain-centric TCR.
J Immunol. 2015
---
Butler MO and Hirano N.
Human cell-based artificial antigen-presenting cells for cancer immunotherapy.
Immunol Rev. 2014
---
Butler MO et al.
Establishment of antitumor memory in humans using in vitro-educated CD8+ T cells.
Sci Transl Med. 2011
Previous experience and education
Assistant Professor of Medicine, Dana-Farber Cancer Institute, Harvard Medical School.
Related links
University Health Network – Dr. Naoto Hirano
Opportunities to collaborate
Dr. Hirano welcomes collaboration. For more information contact him at nhirano@uhnresearch.ca.