Dr. Quaid Morris
Associate and Senior Investigator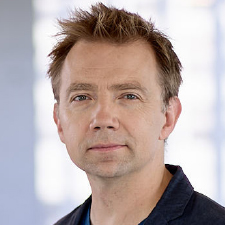 Dr. Quaid Morris is a professor at the Donnelly Centre for Cellular and Biomolecular Research (University of Toronto) where he also holds cross-appointments in Molecular Genetics and Computer Science. Dr Morris is also a faculty member of the Vector Institute for Artificial Intelligence.
The Morris Lab uses machine learning and artificial intelligence to do biomedical research, focusing on cancer evolution, post-transcriptional regulation, and gene function prediction. His work also spans biological image analysis and electronic health record analysis.
Since establishing his lab in 2005, Dr. Morris has published more than 100 peer-reviewed papers in journals and high-impact computer science conferences. His work has gained nearly 15,000 citations.  He is an expert in machine learning and its application to genomics data.
Current affiliations
Senior Investigator, OICR
Associate, OICR
Professor, Donnelly Centre, Faculty of Medicine, University of Toronto
Faculty, Vector Institute for Artificial Intelligence
Co-director of Graduate Stream in Computational Biology, Department of Molecular Genetics, University of Toronto
Research interests
Computational biology
Machine learning
Cancer genomics
Functional genomics
Health informatics
Select publications
See Dr. Morris' recent publications on PubMed or on Google Scholar.
Previous experience and education
Visiting Scholar, Department of Biology, New York Univerity
Visiting Researcher, Centre de Regulació Genòmica (CRG)
PhD in Computational Neuroscience, Massachusetts Institute of Technology
Related links
University of Toronto Faculty Page – Quaid Morris
Opportunities to collaborate
Visit OICR's Collaborative Research Resources directory for more opportunities to collaborate with OICR researchers.
Contact
Dr. Quaid Morris
quaid.morris@utoronto.ca