Dr. Rima Al-awar
Director and Senior Principal Investigator, Drug Discovery Program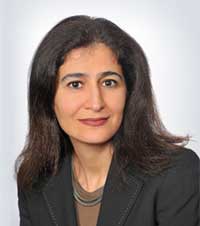 Since joining OICR, Dr. Al-awar has been recruiting scientists and developing the Drug Discovery Program within OICR. The group is dedicated to the design, synthesis and evaluation of novel anti-tumour agents. The projects within the Drug Discovery Program focus largely on novel targets, with specific chemical probes being created to better understand cancer signalling pathways and potential points of therapeutic intervention.
The major goal of the Drug Discovery group is to optimize lead molecules and progress them to drug candidates that can translate into therapeutic benefits to cancer patients.
Current affiliations
Director and Senior Principal Investigator, Drug Discovery Program, OICR;
Associate Graduate Faculty member, University of Toronto, Department of Pharmacology and Toxicology;
Associate Professor, University of Toronto, Department of Pharmacology and Toxicology.
Research interests
Compound screening;
Drug discovery;
In vivo pharmacology;
Kinases;
Lead generation;
Lead optimization;
Medicinal chemistry;
Organic chemistry;
Pharmacokinetics.
Select publications
Rotin LE, MacLean N, Aman A, Gronda M, Lin FH, Hurren R, Wang X, Wrana JL, Datti A, Al-Awar R, Minden MD, Schimmer AD.
Erlotinib synergizes with the poly(ADP-ribose) glycohydrolase inhibitor ethacridine in acute myeloid leukemia cells.
Haematologica,. pii: haematol.2016.146894 2016 Sep 1.
---
Getlik M, Smil D, Zepeda-Velázquez C, Bolshan Y, Poda G, Wu H, Dong A, Kuznetsova E, Marcellus R, Senisterra G, Dombrovski L, Hajian T, Kiyota T, Schapira M, Arrowsmith C, Brown P, Vedadi M, Al-awar R.
Structure-Based Optimization of a Small Molecule Antagonist of the Interaction Between WD Repeat-Containing Protein 5 (WDR5) and Mixed-Lineage Leukemia 1 (MLL1).
J Med Chem (epub), 2016.
---
Babichev Y, Kabaroff L, Datti A, Uehling D, Isaac M, Al-Awar R, Prakesch M, Sun RX, Boutros PC, Venier R, Dickson BC, Gladdy RA.
PI3K/AKT/mTOR inhibition in combination with doxorubicin is an effective therapy for leiomyosarcoma.
J Transl Med. 2016 Mar 8;14:67. doi: 10.1186/s12967-016-0814-z
---
Grinshtein N, Rioseco CC, Marcellus R, Uehling D, Aman A, Lun X, Muto O, Podmore L, Lever J, Shen Y, Blough MD, Cairncross GJ, Robbins SM, Jones SJ, Marra MA, Al-Awar R, Senger DL, Kaplan DR.
Small molecule epigenetic screen identifies novel EZH2 and HDAC inhibitors that target glioblastoma brain tumor-initiating cells.
Oncotarget. doi: 10.18632/oncotarget.10661 2016 Jul 18.
---
Brahmbhatt H, Uehling D, Al-Awar R, Leber B, Andrews D.
Small Molecules Reveal an Alternative Mechanism of Bax Activation.
Biochem J (epub) 25 Feb 2016.
Previous experience and education
Assistant Professor, University of Toronto, Department of Pharmacology and Toxicology;
Head, Route Selection Group, Chemical Process Research and Development at Eli Lilly and Company, Indianapolis;
Head, Discovery Chemistry Research and Technologies at Eli Lilly and Company, Indianapolis.
Opportunities to collaborate
To inquire about our medicinal chemistry expertise and resources please visit: OICR's Collaborative Research Resources directory.
Related links
www.pharmtox.utoronto.ca/faculty-rima-al-awar-phd
Contact
Angela Wong
Assistant
angela.wong@oicr.on.ca