Dr. Rima Al-awar
Director and Senior Principal Investigator, Drug Discovery Program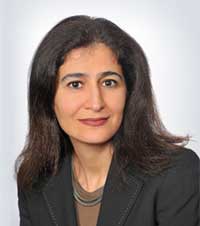 Since joining OICR, Dr. Rima Al-awar has been recruiting scientists and developing the Drug Discovery Program within OICR. The group is dedicated to the design, synthesis and evaluation of novel anti-tumour agents. The projects within the Drug Discovery Program focus largely on novel targets, with specific chemical probes being created to better understand cancer signalling pathways and potential points of therapeutic intervention.
The major goal of the Drug Discovery group is to optimize lead molecules and progress them to drug candidates that can translate into therapeutic benefits to cancer patients.
Current affiliations
Director and Senior Principal Investigator, Drug Discovery Program, OICR;
Associate Graduate Faculty member, University of Toronto, Department of Pharmacology and Toxicology;
Associate Professor, University of Toronto, Department of Pharmacology and Toxicology.
Research interests
Compound screening;
Drug discovery;
In vivo pharmacology;
Kinases;
Lead generation;
Lead optimization;
Medicinal chemistry;
Organic chemistry;
Pharmacokinetics.
Select publications
Medrano M, Communal L, Brown KR, Iwanicki M, Normand J, Paterson J, Sircoulomb F, Krzyzanowski P, Novak M, Doodnauth SA, Suarez Saiz F, Cullis J, Al-awar R, Neel BG, McPherson J, Drapkin R, Ailles L, Mes-Massons AM, Rottapel R.  "Interrogation of Functional Cell-Surface Markers Identifies CD151 Dependency in High-Grade Serous Ovarian Cancer." Cell Reports. 2017 March 7; 18(10): 2343-58.
---
Hammoud L, Adams JR, Loch AJ, Marcellus RC, Uehling DE, Aman A, Fladd C, McKee TD, Jo CE, Al-Awar R, Egan SE, Rossant J. "Identification of RSK and TTK as Modulators of Blood Vessel Morphogenesis Using an Embryonic Stem Cell-Based Vascular Differentiation Assay." Stem Cell Reports. 2016 Oct 11;7(4):787-801. doi: 10.1016/j.stemcr.2016.08.004. Epub 2016 Sep 8.
---
Getlik M, Smil D, Zepeda-Velázquez C, Bolshan Y, Poda G, Wu H, Dong A, Kuznetsova E, Marcellus R,Senisterra G, Dombrovski L, Hajian T, Kiyota T, Schapira M, Arrowsmith C, Brown P, Vedadi M, Al-awar R. "Structure-Based Optimization of a Small Molecule Antagonist of the Interaction Between WD Repeat-Containing Protein 5 (WDR5) and Mixed-Lineage Leukemia 1 (MLL1)."  J Med Chem. 59 (6):2478-2496, Aug 2016.
---
Zhu J, Sammons MA, Donahue G, Dou Z, Vedadi M, Getlik M, Barsyte-Lovejoy D, Al-awar R, Katona BW, Shilatifard A, Huang J, Hua X, Arrowsmith CH, Berger SL. "Gain-of-function p53 Mutants co-opt Chromatin Pathways to Drive Cancer Growth." Nature, 2015, 525(7568):206-11.
---
Grebien F, Vedadi M, Getlik M, Giambruno R, Grover A, Avellino R, Vittori S, Kuznetsova E, Smil D, Barsyte-Lovejoy D, Li F, Poda G, Schapira M, Wu H, Dong A, Senisterra G,Schönegger A,  Bilban M, Bock C, Brown PJ, Zuber J, Bennet KL, Al-awar R, Delwel R, Nerlov C, Arrowsmith CH, Superti-Furga G. "Pharmacological Targeting of the WDR5-MLL Interaction in C/EBPα N-terminal Leukemia." Nat Chem Biol, 2015, 11(8): 571-8
Previous experience and education
Assistant Professor, University of Toronto, Department of Pharmacology and Toxicology;
Head, Route Selection Group, Chemical Process Research and Development at Eli Lilly and Company, Indianapolis;
Head, Discovery Chemistry Research and Technologies at Eli Lilly and Company, Indianapolis.
Opportunities to collaborate
To inquire about our medicinal chemistry expertise and resources please visit: OICR's Collaborative Research Resources directory.
Related links
www.pharmtox.utoronto.ca/faculty-rima-al-awar-phd
Contact
Angela Wong
Assistant
angela.wong@oicr.on.ca