Events and meetings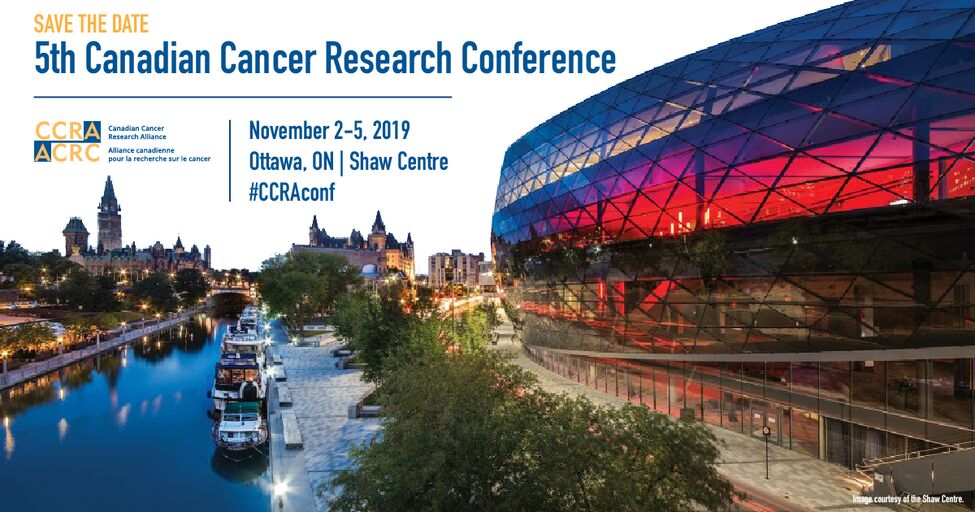 Join Canada's cancer research community at the 2019 Canadian Cancer Research Conference!
Mark your calendars for the Canadian Cancer Research Conference taking
place November 3 to 5, 2019 in Ottawa, Ontario. Hosted by the Canadian
Cancer Research Alliance, this three-day event brings together researchers,
clinicians, decision-makers, and trainees at all stages of their career.
Don't miss the opportunity to connect with top leaders in Canadian
cancer research who will share knowledge and address key challenges and
opportunities for innovating cancer research in Canada.
LEARN MORE https://conference.ccra-acrc.ca?utm_source=newsletter-member-toolkit&utm_medium=email&utm_campaign=ccrc2019
The Antibody Reproducibility Crisis

Antibodies are the most commonly used tools in the life sciences. They are invaluable in many experiments to identify and isolate other molecules. But it is now clear that they are among the most common causes of problems, too. From the batch-to-batch variability, cross-reactivity, specificity, and wrong application, antibodies can also be a source for dramatically differing results, which can cause projects to be abandoned, and waste time, money and samples.
Join us to learn about BenchSci, a Canadian life science machine learning company that has developed open-access "out-of-crisis" solution by offering AI-assisted antibody selection platform that helps scientists to navigate through peer-reviewed research data and experimental contexts including technique, tissues and cell lines to find antibodies that suit their experimental conditions.
To register for the lecture

Thursday, October 17, 2019 | 3 to 4 p.m.
OICR, 661 University Avenue, West Tower, Suite 510,
Toronto, ON, M5G0A3
Register at eventbrite for The Antibody Reproducibility Crisis | Agenda and Speakers
---
Whole-genome sequencing-based diagnostics for cancer precision medicine
Dr. Edwin Cuppen
Scientific Director, Hartwig Medical Foundation, Netherlands
Wednesday October 23, 2019 | 1-2 p.m.
OICR, Rooms 5-20/5-21
Remote Access: https://zoom.us/j/569289827
Dial-in: Canada: +1 647 558 0588
Webinar ID: 569 289 827
International numbers available: https://zoom.us/u/acIr0rv0MN
Abstract:
Cancer diagnostics becomes increasingly challenging because of the growing number of targeted therapies with associated molecular tests and the limited amount of material typically available. Furthermore, pan-cancer molecular-based drug registration and promising results obtained with drug repurposing (off-label) increase the demand for broad molecular testing to realize cancer precision medicine. Simultaneously, the identification of biomarkers to prevent overtreatment and keeping the health care system financially sustainable is essential.
In the Netherlands, we have established a national network of hospitals and organisations to address these challenges. Fresh frozen core needle biopsies of metastases are collected in 44 hospitals and centrally analyzed by whole genome sequencing (tumor-normal pairs at 100x/35x) in an ISO-accredited lab. We optimized and validated bioinformatic analysis tools for comprehensive somatic variant calling (SNV, INDEL, CNA, SV) and interpretation. Resulting data is summarized in a multi-layered patient report with therapy guidance (standard of care, off-label and experimental studies) and actionable variant details. Reports are returned to the treating medical specialist with an average turn-around time of less than 2 weeks. A large multidrug basket study was established to allow for and document the effectiveness of off-label treatments.
Post-biopsy treatment data and outcome is systematically collected along with other relevant clinical data (e.g. previous treatments) and together with the WGS data used to build up a database for biomarker discovery and research (see www.hartwigmedicalfoudation.nl/en for details). This data is made available for academic research for free and is already used in more than 75 studies.
I will summarize WGS results of more than 4,000 patients, present the value of off-label treatment, and discuss remaining challenges for routine implementation of WGS-based diagnostics for cancer patients. In addition, the value of the continuously growing database for supporting a learning care system will be highlighted.
Terry Fox Research Institute's, Ontario Node Research Symposium
Thursday, December 12, 2019 in the MaRS Auditorium
(conference facility/lower level).
Keynotes
Professor Tim Willson,
Structural Genomics Consortium, University of North Carolina:  Building a complete kinase inhibitor set for known kinases
Professor Craig Crews,
Yale University:  Protac technologies, drug triggered protein degradation
Professor Jakob Glanville,
Biodistributed:  New approaches in phage display technology
Speakers 
Rima Al-awar (OICR), Liliana Attisano (Donnelly Centre), Sheela Abraham(Queen's), Fred Dick (Western University), Roman Melynk, (SickKids), Lisa Porter (University of Windsor)
Novel Cancer Targets and Emerging Therapies
REGISTRATION (free) –https://www.surveymonkey.com/r/PMJW65X
Abstract Submission 
Opens Friday, September 27th – Closes Friday, November 1 at 5 p.m.
Rapid Fire Talks 
The top 10 postdoc abstracts submitted will be given a unique opportunity to showcase their work
Poster Session & Reception
Thursday, December 12th (5 – 6:30 p.m.)
The Heritage Atrium, MaRS
For additional information on the TFRI Symposium, please contact Donna.DeFrancesco@uhnresearch.ca