Events and meetings
TorBUG
Wednesday March 28, 2018 at 4 p.m.​
Red Room at the Terrence Donnelly Centre for Cellular and Biomolecular Research, University of Toronto, 160 College Street ​
Speaker: Morgan Langille, Canada Research Chair in Human Microbiomics, Dalhousie University
Talk: Disease signatures of the human microbiome
Short Presentation Speaker: Renan Nascimento De Almeida, Graduate Student, Guttman Lab
Talk: Identification of Pseudomonas syringae type III secreted effector sequences associated with adaptation to coffee plants
Visit https://torbug.org/ for more information.
2018 Clinical Trials Conference
March 27-28, 2018
Sheraton Hotel, Toronto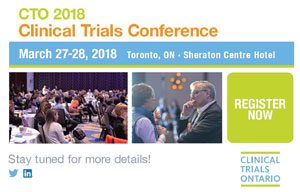 The 2018 Clinical Trials Conference hosted by CTO – taking place March 27-28, 2018 at the Sheraton Hotel in Toronto – is an interactive and collaborative 2-day event that brings together over 350 people from industry, research, ethics, healthcare, non-profit, government and academia to exchange ideas, build relationships, and develop new strategies with respect to improving clinical trials and bringing more clinical trials to Ontario. This is a unique opportunity to bring together different groups of experts face-to-face to determine how to work together to make clinical trials more efficient and impactful.
Themed The Changing Clinical Trials Environment: Understanding and Adapting, the conference includes keynote speakers Dr. Brian Goldman, physician and host of CBC's White Coat, Black Art and Ken Getz, internationally recognized expert on R&D and clinical trial management practices from The Tufts Centre for the Study of Drug Development. In addition, over 20 panelists representing a range of knowledge and expertise in areas such as patient engagement, ethical conduct of clinical trials, clinical trial design and operations, and the role of big data and tech innovation in clinical research will engage in discussions and Q&A with the audience.
For information about speakers, session topics, and registration, visit www.ctoconference.ca.