Events and meetings
OICR BioLab Training
The training sessions offered by BioLab foster collaboration in the cancer research community and provide a place to share experiences, build new collaborations and drive cancer research forward.
Upcoming sessions
---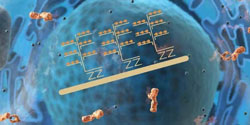 PrimeFlow RNA Assay for simultaneous detection of RNA and Protein
Presenter: Bret Samelson, Gene Expression Application Scientist, Thermo Fisher Scientific
November 8, 2018 2 p.m. – 3 p.m.
This presentation will provide an overview of the PrimeFlow RNA Assay, which expands the capability of flow cytometry to also measure gene expression. By combining PrimeFlow with traditional immunolabeling of both cell-surface and intracellular proteins, researchers can now reveal the dynamics of both RNA transcription and protein expression patterns.
---
OICR's Biostatistics Training Initiative (BTI)
4th annual
Distinguished Lecture
November 15, 2018 from 9:30 a.m. to 2 p.m.
Ontario Institute for Cancer Research
661 University Avenue Suite 510
Jeremy Taylor, PhD
Professor, Departments of Biostatistics, Radiation Oncology, Computational Medicine and Biostatistics, University of Michigan.
Insights from the use of multi-state models in cancer research
Dr. Taylor's lecture will be preceded by two invited speakers, Melania Pintilie, M.Sc. (A short introduction to competitive risks; UHN) and Leilei Zeng, PhD (Analysis of multistate disease process from cross-sectional samples; University of Waterloo). Information, including the full agenda, speaker presentation abstracts, and registration details can be found at https://events.oicr.on.ca/biostatistics. The registration deadline is November 5, 2018
---
TFRI Ontario Node Symposium 2018
The Microbiome and Cancer
Monday, December 10, 2018 from 8:30 a.m. – 5 p.m.
Reception and Poster Session/Awards from 5 – 6:30p.m.
MaRS Centre Auditorium, Lower Level, 101 College Street Toronto
Keynotes
Professor Thomas Gajewski MD, PhD, University of Chicago and Professor Christian Jobin PhD, University of Florida.
Key dates and details
Registration is free at: https://www.surveymonkey.com/r/5LXFSNT
Abstract Submission – OPENS Friday, September 26/Closes Friday, November 2 at 5 p.m.
Rapid Fire Talks – The top 10 postdoc abstracts submitted will be given a unique opportunity to showcase their work!