Events and meetings
BioTek's Cytation Multi-Mode Cell Imager: Practical Applications for Imaging and Quantification of Cell-Based Assays

BioLab at the Ontario Institute for Cancer Research (OICR) and BioTek Instruments Inc., will be co-hosting a workshop on "BioTek's Cytation Multi-Mode Cell Imager: Practical Applications for Imaging and Quantification of Cell-Based Assays" on Wednesday, September 18, 2019, from 1 to 2 p.m. at OICR.
Cell-based assays are essential in vitro models for viewing, imaging, and quantification in drug discovery, tissue engineering, toxicology, cancer- and basic biology research.
BioLab at OICR in collaboration with BioTek Instruments is organizing a free workshop for introduction and training on the Cytation imager and its use for a wide range of cell-based assays applications, such as wound healing, proliferation, cytotoxicity, viability, chemotaxis, cell differentiation and more
The event includes 1-hour lecture (open to all) followed by three 60 minute hands-on instrument sessions on a) wound healing (scratch), b) cytotoxicity and c) proliferation assays (max 14 people).
Demo instruments, including Cytation 3-, Cytation 5-, and Lionheart FX imagers, AutoScratch Maker Tool and Gen5 analysis software will be provided for training and experimentation during the workshop (September, 18-20).
To register for the lecture
September 18, 2019, from 1 to 2 p.m.
Register at eventbrite for lecture | Download the agenda
To register for the workshop
Contact Vanya, at Vanya.peltekova@oicr.on.ca
Deadline for workshop enrolment – September 15
---
Terry Fox Research Institute Ontario Node Research Symposium
Novel Cancer Targets And Emerging Therapies
The annual Terry Fox Research Institute Ontario Node Research Symposium, hosted by Drs. Marianne Koritzinsky, Trevor Shepherd, Peter Greer, Kristin Hope, Carolina Ilkow, Cheryl Arrowsmith and Robert Rottapel will be held in collaboration with the Structural Genomics Consortium (SGC) on Thursday, December 12, 2019 in the MaRS Collaboration Centre (South Tower, lower level, 101 College Street, Toronto) from 8:45 a.m. -5 p.m.
The poster session and reception will be held from 5 – 6:30 p.m. in the Heritage Atrium (MaRS Centre, South Tower, 1st Floor, 101 College Street, Toronto). The poster awards ceremony will take place during the reception. Three top posters will receive a monetary award!
RAPID FIRE TALKS will be held during the symposium, these provide a unique opportunity for postdoctoral fellows to showcase their work!
KEYNOTES:
Professor Tim Wilson, Structural Genomics Consortium, University of North Carolina: Building a complete kinase inhibitor set for known kinases.
Professor Craig Crews, Yale University: Protac technologies, drug triggered protein degradation.
Professor Jakob Glenville, Biodistributed: New approaches in phage display technology.
KEY-DATES and DETAILS:
Registration (FREE) – Registration is now open: https://www.surveymonkey.com/r/PMJW65X​
Abstract Submission – OPENS Tuesday, October 1 and closes Friday, November 1 @ 5 p.m.
Agenda – Additional information/agenda to follow soon!​
For additional information on the TFRI Symposium, please contact Donna De Francesco donna.defrancesco@uhnresearch.ca .
---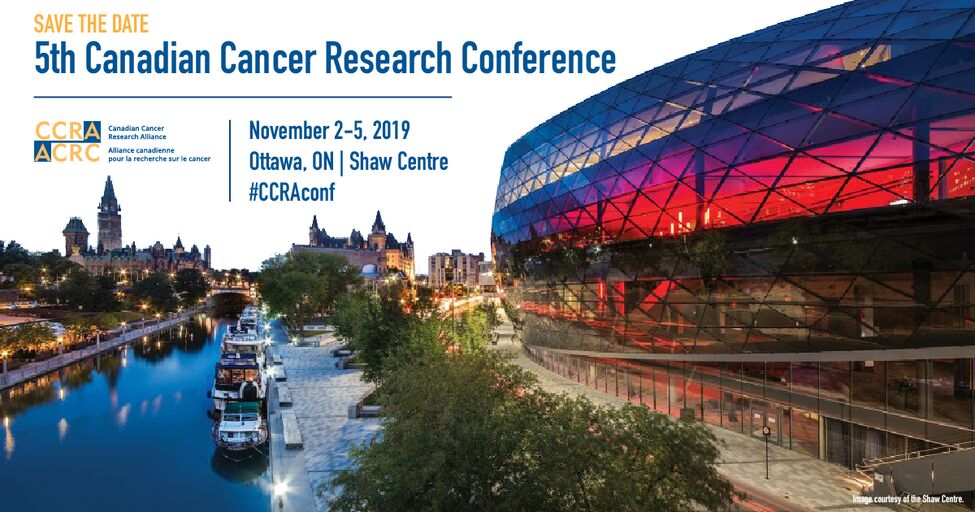 Join Canada's cancer research community at the 2019
Canadian Cancer Research Conference!
Mark your calendars for the Canadian Cancer Research Conference taking
place November 3 to 5, 2019 in Ottawa, Ontario. Hosted by the Canadian
Cancer Research Alliance, this three-day event brings together researchers,
clinicians, decision-makers, and trainees at all stages of their career.
Don't miss the opportunity to connect with top leaders in Canadian
cancer research who will share knowledge and address key challenges and
opportunities for innovating cancer research in Canada.
LEARN MORE https://conference.ccra-acrc.ca?utm_source=newsletter-member-toolkit&utm_medium=email&utm_campaign=ccrc2019