How OICR researchers are helping understand and overcome COVID-19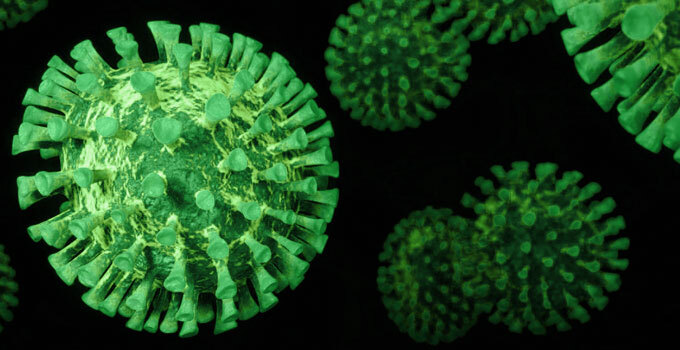 OICR researchers are advising and engaging in COVID-19 research initiatives in Ontario and around the world
As the COVID-19 pandemic continues to transform research, health care and society, scientists from around the world have responded with great public spirit and unprecedented cooperation. Many cancer researchers have harnessed their capacity to help – and OICR researchers are no exception.
OICR researchers are contributing to the global effort to develop new COVID-19 diagnostic technologies, treatments and research tools. Here are a few examples of their contributions:
Dr. Jared Simpson is leading OICR's contribution of genome sequencing and expertise to the Canadian COVID-19 Genomics Network (CanCOGeN), a consortium of Canadian federal, provincial and regional public health authorities and their healthcare partners, academia, industry, hospitals, research institutes and large-scale sequencing centres.
Dr. Jared Simpson is contributing his long-read genomic sequencing expertise to help sequence the virus from patients at local Toronto hospitals. This information will be shared in a global data-sharing effort to track the evolution of the virus over time and geographies.
Dr. Philip Awadalla is leading an effort to survey CanPath study participants on their health status. These data, when linked with the participant's genetic and health data, may contribute to our understanding of how the virus affects different individuals.
Dr. Trevor Pugh's research group is developing new, faster tests to detect the virus from extracted RNA. This effort contributed to a local health care worker testing initiative called RESPECT. An expanded version of the initiative called RESPECT 2.0 is underway.
Dr. John Bartlett's group is exploring methods that may supplement testing for the virus while avoiding the use of lab chemicals that are in high demand. This effort also contributed to RESPECT as they looked for alternatives to traditional testing should key lab reagents be in low supply.
Dr. Lincoln Stein and his Reactome team are collaborating with international researchers to annotate SARS-CoV-2 genomic variants and the interactions that occur between the virus and human cells. All of their findings will be shared in open-source databases.
Drs. Laszlo Radvanyi and John Bartlett are working together with partners to develop a randomized Phase III clinical trial to test an "immune system boosting" agent to help fight coronavirus infection in cancer patients in Ontario that are immunosuppressed and highly susceptible to the virus. OICR will be performing biomarker analysis of immune responses in the cancer patients on this trial.
Dr. Laszlo Radvanyi is also lending his support and immunology expertise in working with a biotechnology company in Toronto developing a nanoparticle (RNA-based) vaccine against COVID-19.
Dr. Gennady Poda and collaborators at Sunnybrook Research Institute are using OICR supercomputers and advanced computational chemistry techniques to identify new therapeutics and existing drugs that could be reused for the treatment of COVID-19 infections.
Drs. Jared Simpson and Trevor Pugh are working with researchers at Mount Sinai Health System to identify characteristics of patients that result in poor or favourable response to infection by looking at genetic factors, antibody measurements, immune profiling, and viral sequences. Dr. Simpson is leading experiments to map and compare viral strains across patients and Dr. Pugh is seeking to understand how the diversity of people's immune cell repertoire are shaped by infection and eventual clearance of virus.
Drs. Marc Fiume, Lincoln Stein and Christina Yung are developing COVID Cloud, a software platform for sharing and analysis of viral and host genomes for COVID-19 and other diseases with genetic determinants.
Monique Albert of the Ontario Tumour Bank has been providing expert advice and guidance about biobanking in relation to COVID-19 as well as on ultra-cold storage which is used to store some COVID-19 vaccines.
OICR also recognizes the valuable COVID-19 data resources and repositories designed and managed by members of the greater OICR community.
COVID-19 Resources Canada is a central hub for those involved in COVID-19 research and development in Canada. The hub, which was developed in part by OICR Senior Project Manager Dr. Michelle Brazas, serves as a repository for researchers to locate human resources, expertise, reagents, equipment and information in a timely manner.
The COVID-19 Beacon led by OICR Associate Dr. Marc Fiume, has indexed and shared thousands of virus genomes from around the world. Researchers can use the beacon to discover virus sequences with specific genetic mutations and chart their geographic and evolutionary origins.
Flatten is a web-based, crowdsourced data-gathering platform, providing real-time heat maps of self-reported COVID-19 cases across the country. The platform was designed and built by university students, including former OICR intern, Yifei Zhang.
"The OICR staff, Board of Directors, and scientific advisory committees continue to work, albeit mostly remotely, to allow us to carry out our mission with limited interruption," says Dr. Laszlo Radvanyi, President and Scientific Director of OICR. "Throughout this crisis, OICR will remain focused on advancing cancer research while contributing to COVID research activities where we can."
OICR recognizes that many people living with cancer are facing particularly difficult circumstances at this time. Like so many other aspects of our lives, cancer research and care will not return to normal until the COVID-19 pandemic is under control. Our strategy in contributing to COVID-19 research is to use some of our resources and expertise to help in defeating the virus as quickly as possible. Our number one priority remains, as always, improving the lives of people living with cancer in Ontario and around the world.
---
Please note, this page will be updated as new information becomes available. Working on an initiative that you'd like to see here? Email info@oicr.on.ca.
Posted: April 7, 2020
Updated: February 19, 2021