About OCREB
Innovative. Collaborative. Progressive.
Research Ethics Boards (REBs) are independent, multi-disciplinary committees that review the ethical acceptability of research involving humans to determine whether the research should be permitted to start and to continue. REBs that review biomedical research or clinical trials generally include doctors, other healthcare professionals and members of the scientific community, as well as non-scientific members with specific expertise, including ethicists, lawyers, privacy experts and community members.
Working within a defined regulatory and ethical framework, the REB's role is to safeguard the rights and welfare of the individuals who volunteer to participate in research. This is carried out by ensuring that the study sponsor and the researchers have adequately considered and applied the required ethical principles for the conduct of research to the design and implementation of the research, including the consent forms. The REB also serves as a consultative body to the research community and thus contributes to the creation and preservation of a culture of research ethics.
Since January 2004, the Ontario Cancer Research Ethics Board (OCREB), a central, expert oncology REB, has been working with researchers, institutions and sponsors to safeguard the rights and welfare of research participants in Ontario while advancing ethically sound cancer research. OCREB:
Applies extensive oncology expertise to its review of the research;
Reduces duplication and cost by eliminating the need to gain local REB approval of the research at each participating centre;
Facilitates the start-up of the research at multiple centres across Ontario – once the provincial submission is approved, participating centres usually receive approval to conduct the research within days of submitting to OCREB;
Serves all but one of the cancer centres in Ontario that conduct clinical trials, including some pediatric studies;
Is a respected leader in cancer research ethics;
Was the first REB qualified under the Clinical Trials Ontario REB Qualification Program.
OCREB is accountable to the Ontario Institute for Cancer Research's Board of Directors through the OCREB Governance Committee.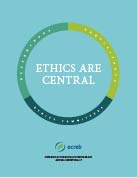 Read the OCREB Annual Report 2016-17
Links to Additional Information about OCREB:
For more information about OCREB, including membership, meeting dates, SOPs, guidelines, templates and review fees, please visit https://ocrebonline.ca.