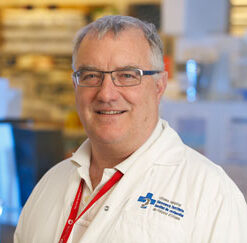 Contact
Dr. John Bell
Co-Leader, Immuno-oncology TRI (ACTION)
Patty Lidster
plidster@ohri.ca
Co-Leader, Immuno-oncology TRI (ACTION)
Using viruses to kill cancer cells is a promising alternative to chemotherapy because it dramatically reduces the toxicity of treatment. Viruses are able to infect cells, replicate, induce cell death, release viral particles and spread through human tissues, making them an ideal weapon against cancer. Dr. Bell's lab has shown that a variety of viruses selectively replicate in and kill cancer cell lines while leaving healthy parts of the body intact.
The lab is currently seeking to understand the mechanisms by which viruses selectively target cancer cells using gene editing techniques like CRISPR. Using this information they are developing novel oncolytic virus products based upon rhabdovirus and vaccinia virus platforms. Their new virus products are able to simultaneously kill cancer cells while stimulating anti-tumour immunity. His group has developed manufacturing processes in order to produce pharmaceutical grade viruses that have been tested in clinical studies around the world.
Experience & Education
Program Director, Immuno- and Bio-Therapies, OICR
Assistant Professor Biochemistry, McGill University
Postdoctoral Fellow in the laboratory of Dr. Gordon Foulkes, Medical Research Council
Postdoctoral Fellow in the laboratory of Dr. Mike McBurney, University of Ottawa
PhD, Virology, McMaster University, Hamilton
Current Affiliations
Co-leader, OICR Immuno-oncology TRI (ACTION)
Scientific Director, BioCanRx Network Centre of Excellence
Professor, Medicine, University of Ottawa
Senior Scientist, Ottawa Hospital Research Institute
Opportunities to Collaborate
Bell highly values collaborative efforts to rapidly solve challenging problems. He strongly encourages collaborations in his own research group and currently leads a number of team-focused efforts including a trans-Canadian Program Project Grant supported by the Terry Fox Foundation, a Prostate Cancer Canada Team Grant, the BioCanRx Network Centre of Excellence as well as the OICR Immuno and Bio-therapies Program. His research team has expertise in molecular biology, virology and immunology as well as access to a manufacturing facility that produces pharmaceutical grade biological products. The team is always looking for and welcomes any collaborative projects particularly in the area of biological and immune therapies for cancer.
Visit OICR's Collaborative Research Resources directory for more opportunities to collaborate with OICR researchers.
Looking Ahead
Receive the latest news, event invites, funding opportunities and more from the Ontario Institute for Cancer Research.