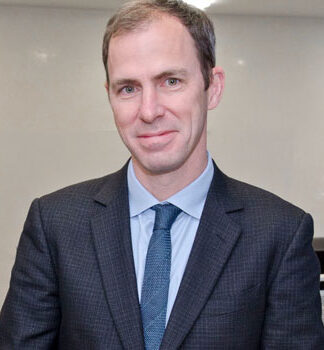 Contact
Dr. Peter Dirks
Co-Leader, Brain Cancer TRI
Co-Leader, Brain Cancer TRI
Dr. Peter Dirks is a pediatric neurosurgeon and senior scientist at the Hospital for Sick Children and Professor of Surgery at the University of Toronto. He co-leads OICR's Brain Cancer Translational Research Initiative.
Dr. Dirks' clinical interests lie with the entire spectrum of pediatric neurosurgical practice, with emphasis on the surgical treatment of childhood brain tumours and brain vascular malformations. His research laboratory is within the Arthur and Sonia Labatt Brain Tumour Research Centre at the Hospital for Sick Children where his focus is on the biology of brain tumours of children and adults, with a primary aim to understand how the molecular programs in normal neural stem cells become perturbed to cause and sustain the growth of these hard-to-treat cancers.  In addition, he is interested in brain tumour heterogeneity and how the diverse cell types that comprise these tumours contribute to tumour maintenance and therapeutic resistance.
Experience & Education
PhD, University of Toronto
MD, Queen's University
Current Affiliations
Co-Leader, Brain Cancer Translational Research Initiative
Senior Scientist, The Hospital for Sick Children
Professor of Surgery, University of Toronto
Select Publications
See Dr. Dirks' recent publications on PubMed.
Research Areas
Disease Areas
Awards
Fellowship, Royal Society of Canada (FRSC), Canada, 2017
The Hospital for Sick Children, Garron Family Chair in Childhood Cancer Research, 2014
American Association of Neurological Surgeons, Congress of Neurological Surgeons, The Farber Award, 2009
The Terry Fox Foundation, Terry Fox Young Investigator Award, 2008
Royal College of Physicians and Surgeons of Canada, Gold Medal in Surgery, 2005
Caldwell Partners, Globe and Mail Report on Business, Canada's Top 40 under 40
Opportunities to Collaborate
To collaborate with Dr. Dirks, please contact him directly.
Visit OICR's Collaborative Research Resources directory for more opportunities to collaborate with OICR researchers.
Looking Ahead
Receive the latest news, event invites, funding opportunities and more from the Ontario Institute for Cancer Research.