About > Leadership
Laszlo Radvanyi, PhD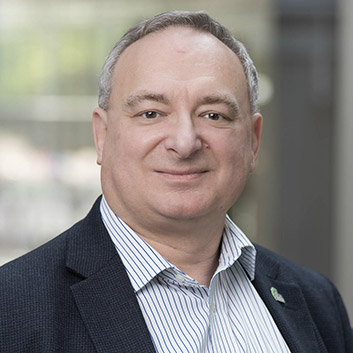 Contact
Laszlo Radvanyi, PhD
Président et directeur scientifique
Téléphone: 416-555-12345
Mobile: 416-555-12345
Président et directeur scientifique
Le Dr Laszlo Radvanyi possède une vaste expérience en recherche sur le cancer dans le milieu universitaire ainsi que dans l'industrie pharmaceutique au Canada et aux États-Unis.
Après avoir terminé son doctorat en biochimie clinique et immunologie à l'Université de Toronto, le Dr Radvanyi a obtenu une bourse postdoctorale du Cancer Research Institute à la Harvard Medical School de Boston, MA. Il a ensuite rejoint Sanofi Pasteur en tant que Senior Scientist, où il a codirigé une équipe de découverte et de validation d'antigènes de vaccins anticancéreux pendant cinq ans.
Le Dr Radvanyi a ensuite déménagé au Texas où, pendant dix ans, il a été professeur au département d'oncologie médicale du mélanome à l'Université du Texas, MD Anderson Cancer Center. Pendant son séjour chez MD Anderson, il a mis en place un programme de fabrication de thérapies cellulaires T de qualité BPF pour le mélanome métastatique à l'aide de lymphocytes infiltrant la tumeur (TIL) expansés et a effectué des recherches fondamentales sur la biologie et la fonction effectrice des TIL pour lesquelles il a reçu un MD Anderson Division of Cancer Medicine. Bourse de recherche.
Avant de rejoindre l'OICR, le Dr Radvanyi était vice-président principal et responsable mondial de la plateforme d'innovation translationnelle en immuno-oncologie chez EMD Serono (Merck KGaA, Darmstadt, Allemagne). Il a également été conseiller scientifique principal pour EMD Serono, spécialisé en immunologie et immuno-oncologie.
Pendant son séjour chez EMD Serono, le Dr Radvanyi a reconstruit et réorganisé la plate-forme de recherche en immuno-oncologie d'EMD Serono et a rajeuni son pipeline de recherche en immuno-oncologie. Il a recruté des talents clés et établi des partenariats influents avec des universitaires axés sur les essais cliniques axés sur les biomarqueurs. Notamment, le Dr Radvanyi a conclu une alliance avec EMD Serono et le MD Anderson Cancer Center visant à mener des études cliniques axées sur les biomarqueurs afin d'évaluer des produits immuno-oncologiques clés permettant de faire avancer de nouvelles approches en oncologie de précision. À l'époque, il a également codirigé le programme CAR T-cell d'EMD Serono en partenariat avec Intrexon et Ziopharm.
Le Dr Radvanyi a également de l'expérience dans la découverte et le développement de médicaments biotechnologiques (fondateur du CSO pour Iovance Therapeutics). Iovance est la première entreprise à développer un procédé commercial pour la fabrication de TIL et de thérapie TIL pour les patients cancéreux, ce qui en fait une réalité après des décennies de recherche universitaire. Il a été rédacteur en chef adjoint du Journal of Immunotherapy for Cancer (JITC), siège actuellement au conseil consultatif scientifique de Keystone Conferences et fait partie de comités d'examen de subventions pour de nombreuses agences nationales et internationales. Le Dr Radvanyi siège également aux conseils consultatifs de nombreuses sociétés de biotechnologie dans le domaine de l'oncologie.