;
About
Commercialization
and FACIT
Biotechnology is an emerging avenue for economic growth for the province, bringing skilled industry jobs to Ontario and providing early access to experimental medicines for those living with cancer.
Most new healthcare innovations in cancer research are translated to patients through partnerships with the private sector. This makes commercialization critical to OICR's mission.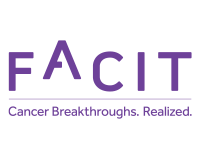 OICR works with its strategic partner FACIT to ensure made-in-Ontario breakthrough technologies have a clear path from the lab to patients. FACIT works with Ontario entrepreneurs to maximize the value of homegrown intellectual property (IP) and capture the economic benefits through commercialization.
FACIT helps Ontario develop a local marketplace that capitalizes on the province's cancer research investment and expertise. With its Ontario First commercialization model and IP strategy, FACIT creates and supports new Ontario-based companies that are well positioned to attract industry partners and investors.
33 start-up companies have been created through the support of OICR and FACIT
Looking Ahead
Receive the latest news, event invites, funding opportunities and more from the Ontario Institute for Cancer Research.