BioLab at OICR is a shared instrumentation division that provides advanced state-of-the-art equipment, tools and technical know-how to support lab research activities for OICR researchers and collaborators.
BioLab Event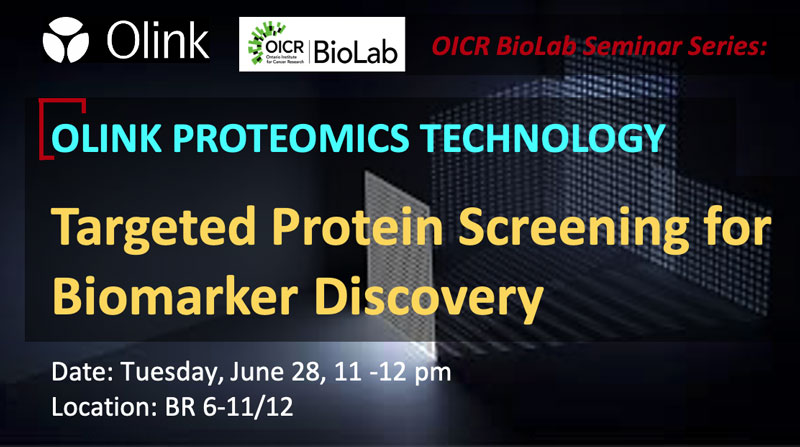 June 28, 11 a.m.
BioLab and Drug Discovery group at OICR are excited to co-host educational webinar "Targeted Protein Screening for Biomarker Discovery" introducing Olink proteomics technology
Dr. Michael Förster, Scientific Director Oncology and Rare Diseases, Olink Proteomics, will talk about the use and applications of this technology in cancer research.
The mission of BioLab is to educate, enable and inspire OICR researchers and collaborators to achieve their research objectives and professional development goals by providing instrument access, knowledge transfer and continued education on advanced cancer technologies and innovations.
BioLab provides its educational offerings through three main intersecting activities:
BioLab provides access to advanced technology and leading-edge instrumentation, tools and supports training that brings new knowledge and skills.
To maximize the exposure to current knowledge in transdisciplinary cancer research, BioLab offers participation in the networks of science communication such as online webinars and virtual events.
BioLab fosters educational collaboration between researchers and technology providers by sharing knowledge, resources and expertise for faster and more effective communication and learning.
BioLab Hub
To better assist OICR researchers during the COVID-19 pandemic, BioLab has extended its educational offerings by launching the BioLab Hub initiative.
BioLab Hub posts bi-weekly selections of free webinars and virtual events (symposiums, conferences, and summits) on new technologies, instrumentation, applications and innovations related to cancer research.
Upcoming Webinars and Virtual Events
Navigate the technology landscape in predictive genomics: An introduction to key technology concepts and strategies
June 21, 2022 | 11:00 a.m. EDT
Digital Ready Slides
June 21, 2022 | 11:00 a.m. EDT
To Spatial Biology Infinity and Beyond: Discovering Novel Multiomic Possibilities
June 21, 2022 | 11:00 a.m. EDT
Delivering Single-Molecule Proteomics at Scale using Protein Identification by Short epitope Mapping
June 21, 2022 | 1:00 p.m. EDT
Analyzing Highly Multiplexed and Multi-Modal Spatial-Omics ChipCytometry™ Datasets
June 22, 2022 | 2:00 p.m. EDT
Ion World 2022: The Virtual Event That Gets Real About NGS
June 22-23, 2022 | 12:00 p.m. EDT
Best Practices: How to Automate Flow Cytometry for Screening and High Throughput Applications
June 23, 2022 | 11:00 p.m. EDT
Characterization and Sequence Mapping of mRNA Therapeutics Using Mass Spectrometry
June 23, 2022 | 11:00 a.m. EDT
Akoya Biosciences: PhenoCycler™- Fusion Roadshow Toronto
June 23, 2022 | 2:00 p.m. EDT
Organoids for Airway and Alveolar Disease Modeling
June 27, 2022 | 11:00 a.m. EDT
Single Cell Fixed RNA Profiling Sample Prep
June 28, 2022 | 11:00 a.m. EDT
Innovations in Mass Spectrometry
June 28, 2022 | 11:00 a.m. EDT
Mastering Basic Techniques for Cancer Cell Culture
June 29, 2022 | 12:00 p.m. SGT
The Landscape of Cancer Research 2022
June 29, 2022 | 11:00 a.m. EDT
Insights into Structure, Dynamics, and Function of Endocytic Vesicles on the STELLARIS Confocal Platform
June 29, 2022 | 10:00 p.m. EDT
How to scale to comprehensive genomic profiling while reducing cost, time, and labor
June 29, 2022 | 11:00 p.m. EDT
OLINK: Putting Proteomics at the Heart of Your Multiomics
On Demand
Agilent BioTek Lionheart Technology: Driving Physiological Relevance in Early Drug Discovery
On demand
Spatial Phenotyping of Tumor Microenvironment for Characterizing Tertiary Lymphoid Structures
On Demand
Agilent BioTek Cytation/BioSpa Technology for Quantitative Live-Cell Imaging Assays
On Demand
Effective Nuclei Isolation From Tissue for Single-Nucleus Sequencing
On Demand
Looking Ahead
Receive the latest news, event invites, funding opportunities and more from the Ontario Institute for Cancer Research.