Careers at OICR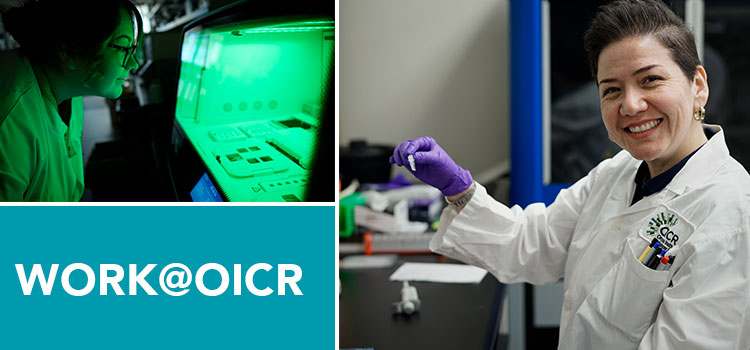 Our work helps cancer patients around the world, while creating jobs and economic benefits in Ontario.
OICR is a collaborative, not-for-profit research institute that conducts translational cancer research in Ontario and enables such research around the world. We're looking for innovative, dedicated professionals who want to join us in driving promising research toward the clinic, where our innovations can have an impact on people living with cancer.
OICR's headquarters are located in the MaRS Discovery District, adjacent to the University Health Network, the University of Toronto, The Hospital for Sick Children (SickKids), Mount Sinai Hospital and other related institutions. We work collaboratively with hospitals, universities and organizations across the province to accelerate translational cancer research in Ontario and beyond.
We're looking for individuals interested in joining our culture of excellence, innovation and collaboration as we help enable patients to live longer and better lives.
OICR has a diverse workforce and is an equal opportunity employer. We encourage applications from all qualified candidates and will accommodate applicants' needs throughout all stages of the recruitment and selection process. Please advise the recruiter to ensure your accessibility needs are accommodated throughout this process. Information received relating to accommodation will be addressed confidentially.
---
---
In addition to working in a culture of scientific excellence, OICR also provides a host of benefits to our employees:
OICR supports employee health and wellness:
Health and dental coverage for eligible staff – premiums are paid by OICR;
Member of Healthcare of Ontario Pension Plan (HOOPP);
Competitive vacation plan;
Maternity and paternity leave top-up coverage;
Employee and Family Assistance Plan;
Lunch and learn programs.
OICR fosters a culture of professional development and community:
Support to attend conferences, workshops and seminars;
Scientific meetings and guest lecturers;
Learn from your peers – Software Engineering Club, team blogs, journal clubs, etc.;
Online community space for OICR staff;
Social clubs around running, plus the opportunity to start your own;
Institute-wide gatherings.
OICR Employees talk about their work
---
---
Have a question?
Resumes or career applications should not be submitted via this form.
---
Career alerts
If you don't see a position that you are qualified for?
Please do not forward your resume directly to any OICR staff or general email address. Setup a career alert instead and we will email you when new opportunities are posted.
---
Let's keep in touch
Follow us on social media: Twitter | LinkedIn | YouTube | Instagram