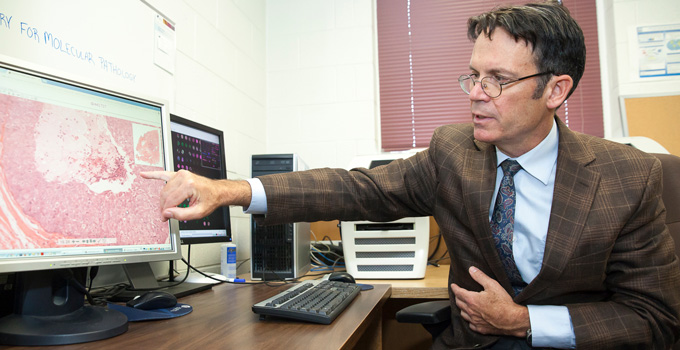 Dr. David LeBrun is heading up the Ontario Molecular Pathology Research Network (OMPRN), which was announced at the end of September. It will be funded by OICR, based at Queen's University and will include pathologists from across the province.

What inspired the creation of OMPRN?
The idea of creating OMPRN emerged out of a desire on the part of OICR to further engage with the larger cancer research community in the province. I think that the decision to address pathology, in particular, was based on the critical role played by pathologists in routine cancer diagnosis. I think there was also recognition that active participation by research-oriented pathologists will be necessary if OICR's broader translational cancer research goals are likely to have an impact on patients' experiences and outcomes over a short timeframe.
How did you become involved?
I practice diagnostic lymph node pathology and have done experimental research in acute leukemia and more applied, correlative research in lymphomas for a long time. Perhaps from this "jack of all trades" perspective, I've come to appreciate how important and difficult it is to bring researchers from different disciplines together to work productively. The network seemed to offer an opportunity to work on this with a good chance of success.
Why does Ontario need OMPRN?
Pathology, as a medical specialty, is on the verge of important changes, driven largely by the pressing need to implement new genomics-based diagnostic tests in the routine pathological diagnosis of cancer. Applied research carried out by transdisciplinary teams that include pathologists will be necessary in order to accomplish this safely and effectively. With this in mind, the OMPRN will make a special effort to support cancer research that is transdisciplinary and engages pathology trainees or early career pathologists. Also, OICR and others in the province have invested in establishing and developing core facilities that provide research-related services. OICR's Ontario Tumour Bank and genomics and bioinformatics facilities are good examples. A network that makes it easier for pathology researchers to connect with such core facilities, irrespective of where they are located in the province, will allow more efficient use of precious resources and opportunities for learning, collaboration and, generally, building a viable research community.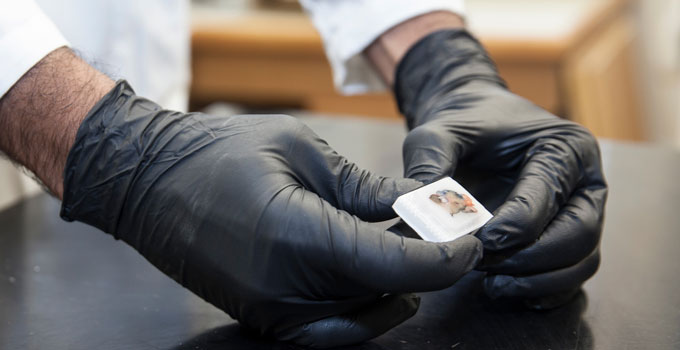 Most patients don't really know the role pathologists play in their diagnosis. Why is pathology so important?
People with cancer generally come to medical attention because they have noticed any of a variety of clinical signs, such as a lump that they can feel, unexplained weight loss, fatigue, etc. Even when subsequent imaging studies detect a mass, a variety of potential explanations besides cancer may exist. Moreover, hundreds of different types of cancer are recognized, even using our current, relatively crude definitions, and many of these carry different prognoses and require different treatments. Therefore, each cancer must be sampled, usually by biopsy, and then diagnosed and classified, specifically and accurately, by a pathologist in order for an optimal plan of clinical management to be devised. Since a pathological diagnosis of cancer may inform the patient's care for the remainder of his or her life, pathological errors can be devastating. Whether they are aware of it or not, patients rely on pathologists to provide accurate, complete evaluations of biopsy specimens within tight timelines.
OMPRN will make a special effort to support cancer research that is transdisciplinary and engages pathology trainees or early career pathologists
What benefits can Ontarians expect from OMPRN in the long term?
OMPRN will support "pathologist-driven" research. The intention here is to complement what others do by addressing research problems that pathologists are particularly likely to recognize. Examples might include the challenge of making accurate, specific diagnoses on minute biopsy samples, and the application of genomics-based testing to distinguish clinically-important cancer subtypes. Advances like these are feasible within a reasonably short timeframe. The network also aims to involve more pathologists in high-quality, transdisciplinary cancer research including, for example, research associated with clinical trials. In doing so, OMPRN intends to contribute to implementing more precision oncology, where each cancer patient is treated optimally based on the specific susceptibilities of his or her disease.