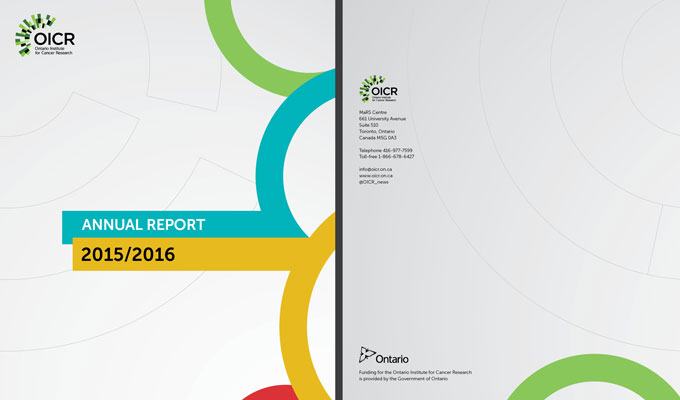 We are pleased to share with you the 2015-16 annual report for the Ontario Institute for Cancer Research (OICR).
This year's report describes the world-class research currently underway at the Institute and details our efforts to bring the fruits of this research to patients in partnership with the Fight Against Cancer Innovation Trust. From new techniques to probe cancer genomes to new partnerships for sharing cancer data securely via the cloud, OICR's innovations have an impact across the province and around the world.
This report also looks forward to our next five years, as we embark on our new Strategic Plan for 2016-2021. We are confident this new plan will lead to continued research success in the future.
Today OICR's research supports more than 1,700 investigators, clinician scientists, research staff and trainees across the province of Ontario. These researchers, working with collaborators provincially, nationally and internationally, are making a real impact in the fight against cancer.
We hope you enjoy reading about their work. We welcome any feedback you may have at info@oicr.on.ca.
Sincerely,
Mr. Peter Goodhand
Interim President
Dr. Lincoln Stein
Interim Scientific Director