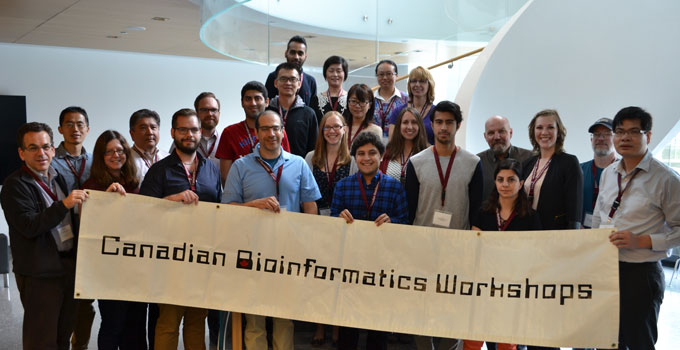 Since 1999, the Canadian Bioinformatics Workshop series has been training the next generation of Canadian bioinformaticians and helping current bioinformaticians keep their skills up to date. This year's series is well underway with a summer session of classes in Toronto and Vancouver recently wrapped and another session set to launch in the fall. The bioinformatics.ca workshop series is funded by registration fees paid by participants, led by OICR's Francis Ouellette and facilitated by staff at OICR, including Ann Meyer, Manager, Knowledge and Research Exchange. We spoke to Ann about the series, why it is necessary and what the next steps for bioinformatics.ca will be.
Why is the Canadian Bioinformatics Workshop series (bioinformatics.ca) needed?
In the last 10-15 years, many universities have added courses in bioinformatics that introduce students to bioinformatics concepts. However, bioinformatics is a rapidly advancing and changing field and it is heavily dependent on advances in computational technologies. New methods and analysis techniques are being created and refined at a rate that university courses can't keep up with. This creates a huge disconnect between the skills needed and the skills scientists have to analyze their data and to take advantage of the new "big data" technologies.
Bioinformatics.ca addresses this need by offering workshops on new leading edge technologies, tools, and methods taught by experts in the field – a unique combination. We mix lectures describing the theory and tools with hands-on labs that allow students to practice using the analysis tools. Students are also given ample time to interact with instructors to ask questions specific to their own research interests. When students return to their home labs, we want them to be able to not only use what they learned at the workshop to analyze their own data, but also share what they have learned to help others.
How has CBW changed over the years?
When bioinformatics.ca first started in 1999, the workshops were one to two weeks long, which allowed us to cover broader and more introductory bioinformatics topics. The intro two-week workshop called "bioinformatics" introduced people to topics like BLAST, using Entrez, looking at 3D structures, and genome browsers. The one-week workshops on genomics and proteomics were second level courses exploring more advanced topics in these areas. In 2007, when bioinformatics.ca moved to OICR with the recruitment of Francis Ouellette, the format changed to shorter, more focused, leading-edge topic workshops focusing on particular areas. We also created a flagship, weeklong workshop on analyzing cancer genomic data.
You're in the middle of this year's bioinformatics.ca session. How are the workshops going so far?
The workshops have all been really great. The instructors are all fantastic to work with. We have also had really engaged groups of participants at each workshop. This year, in addition to using Amazon Web Services for doing the hands-on practicals, we are also using Compute Canada infrastructure in the Epigenomic Data Analysis and the Bioinformatics on Big Data workshops, two of the new workshops we introduced this year. Using new infrastructure the first time is never without challenges (Francis reminds me of bandwidth issues the first year we used Amazon Web Services!) and we plan on using Compute Canada for additional workshops next year. We have also migrated our workshop content (the lectures and lab tutorials) to GitHub (bioinformatics-ca.github.io) as part of our commitment to Open Access and Open Education. It's been pleasantly surprising how well this has been received by both the students and the instructors. And this year, all students and instructors are receiving bioinformatics.ca mugs. They've been a great addition!
What is next for bioinformatics.ca?  
In the next few months, we will be reviewing which workshops worked well and which ones need to be adjusted, based on feedback from both students and instructors. We are also always on the lookout for proposals for new workshops to offer next year. We would like to explore other locations for our workshops; most of our workshops are hosted at OICR but every year we also try and visit a couple of other Canadian cities like Montreal and Vancouver. Once again, we have been invited to offer a weeklong workshop in New York State. Last time it was held in New York City, and this time we are considering Cold Spring Harbor Labs (a great venue for courses and conferences) and we are working on the logistics of that.
This is your first year running the workshops. How has that experience been for you?
It's been both easier and more challenging than I expected. Easier because of the wonderful support from Pat Falzon (Manager, Events at OICR) and Michelle Brazas (Program Manager, Informatics and Bio-computing) and because the instructors have mostly all taught in bioinformatics.ca before. More challenging because of all the things you just can't plan for. For example, we had a fire drill (expected and planned for) but the next week, with a completely different group of students, we had an actual fire alarm condition. There was also a lockdown that required all the students to remain in the workshop room over their lunch break but it gave the students more of a chance to chat with each other and the instructors.
Personally, I've had the chance to meet many really awesome people with very interesting research projects and interests. I'm also visiting Vancouver for the very first time. It's been a great learning experience for me and it has been amazing to see so much discussion and learning about bioinformatics happening all in one place.