BioLab: learning, training and connecting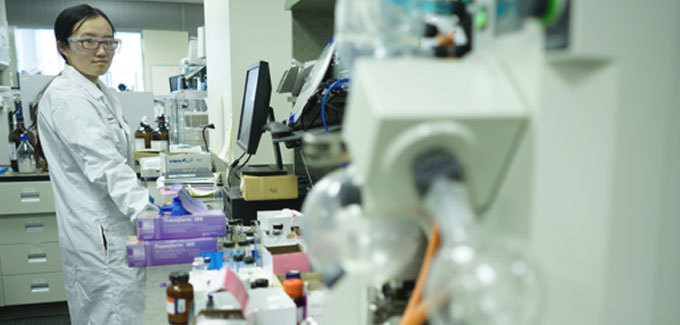 BioLab at OICR manages state-of-art equipment for translational cancer research and offers free educational seminars, advanced technology workshops and hands-on instrument training sessions led by instrument application specialists.
The mission of BioLab is to provide continuous education and training for the next generation of Ontario cancer researchers using existing and advanced cancer-related technologies, applications, tools and instrumentation.
BioLab Provides

BioLab goes beyond basic theory and training to provide application-driven experiences. BioLab training explores the full potential of state-of-art cancer research equipment from experimental design, through correct equipment usage and even covers project-driven applications.
The training sessions offered by BioLab foster collaboration in the cancer research community and provide a place to share experiences, build new collaborations and drive cancer research forward.
Who can participate?
All educational seminars, workshops, and instrument training sessions offered are free to researchers at academic institutions and hospitals in Ontario. BioLab welcomes attendees of any level of experience and training, including clinicians, scientists, fellows, interns, students and research staff.
Upcoming BioLab workshops and seminars:
Educational Seminars are lecture-based learning platforms to provide continuous education on advanced new discoveries in biotechnology and translational cancer research.
Hands-on Biotechnology Workshops are designed to meet specific research goals related to particular laboratory techniques, workflows or procedures related to cancer research. The workshops are delivered by application specialists and designed for laboratory scientists who are looking for in-depth, hands-on protocol development.
BioLab is focusing its educational offerings on immuno-oncology across five key areas:
Liquid Biopsy and Biomolecule detection technologies;
Cell imaging and quantitative analysis;
Cytometry for single cell omics;
Visualization and quantification of cancer transcriptome;
Innovations in digital pathology.
---
Past sessions
IsoPlexis Single Cell Platform Links Functional Proteomics with Cancer Immunotherapy
May 28, 2019

---
---
MaxCyte Flow Electroporation Technology: Choosing the Right Cell Engineering Technology from Discovery to Manufacturing
January 29, 2019
---
Novel Automated Platforms for CRISPR-Engineered Cell Lines and Synthetic sgRNA for Primary Cell and Screening Applications
November 29, 2018
---
PrimeFlow RNA Assay for simultaneous detection of RNA and Protein by Flow Cytometry
Bret Samelson, PhD, Gene Expression Application Scientist, Thermo Fisher Scientific
November 8, 2018
---
BioPlex 200 Analyzer: How to Use of xMAP Technology to Measure Complex Immune Responses
Claude Lachance, PhD, Application Scientist, BioRad, Inc.
September 10, 2018
---
Global Transcriptome Profiling for Better Biomarkers
Michael Wakem, Gene Expression Application Scientist, Thermo Fisher Scientific
September 5, 2018
---
Basics of Confocal Laser Scanning Microscopy
Thoma Kareco, PhD, Application Scientist, Leica
October 4, 2018
---
Tools and Techniques for Isolation and Multi-Plex Analysis of Cancer-Derived Exosomes via Flow Cytometry
Ryan Metzler, PhD, Miltenyi Biotec | Brendan McIntyre, PhD, Miltenyi Biotec | Chris Spring, M.Sc., St. Michael's Hospital Research Core Facilities
October 10, 2018
---
The Moffitt Cancer Center approach to pathology diagnostics supporting the delivery of precision oncology and immune-oncology treatments
Dr. Anthony Magliocco, M.D., F.R.C.P.C., F.C.A.P. Medical Director, Morsani Molecular Diagnostics Laboratories, Moffitt Cancer Cente
October 16, 2018
---
Introduction to Multiphoton Microscopy and Fluorescent Lifetime Microscopy (FLIM)
Leanne Dale, Application Scientist, Leica
October 16, 2018
---
Three-Dimensional Organoid Cultures as In Vitro Models for Cancer Research: Applications and Prospective
Niki Radulovitch, PhD, Scientific Manager, Core Organoid, The Princess Margaret Living Biobank (PMLB) Facilities, Toronto,
October 24, 2018
---
Global Transcriptome Profiling for Better Biomarkers
Michael Wakem, Gene Expression Application Scientist, Thermo Fisher Scientific
September 5, 2018
---
The Future of Diagnosis: Learning To Recognize Similar Images In Digital Pathology
Dr. Hamid Tizhoosh, PhD, Professor, Faculty of Engineering, University of Waterloo, KIMIA Lab
July 31, 2018
---
OkoLab BioStation for Live Cell Imaging by Leica SP8 Microscope
Thomas Kareco PhD, Application Scientist, Leica
June 25, 2018
---
Circulating Tumor DNA (ctDNA): Detection and Applications in Curable Cancers
Dr. Scott Bratman, Princess Margaret Cancer Centre
June 11, 2018
---
Preparation of Single Cell Suspensions from Tissues for Cell RNA Sequencing by 10XGenomics
Dr. Brendan McIntyre, PhD, Miltenyi Biotec, Adam Jerauld, Application Scientist, 10XGenomics
May 7, 2018
---
Multiplexing and Applications of the QuantiGene™ Plex and ViewRNA™Assay in Cancer Research and Diagnostics
Dr. Michael Shure, Application Scientist, Thermo Fisher
May 2, 2018
---
Droplets for Cancer Detection in Liquid Biopsy
Dr. Claude Lachance, PhD, BioRad
April 19, 2018
---
Advancing Oncology Research with High Content Imaging and 3D Models: Technology and Application Overview
Dr. Stephen Straub, Application Scientist, Perkin Elmer
April 5, 2018
---
MACS Technologies for Single Cell Omics: Methods for Sample Preparation, Cell Isolation and Single Cell Analysis for Cancer Research
Dr. Brendan McIntyre, PhD, Miltenyi Biotec
March 29, 2018
---
Quantitative Intracellular and Intra-Nuclear Spot Analysis Using Cytation-3 Digital Microscopy
David Selvin, Application Scientist, BioTek Instruments, Inc.
February 13, 2018
---
Visualize Gene Expression and Genetic Variations in Tumor Microenvironment: Applications of RNAscope and BaseScope ISH Technologies
Dr. Emily Park, Sr. Scientific Director, ACD
February 5, 2018
Leader
Dr. Vanya Peltekova PhD
Lead, BioLab Operations, Ontario Institute for Cancer Research
All inquiries can be addressed to Dr. Peltekova at vanya.peltekova@oicr.on.ca.
---
Seminars and workshops are for educational purposes only and are not an endorsement of any products or services by BioLab or by OICR.