BioLab: learning, training and connecting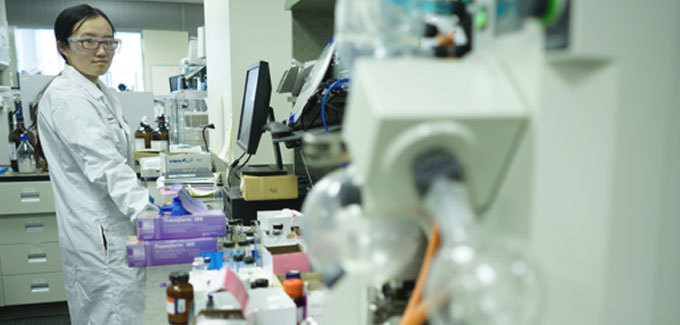 BioLab at OICR manages state-of-art equipment for translational cancer research and offers free educational seminars, advanced technology workshops and hands-on instrument training sessions led by instrument application specialists.
The mission of BioLab is to provide continuous education and training for the next generation of Ontario cancer researchers using existing and advanced cancer-related technologies, applications, tools and instrumentation.
BioLab Provides

BioLab goes beyond basic theory and training to provide application-driven experiences. BioLab training explores the full potential of state-of-art cancer research equipment from experimental design, through correct equipment usage and even covers project-driven applications.
The training sessions offered by BioLab foster collaboration in the cancer research community and provide a place to share experiences, build new collaborations and drive cancer research forward.
BioLab-Hub
To address the COVID-19 pandemic, BioLab has extended its educational offerings by launching the BioLab-Hub initiative to better assist BioLab users.
BioLab-Hub posts a selection of free webinars on cancer-related technologies and research innovations, and a monthly topic-driven, view-and-learn collection of curated technical resources on new technologies, instrumentation, applications, and protocols related to cancer research (Read More).
To keep abreast of BioLab-Hub news, please subscribe to our mailing list https://lists.oicr.on.ca/mailman/listinfo/biolab (for OICR staff), https://lists.oicr.on.ca/mailman/listinfo/biolab-global (external users).
To help us tailor the BioLab-Hub initiative to suit your research interests, please send your ideas, suggestions, links, and webinars to vanya.peltekova@oicr.on.ca.
Upcoming training sessions from the community
Targeted degradation of the enhancer lysine acetyltransferases CBP and p300
March 23, 2021 | 12:00 p.m. EDT | Register Here
Abstract: The chromatin regulators CBP and p300 maintain gene expression programs through lysine acetylation of chromatin and transcriptional regulators and by scaffolding functions mediated by several protein-protein interaction domains. Bio-Techne have developed a chemical degrader of p300/CBP, dCBP-1, using in silico modeling and cellular activity assays including capillary-based immunodetection assays (ProteinSimple, WES). The dCBP-1 is exceptionally potent at killing multiple myeloma cells and can abolish the enhancer that drives MYC oncogene expression. As an efficient degrader of this unique class of chromatin regulators, dCBP-1 will be a useful tool for understanding p300/CBP activity at enhancers in both normal and diseased cells.
---
Fast and automated TSA-based multiplexed immunofluorescence on LabSat ® Research
March 24, 2021 | 10:00 a.m. EDT | Register Here
Abstract: Multiplex immunofluorescence IHC is a powerful technique to address the increasing research needs in immuno-oncology to better understand the tumor microenvironment.
In this webinar we present a rapid and automated high-plex fluorescent immunostaining procedure, using our microfluidic-based staining device LabSat® Research and TSA staining reagents. The 6-marker protocol could be performed in less than 4 hours and 30 minutes, resulting in high-quality marker detection, efficient removal of antibodies, and remarkable signal uniformity.
---
Using iPS-derived cells to generate a functional human liver through 3D bioprinting
March 24, 2021 | 11:00 a.m. EDT | Register Here
Abstract: The liver is responsible for many metabolic, endocrine and exocrine functions. Approximately 2 million deaths per year are associated with liver failure. Modern 3D bioprinting technologies allied with autologous induced pluripotent stem cells (iPS)-derived grafts could represent a relevant tissue engineering approach to treat end stage liver disease patients. In this presentation, we will show how to differentiate human iPS towards relevant liver cellular phenotypes (hepatocytes, endothelial cells and mesenchymal cells) for 3D bioprinting.
---
Expanding ERF (Equivalent Number of Reference Fluorophore) Value Assignments for Quantitative Flow Cytometry- More Colors and Smaller Particles (National Institute of Standards and Technology)
March 25, 2021 | 11:00 a.m. EDT | Register Here
Abstract: Flow cytometry has expanded to have more users, more data, and multiple instrument types. While this has led to more quantitative data measurements, the collection of data from different instruments or on different days contribute to inaccuracies and incomparable data. In this presentation, we will introduce ERF (Equivalent Number of Reference Fluorophore) standards and discuss the significance and advantages of using the ERF standards for quantitative flow cytometry instead of pre-existing, value-assigned beads. The aim of this talk is to demonstrate ERF beads improve quality and quantification for modern fluorescence techniques.
---
Olink Proteomics & Gene Expression Profiling: it's easier than you think
March 25, 2021 | 11:00 a.m. EDT | Register Here
Abstract: Today's drug development biomarker and genetic pathway researchers know how difficult proteomics analysis has traditionally been. Recent developments in a scalable and highly multiplexed protein assay have been coupled with an online tool to make significant results easily stand out for further characterization.
In this webinar, Olink's Team Leader of Data Science Emmett Sprecher will detail how Olink's normalized protein expression values (NPX) can be easily analyzed with the online Olink Insights tool. They will utilize a public dataset of COVID-19 protein expression data from patient plasma samples to demonstrate the analyses. In addition, a showcase single-cell RNA-seq dataset alongside its plasma proteome from melanoma immunotherapy-treated patient samples.
---
Precision Oncology: Progress, challenges, and promises
March 25 and 26, 2021 | 11:00 a.m. EDT | Register Here
Abstract: Two-day conference that is a collaboration between Cell Press and the Beijing Municipal Science and Technology Committee. It aims to be a high-level discussion of the important topics and themes on precision oncology, including diagnosis and prognosis, immuno-oncology, cancer evolution, and progress in clinical trial design. The leading voices and experts from around the world will discuss what we currently know and what future directions will shape the roadmap toward better oncology care. Each day will consist of two themed sessions that include opening keynotes and will then be followed by a panel discussion among the speakers. Keynote Speakers: Carl June, University of Pennsylvania, US, Jennifer Wargo, MD Anderson Cancer Center, US
---
A Revolution in Evolution: Rapid, High-Throughput Biochemical Discovery at the Push of a Button
March 30, 2021 | 11:00 a.m. EDT | Register Here
Abstract: CRISPR has become a core genome editing tool that has transformed biological research. First-generation CRISPR technologies were limited in scalability, accessibility, edit variety, and ease of use, restricting their potential. Inscripta's Onyx™ platform addresses these limitations by combining easy-to-use, intuitive software with a push-button automated benchtop device, enabling high-efficiency, massively-parallel, precision-engineered edits to Saccharomyces cerevisiae and Escherichia coli genomes. These applications demonstrate the power of the Onyx™ platform to usher in a new era of genome editing.
---
Creating the Future of Cell and Gene Therapies
March 31, 2021 | 11:00 a.m. EDT | Register Here
Abstract: In this GEN webinar, the presenters will provide perspectives on how the gene therapy field ought to evolve. From the early vector systems, which often represented replicating viruses, to the recent sophisticated engineering of targeted virus driven cell and gene therapies that have demonstrated clinical benefits and gained FDA approval for multiple diseases. Moreover, we will also hear how reliance on preclinical murine models to predict the clinical efficacy of AAV serotype vectors in humans is not adequate. In addition, an example of the utility for one specific AAV serotype vector, not efficacious in murine models will be discussed, leading up to a Phase I/II clinical trial in humans.mous-cell carcinoma) with special focus on the infiltration of immune cells into the tumor tissue.
---
Ultrasensitive Immunoassays: The Power of Single Molecule Counting (SMC™) Technology
March 31, 2021 | 10:00 a.m. EDT | Register Here
Abstract: MilliporeSigma is excited to invite you to their upcoming virtual symposium on the power of Single Molecule Counting (SMC™) ultrasensitive immunoassay technology. Whether you are already working on the cutting edge of biomarker research, or are seeking to learn how immunoassays can enable your next scientific breakthrough, join this symposium to:
Learn about the relevance and utility of ultrasensitive immunoassays in life science research
Understand key benefits of the Single Molecule Counting (SMC™) ultrasensitive platform
Explore all the ways to enjoy the power of SMC™ technology, including highly verified shelf kits, comprehensive homebrew assay development capabilities, or white-glove services offered through our expert Custom Assay and Sample Testing (CAST) team
Learn from leading scientists how the SMC™ platform has empowered discoveries in drug-induced immunogenicity, vaccine development, and miRNA-based therapies
Network with the SMC™ user community and our in-house technology experts
---
Gene inactivation by CRISPRi: Modulate gene expression with PAM-anchored targeting
March 31, 2021 | 12:00 p.m. EDT | Register Here
Abstract: Knockdown studies are prevalent and powerful ways to illustrate gene function. CRISPRi delivers a new mechanism for gene knockdown, PAM-anchored gene interference without creating double-strand breaks, introducing CRISPR without the cut. CRISPRi-based gene repression relies on a deactivated Cas9 or dCas9 associated with guide RNA. This complex targets a specific DNA sequence and binds to the DNA downstream of a gene's TSS, blocking gene transcription. The functional result is a depletion of the target protein. This webinar will discuss the development of CRISPRi, experimental strategies for successful implementation, and data on the utility and performance of CRISPRmod.
---
Incorporating Tumor Biopsy Spatial Analysis in Oncology Clinical Trials
March 31, 2021 | 12:00 p.m. EDT | Register Here
Abstract: Understanding the immune system and biology in tumors is critical in oncology clinical trials. New methods have unlocked the ability to spatially profile immune cells in tumors, leading to a better understanding of the tumor microenvironment and hot/cold tumor status. This webinar will explore the clinical significance of the tumor microenvironment, and how factors such as cell types present, cell-cell interactions, cell-tumor interactions, and even pH can impact therapeutic efficacy. It will also discuss the complexities of tumor spatial profiling and will detail how to incorporate this into a clinical development program.
---
Demonstrating Versatility of Single-Domain Antibodies In Antibody Therapeutics Development
April 1, 2021 | 11:00 a.m. EDT | Register Here
Abstract: The family of Camelidae possess a unique repertoire of fully functional antibodies, which are naturally devoid of light chains. Since the discovery of camelid heavy chain antibodies in the early 90's, the use of their pared down version, known as single domain antibodies (sdAbs) or VHH ligands, has seen a tremendous uptake in various fields.
sdAbs harbor the full antigen-binding capacity of the original heavy chain antibody, but the small size (~12-15kD) enables them to reach epitopes normally unavailable for conventional IgGs. These ligands bind their targets with high affinity and selectivity. Due to their tunable specificity, high stability and efficient production in low eukaryotic species, this technology has been embraced by multiple disciplines of research and medicine. The CaptureSelect™ camelid single domain antibody technology has been developed for the routine purification of a wide range of biologics, including therapeutic antibodies and antibody fragments. In addition to purification in drug development, sdAbs also have specific advantages useful for the development of analytical methods. During this presentation you will learn about the versatility of these ligands and how they can be used for purification, quantification and characterization of different antibody formats.
---
Make your research count – Generate reproducible results with recombinant antibodies
April 6, 2021 | 11:00 a.m. EDT | Register Here
Abstract: The discovery of the reproducibility crisis has called into question a worrying number of scientific results over the last few years. Investigation into its causes have identified antibodies as one of the main culprits. But Miltenyi Biotec can help you bring justice back to your research.
This webinar will demonstrate how the key to reproducible flow cytometry lies within recombinantly generated antibodies. With lab-tested , practical use cases, we will introduce REAfinity™ Recombinant Antibodies and the highly defined characteristics they employ to help you overcome the reproducibility crisis.
---
Questions about Quality Control? Ask our Expert Panel
April 7, 2021 | 11:00 a.m. EDT | Register Here
Abstract: Managing your quality control program requires meticulous and precise steps. Bio-Rad brings together 4 expert panelists that will participate in a live session to answer questions about clinical laboratory quality control. This is your opportunity to ask questions about the latest guidelines, best practices, and more. Register and submit your question today!
---
Virtual Event: Bioprocessing 2021
April 7, 2021 | 9:00 a.m. EDT | Register Here
Abstract: A free, one-day event to discuss upstream and downstream processing, analytical development and quality, formulation and stability, cell and gene therapy production, and manufacturing.
---
Advancing Cell and Gene Therapy Treatments: A GENEWIZ & Brooks Life Sciences
April 7 and 8, 2021 | 9:30 a.m. EDT | Register Here
Abstract: The Advancing CGT Virtual Event is a free, 2-day meeting presented by GENEWIZ and Brooks Life Sciences, offering a platform for industry leaders and researchers from across the globe to discuss the opportunities, challenges, and latest breakthroughs in cell and gene therapy. Attendees will have the opportunity to learn more about various topics, such as developing AAV-based gene therapies, cold chain products and solutions for a wide range of materials, and more, as well as explore innovative solutions to accelerate the therapeutic development and safe delivery of successful cell and gene therapies.
---
Harnessing the Metabolism of Oncogenic Signaling for More Effective Anticancer Therapy
April 13, 2021 | 11:00 a.m. EDT | Register Here
Abstract: Metabolic rewiring has long been overlooked as a significant pathogenic mechanism in cancer. There is indubitable evidence that the reciprocal relationship between changes in metabolism and oncogenic signaling creates dependencies that promise future targets for clinical investigation.
This webinar will discuss the use of cutting-edge technologies, to track the metabolism of breast cancer tumors and preclinical models, for the identification of metabolic determinants that guide the response to anticancer therapies.
---
Virtual Event: Celebration of Science Day
April 14, 2021 | 10:00 a.m. EDT | Register Here
Abstract: To acknowledge the global scientific community and everything that has been achieved over the past year, please join The Horizon Discovery at Perkin Elmer from 10 am till 2 pm on the 14th of April for a "Celebration of Science Day" appreciating scientist superstars.
---
Thermo Fisher Scientific: Science for Sustainability Symposia
April 13 – 15, 2021 | 10:00 a.m. EDT | Register Here
Abstract: The sustainable use of raw materials in a way that conserves resources and protects the climate has been of central importance to the environment, the economy and society for many years. The use of plastics for instance in everyday items and manufacturing processes has resulted in a deluge of slowly degradable materials entering our environment and our food chain. Therefore, a sustainable use of raw materials is required in order to act in a resource and environmentally friendly way. Join this free virtual event to deepen your understanding of microplastic contaminants, bio-friendly alternatives to environmentally harmful materials and research into alternative energy resources and recycling. Talks by international leaders, technical experts and scientists in the field will discuss perspectives to advance science, collaborations, and how to support researchers towards a cleaner, healthier and safer world.
---
THUNDER – Revealing Image Detail Hidden in the Haze
April 15, 2021 | 10:00 a.m. EDT | Register Here
Abstract: In widefield fluorescence microscopy both the contrast and resolution of a captured image is corrupted by light collected from adjacent planes, scattered light, camera sensor noise and the system's point spread function. These contributions result in increased image haze/blur, obscuring the image details. Leica Microsystems THUNDER technology addresses these pitfalls through computational clearing and adaptive deconvolution. Together these methods improve image contrast and resolution beyond that of a typical high-end widefield fluorescence microscope.
---
Rapid biotherapeutic charge variant analysis by CZE-UV and CZE-MS
April 20, 2021 | 10:00 a.m. EDT | Register Here
Abstract: There is a vital need to characterize Biopharmaceuticals in early phase screening to ensure the most suitable candidates are accelerated through the development funnel. Charge variants and amino acid sequence variants are critical quality attributes (CQAs) which need to be characterized and controlled quickly during screening and process development.
Rapid charge variant analysis is performed by gold standard CZE and cIEF capillary electrophoresis methods with optical detection. However, identification of unknown charge variant peaks remains a challenge without complex workflows involving fraction collection. The work presented here demonstrates that CE-MS profiles nearly identical to those from CZE and cIEF allow identification of unknown charge variant peaks in under 10 minutes.
On demand training sessions from the community
Technique Talk: Improving IHC and IF Staining Results
On Demand | Register Here
Abstract: Immunohistochemistry (IHC) and immunofluorescence (IF) are well established, trusted applications for investigating protein detection and localization within cell and tissue preparations. However, even experienced researchers sometimes struggle with recurring problems, such as background interference, lack of specificity, weak signal, or poor reproducibility. These challenges can compound, requiring valuable time and resources for troubleshooting, reducing lab productivity, and delaying the generation of meaningful results.
This Technique Talk sponsored by Vector Laboratories will explore approaches for optimizing your IHC and IF staining workflows.
---
LabTools: Sample Preparation for Single Cell Analysis: Tips and Tricks
On Demand | Register Here
Abstract: Single cell analysis is a powerful technique for characterizing complex tissue types, identifying rare cell populations, uncovering regulatory relationships between genes, and tracking cell trajectories. From sample handling to cell dissociation, there are a number of technical considerations that influence cell viability and data quality of single cell genomics, single cell epigenomics, and single cell gene expression experiments. In this webinar, Dr. Jill Herschleb will explore critical sample prep decisions and considerations for assay design and optimization.
---
Harnessing Single-Cell Multi-Omic Energy States for Integrated Cancer Biology
On Demand | Register Here
Abstract: With the multi-omic energy state application, researchers can connect metabolites from single cells directly to that cell's energy state to identify functional activation pathways and metabolic function. By using this unique application, independent trajectories to drug tolerance can be revealed, enabling researchers to develop better combination therapies to combat this drug-resistant cell state and prevent drug resistance.
In this webinar you will learn how scientists use multi-omic approaches to identify functional changes leading to cancer cell drug resistance and devise new treatment strategies.
---
From Cell Seeding to Analysis – Getting the Best Out of Your Cell-based Assay
On Demand | Register Here
Abstract: The assessment of cell health and cellular responses after experimental manipulation continue to be a very important aspect of experimental biology. Reproducibility of cell-based assays is one of the key points when it comes to reliability of experimental data.
In this webinar Eppendorf and Promega are joining forces to optimize your assay results and discuss measures for getting the best out of your cell-based assay.
---
Human Biology: An Exploration of Organs-on-Chips
On Demand | Register Here
Abstract: Biologic drugs comprise 40 percent of the current drug development pipeline. Existing in vitro and animal models are limited in their ability to evaluate the safety and efficacy of these drugs in humans. These limitations often result in development delays and increased costs.
Organs-on-chips emulate human biology by providing a micro-engineered environment lined with living human cells and tissues. Each chip recreates the natural physiology and mechanical forces that cells experience within the human body. This digital event brings together the world's leading experts for an extensive exploration of how organs-on-chips provide a far more predictive model of human biology. The webinar will discuss the latest developments in this advanced technology.
---
cfDNA Analysis: From Plasma to Variants
On Demand | Register Here
Abstract: As the cost of sequencing continues to drop, the throughput and complexity of NGS assays have risen precipitously. At the same time, the types of samples being used for these assays have expanded as researchers find value in studying low-input, degraded, biological samples, such as cell-free DNA (cfDNA). In this webinar, Integrated DNA Technologies presents a complete workflow for effective analysis of <1% variant allele frequency (VAF) in cfDNA.
Topics to be Covered:
Describe how to increase cfDNA extraction efficiency using magnetic bead–based technology.
Demonstrate how to maximize conversion, coverage and complexity from low inputs of cfDNA during library preparation.
Utilize fixed UMIs for bioinformatic error correction to reduce sequencing and PCR errors.
---
Past BioLab sessions
2020
Amnis® Multispectral Imaging Flow Cytometry for Single Cell Analysis: Tools and Applications
January 28, 2020
2019
Virtual Reality (VR) in Cancer Imaging: Project Theia – Interactive VR Cancer Research Lab
November 29, 2019
The Antibody Reproducibility Crisis
October 17, 2019
Targeting Epigenetic Mechanisms: Challenges and Solutions
October 15, 2019
BioTek's Cytation Multi-Mode Cell Imager: Practical Applications for Imaging and Quantification of Cell-Based Assays
September 18, 2019
Development and Implementation of Clinical Proteomics for Precision Oncology: Applications at the Bedside
August 6, 2019 | [Watch

Development and Implementation of Clinical Proteomics for Precision Oncology: Applications at the Bedside

on YouTube]
Magnetic 3D Bioprinting of Cells: an advance platform for developing tumor models for high throughput functional studies and drug screening
July 24, 2019 | [Watch

Magnetic 3D Bioprinting of Cells: an advance platform for developing tumor models for high throughput functional studies and drug screening

on YouTube]
Improving Communication through Visuals: 10 Tips for Better Science Figures
July 11, 2019
Artificial Intelligence in Cancer Imaging: Bridging the Gap between Pathologist and Algorithm
June 21, 2019 | [Watch

Artificial Intelligence in Cancer Imaging: Bridging the Gap between Pathologist and Algorithm

on YouTube]
Live Cell Imaging with OkoLab BioStation and Leica SP8 Microscope
May 30, 2019
IsoPlexis Single Cell Platform Links Functional Proteomics with Cancer Immunotherapy
May 28, 2019

Oncomine Technology and Solutions for Utilization of Liquid Biopsy Assays in Cancer Research and Clinical Practice
May 9, 2019
Confocal Laser Scanning Microscopy: Exploring Field of View and Mosaic Function to Assemble Single High-Resolution Images into a Large Super image
April 24, 2019
MACSQuant® Tyto® Flow Cell Sorter for Multiparametric Cell Sorting Based on Microchip Technology for Sterile and Gentle Cell Isolation
April 17, 2019
Confocal Laser Scanning Microscopy: Leica SP8 TCP Basics
April 10, 2019
Smarter Medicine: Getting Started in Computational Pathology
April 9, 2019 | [Download the slides

from May 9

]
Optimizing Ribonucleoprotein Delivery to Achieve Potent and Precise CRISPR/Cas9 genome editing
March 27, 2019
Simultaneous Detection of Noncoding RNAs and Protein Cell Surface Markers from PBMC Subpopulations
January 31 and February 1st, 2019
MaxCyte Flow Electroporation Technology: Choosing the Right Cell Engineering Technology from Discovery to Manufacturing
January 29, 2019
Simultaneous Detection of mRNA transcripts and Proteins in Different Immune Cell Subsets
January 22, 2019
Innovative Tools and Techniques for Isolation and Characterization of Cancer-Derived Exosomes (MACSPlex and MACSQuant)
January 16, 2019
2018
Novel Automated Platforms for CRISPR-Engineered Cell Lines and Synthetic sgRNA for Primary Cell and Screening Applications
November 29, 2018
PrimeFlow RNA Assay for simultaneous detection of RNA and Protein by Flow Cytometry
November 8, 2018 | PowerPoint slides

for Primeflow

Three-Dimensional Organoid Cultures as In Vitro Models for Cancer Research: Applications and Prospective
October 24, 2018
Tools and Techniques for Isolation and Multi-Plex Analysis of Cancer-Derived Exosomes via Flow Cytometry
October 10, 2018
The Moffitt Cancer Center approach to pathology diagnostics supporting the delivery of precision oncology and immune-oncology treatments
October 16, 2018 | Video

from October 16

Introduction to Multiphoton Microscopy and Fluorescent Lifetime Microscopy (FLIM)
October 16, 2018
Basics of Confocal Laser Scanning Microscopy
October 4, 2018
BioPlex 200 Analyzer: How to Use of xMAP Technology to Measure Complex Immune Responses
September 10, 2018
Global Transcriptome Profiling for Better Biomarkers
September 5, 2018
OkoLab BioStation for Live Cell Imaging by Leica SP8 Microscope
August 1st, 2018
The Future of Diagnosis: Learning To Recognize Similar Images In Digital Pathology
July 31, 2018
Computational Pathology Tools for Whole Slide Biomarker: ISH spot quantification at single cell resolution at the STTARR image analysis core facility
July 19, 2018
OkoLab BioStation for Live Cell Imaging by Leica SP8 Microscope
June 25, 2018
Circulating Tumor DNA (ctDNA): Detection and Applications in Curable Cancers
June 11, 2018
Preparation of Single Cell Suspensions from Tissues for Cell RNA Sequencing by 10XGenomics
May 7, 2018
Multiplexing and Applications of the QuantiGene™ Plex and ViewRNA™Assay in Cancer Research and Diagnostics
May 2, 2018
Basics of Leica Laser TCS SP8 Confocal Microscopy
April 24, 2018
Droplets for Cancer Detection in Liquid Biopsy
April 19, 2018
Advancing Oncology Research with High Content Imaging and 3D Models: Technology and Application Overview
April 5, 2018
MACS Technologies for Single Cell Omics: Methods for Sample Preparation, Cell Isolation and Single Cell Analysis for Cancer Research
March 29, 2018
Quantitative Intracellular and Intra-Nuclear Spot Analysis Using Cytation-3 Digital Microscopy
February 13, 2018
Visualize Gene Expression and Genetic Variations in Tumor Microenvironment: Applications of RNAscope and BaseScope ISH Technologies
February 5, 2018
Leader
Dr. Vanya Peltekova PhD
Lead, BioLab Operations, Ontario Institute for Cancer Research
All inquiries can be addressed to Dr. Peltekova at vanya.peltekova@oicr.on.ca.
---
Seminars and workshops are for educational purposes only and are not an endorsement of any products or services by BioLab or by OICR.