BioLab: learning, training and connecting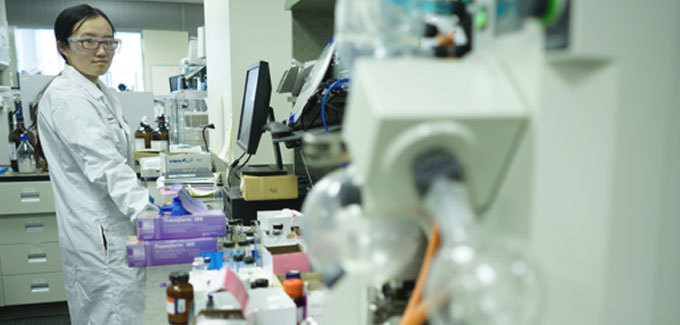 BioLab at OICR manages state-of-art equipment for translational cancer research and offers free educational seminars, advanced technology workshops and hands-on instrument training sessions led by instrument application specialists.
The mission of BioLab is to provide continuous education and training for the next generation of Ontario cancer researchers using existing and advanced cancer-related technologies, applications, tools and instrumentation.
BioLab Provides

BioLab goes beyond basic theory and training to provide application-driven experiences. BioLab training explores the full potential of state-of-art cancer research equipment from experimental design, through correct equipment usage and even covers project-driven applications.
The training sessions offered by BioLab foster collaboration in the cancer research community and provide a place to share experiences, build new collaborations and drive cancer research forward.
BioLab-Hub
To address the COVID-19 pandemic, BioLab has extended its educational offerings by launching the BioLab-Hub initiative to better assist BioLab users.
BioLab-Hub posts a selection of free webinars on cancer-related technologies and research innovations, and a monthly topic-driven, view-and-learn collection of curated technical resources on new technologies, instrumentation, applications, and protocols related to cancer research (Read More).
To keep abreast of BioLab-Hub news, please subscribe to our mailing list https://lists.oicr.on.ca/mailman/listinfo/biolab (for OICR staff), https://lists.oicr.on.ca/mailman/listinfo/biolab-global (external users).
To help us tailor the BioLab-Hub initiative to suit your research interests, please send your ideas, suggestions, links, and webinars to vanya.peltekova@oicr.on.ca.
Upcoming training sessions from the community
Uncovering Leukemia Therapies with Single-Cell CRISPR Screens
June 10, 2021  | 12:00 p.m. EDT | Register Here
Abstract: Lack of cellular differentiation is a hallmark of many human cancers, including acute myeloid leukemia (AML). Strategies to overcome such differentiation blockade, a notion known as "differentiation therapy," represent an alternative approach for treating a subset of AML patients, a disease marked by a dismal prognosis and limited therapeutic options.
In this GEN webinar, sponsored by 10x Genomics, Dr. Eric Wang from Memorial Sloan Kettering Cancer Center will speak about his recent work on using CRISPR technologies, including single-cell multimodal CRISPR screening (also known as ECCITE-seq), to discover new regulators of leukemia differentiation and potential therapeutic targets for differentiation-based therapies in AML.
---
Spatial Omics Series: Integrative Single Cell and Spatial Analysis
June 10, 2021 | 10:00 a.m. EDT | Register Here
Abstract: The ability to sequence multiple omics layers in an integrative fashion has enabled many deep biological insights to be made. This webinar will evaluate the integrative approaches to single-cell analysis and highlight research using this approach to develop our understanding of complex systems.
---
Single Cell and Label Free Binding Affinity: Applications with Genentech
June 15, 2021  | 1:00 p.m. EDT | Register Here
Abstract: SPRm (Surface Plasmon Resonance Microscopy) is a novel technology that enables label-free and real-time binding affinity and kinetics of membrane proteins with drug molecules. By combining cell culture and imaging techniques with biophysical assays, the measurements are done in the receptor's physiological conditions thus providing direct and more relevant information about the binding events. In this webinar, we will provide an overview of the technology with various small molecule and antibody binding examples. In addition, Genentech will show how this technology can differentiate between monovalent and bivalent binding of anti-HER2 antibodies with different HER2 expression cell lines.
---
NanoString Signature Series: Analytical Validation of the NanoString PanCancer IO360 Gene Expression Panel for Immuno-Oncology Gene Signature Generation
June 15, 2021 | 1:00 p.m. EDT | Register Here
Abstract: This webinar will highlight on the analytical validation of the PanCancer IO 360 Gene Expression panel at NeoGenomics to support the panel's use as a laboratory-developed test (LDT), in retrospective or exploratory studies. A cohort of 40 Formalin-fixed paraffin-embedded (FFPE) samples from various solid tumor indications were tested to assess the accuracy, precision, analytical specificity, and RNA input range of the PanCancer IO360 panel.
---
PerkinElmer High Content Imaging Webinar: Cell Painting a Practical Approach
June 16, 2021  | 10:00 a.m. EDT | Register Here
Abstract: Cell Painting is a phenotypic screening method and a powerful application of high-content screening technology. In the cell painting process, specific cellular compartments and organelles are simultaneously stained with six fluorescent probes, followed by imaging and analysis to extract hundreds to thousands of features to phenotypically profile the cells and gain a deeper understanding of the effects of chemical, drug, or genetic perturbations.
---
Increased Cellular Avidity Upon Combining Multi-targeting and Co-stimulation Leads to Enhanced CAR-T Cell Sensitivity and Persistence
June 16, 2021  | 11:00 a.m. EDT | Register Here
Abstract: Multiplexing targeting and co-stimulation through the CAR+CCR combination is a powerful strategy to boost the immunotherapeutic potential of engineered T cells. This webinar will introduce a new technology, the z-Movi® Cell Avidity Analyzer, for rapidly screening and selecting the right candidates using this novel approach. Cell avidity measurements allow us to observe increased cellular avidity when comparing the CAR+CCR setting to a single CAR targeting BCMA. This novel opportunity of pre-screening of lead CAR products could accelerate the bench-to-bed trajectory significantly.
---
Tools for Data Validation through Multiplex Quantigene RNA assay
June 16, 2021 | 11:00 a.m. EDT | Register Here
Abstract: Need to validate gene signatures via RNAseq, NanoString or Microarray? Looking into difficult sample types such asFFPE and blood, or avoiding RNA extraction? Come learn about branched DNA (bDNA) family of assays for RNA analysis.With bDNA you can perform high-content gene expression profiling and simultaneous analysis of cell type specific markers using QuantigenePlex assays. With bDNA you can visualize RNA targets in a single cell with a single-copy resolution alongside with protein by using ViewRNA Cell Plus novel multiplex fluorescent assay.
---
Diagnostics Virtual Open Day 2021: Accelerating Diagnostics Test Development
June 17, 2021 | 10:00 a.m. EDT | Register Here
Abstract: A wealth of technology, diverse expertise in areas such as biomedical science, biochemistry, virology as well as a robust supply of critical components are fundamental to the successful development of every test. Optimizing assays and kits for high sensitivity and accuracy is a common goal for all those involved in the development process. The need for close collaboration between diagnostic developers and component and material providers has never been stronger.
This interactive virtual open day will present products, solutions, and services supporting the development of diagnostic assays and kits.
---
Analysis of Spatially Resolved Omics Data in Partek® Flow® Bioinformatics Software
June 17, 2021 | 2:00 p.m. EDT | Register Here
Abstract: Spatially resolved transcriptomics is a family of techniques designed to allow transcriptomic profiling of cells within a tissue. It has gained a lot of attention over recent years, earning it the Nature Methods 2020 method of the year title. Spatially resolved transcriptomic methods provide unique biological insight by preserving tissue context, but data analysis remains challenging. This presentation will introduce the graphical bioinformatics software Partek Flow and demonstrate its ability to seamlessly analyse a spatially resolved transcriptomics experiment.
---
Manipulating the Microbiome to Manage Disease
June 17, 2021  | 2:30 a.m. EDT | Register Here
Abstract: The human microbiome is an intricate system, and its role in health and disease is currently under intense investigation. Altering the microbiome with beneficial organisms and editing the species that are already established holds promise for treating a variety of diseases. In this webinar brought to you by The Scientist and Tecan, Cammie Lesser and Andrew Koh will discuss how they plan to manage disease by manipulating the microbiome.
---
Cell DIVE: A Robust Platform for Multiplexed Whole Slide Imaging and Single-Cell Analysis
June 17, 2021  | 10:00 a.m. EDT | Register Here
Abstract: Multiplexed whole slide imaging allows deep contextual analysis of cancer tissue and provides new insights into cancer tissue heterogeneity, including cell-to-cell interactions and the tumor immune microenvironment. The Cell DIVE™ multiplexed immunofluorescence solution is used to comprehensively map 36 biomarkers on a single Colon Cancer Tumor Microarray (TMA), with over 96 tissue core samples, enabling multiplexed biomarker labeling of tumors from multiple patients. Stitched images were imported into HALO® image analysis software (www.indicalab.com). 
---
Spatial Omics Series: Single Cell and Spatial Omics in the Hunt for New Therapeutics
June 17, 2021 | 10:00 a.m. EDT | Register Here
Abstract: Single cell multi-omics can elucidate causative changes in the omics layers, and how they interact with each other, giving researchers better therapeutic targets. This webinar will highlight the impact single cell omics technologies are having on the hunt for better, more precise therapeutic targets.
---
NanoString Signature Series: Utilization of Nanostring's IO360 and TIS to Direct Spatial Investigation of the Tumor Microenvironment
June 21, 2021 | 1:00 p.m. EDT | Register Here
Abstract: This webinar will be focusing on Oncology Gene Expression Signatures accessible through NanoString and select CRO partners. Learn how TIS, PAM50, and LST were developed and validated, and how the signatures are being used in the oncology field today.
---
The Cancer Immunome Project: Adding the Spatial Dimension
June 22, 2021 | 11:00 a.m. EDT | Register Here
Abstract: Immune checkpoint inhibitors are revolutionizing cancer therapy and have helped many patients over the past few years. A team of investigators at the Mayo Clinic is trying to close this gap by developing a catalog of the human immune system in cancer patients, appropriately called "The Cancer Immunome Project."
The project seeks to describe the dynamics of immune interactions at both the systemic level — through cytometric analysis of peripheral blood — and the local level, through single-cell, multiplex immunofluorescence-based imaging of the tumor microenvironment. By analyzing the spatial architecture of FFPE tumor sections across the entire tumor microenvironment, the team is generating a comprehensive map of the cancer immunome.
---
Formulating a New Approach to Pharmacokinetics and Cell State Control
June 22, 2021 | 10:00 a.m. EDT | Register Here
Abstract: Most in vitro, biological experiments require a media change every day or two, with cyclic variations in nutrient and metabolite concentrations leading to physiologically unrealistic gene expression and metabolism. Typical step-changes in drug concentrations do not reflect in vivo pharmacokinetic (PK) exposure profiles, which can lead to inaccurate ranking of oncological drug effectiveness. State-of-the-art microfluidic pumps and valves enable the creation of Multi-Well Microformulators that impose on each well a different physiological PK profile, circadian rhythm, or temporal changes of growth factors and signalling molecules.
---
Rapid Precision Medicine™ Update Vision for 2022
June 23, 2021 | 6:00  p.m. EDT | Register Here
Abstract: Save the date for this Rapid Precision Medicine Ground Rounds webinar featuring RCIGM President and CEO, Dr. Steven Kingsmore. Registration opens Friday, June 4th.
---
Spatial Omics Series: Understanding Cellular Heterogeneity in Complex Systems
June 24, 2021 | 10:00 a.m. EDT | Register Here
Abstract: Cellular heterogeneity underpins some of the most complex systems in human health – from the immune system, the nervous system or in diseases such as cancer. This webinar will highlight some of the latest research that is providing deeper insights into these complex biological systems.
Embracing complexity: from discrete analysis to multivariate visualizations: Yann Abraham, Computational Immunologist, Janssen
Dissecting intratumoral immune cell diversity using single cell transcriptomics: Anne van der Leun, Post-doc, Netherlands Cancer Institute
---
Single-Cell, Spatial Phenotyping: Fueling the Next Wave of Discovery Biology
June 24, 2021 | 1:00  p.m. EDT | Register Here
Abstract: The Chan Zuckerberg Initiative (CZI) was founded to help solve some of society's toughest challenges— from eradicating disease and improving education, to addressing the needs of our local communities. One of the programs within CZI Science is focused on advancing discoveries through single-cell biology. The advent of high parameter imaging platforms, like the CODEX® system, is now allowing biological researchers to catalogue the vast diversity of cellular phenotypes within a tissue sample, while maintaining their spatial context. This webinar will introduce the CODEX solution and share case studies on how single-cell, spatial phenotyping applications can push the boundaries of discovery biology in human health and disease.
---
A Microsatellite Instability (MSI) Series
June 29, 2021 | 10:30 a.m. – 5:00 p.m. EDT | Register Here
Abstract: MSI has rapidly advanced as an important pan tumor biomarker associated with response to immune checkpoint inhibitors and the drive towards universal tumor testing. Join this session to learn more about MSI from three esteemed speakers who will present on the following topics:
Colorectal cancer disparities and the role of MSI testing and implementation
MSI screening technologies and techniques to measure microsatellite instability
Detection and sensitivity of ccfDNA MSI alleles
Development of an MSI Assay Utilizing Novel Long Repeats
Exploiting liquid biopsies to detect MSI in cancer for longitudinal immunotherapy tracking
---
Rapid Immunodetection in Clinical and Pharmaceutical Applications 
June 30, 2021  | 11:00 a.m. EDT | Register Here
Abstract: Faster immunodetection has always been a target among life science researchers. Nowadays lateral flow test is the most popular format of Point of Care Test (POCT) which typically takes 15 minutes to complete and qualitatively detects a soluble antigen. In this webinar, we introduce a new immunodetection technology, direct immunohistochemistry (IHC) which also takes 10-15 minutes to complete but qualitatively detects solid phase antigens in tissue or cells. Direct IHC opens multiple new applications in pathology diagnostics and pharmaceutical companion diagnostics.
---
Advances in Proteomics & Metabolomics – Online Symposium 2021
June 30, 2021 | 11:00 a.m. EDT | Register Here
Abstract: Accessed via mobile, tablet or PC, this free to attend online symposium will highlight the latest advances in proteomics and metabolomics research and their applications in modern medicine.
The insights offered by proteomic and metabolomic approaches are helping to shape our understanding of diseases, accelerate the development of novel clinical biomarkers and facilitate drug discovery. This event features a collection of exclusive talks from leading scientists in the field, discussing their research and lending insights on the advances and challenges in this exciting space.
---
Quantifying Cellular Microenvironments with Spatial Analysis
June 30, 2021 | 11:00 a.m. EDT | Register Here
Abstract: The rapidly evolving field of multiplexed imaging is revealing increasingly complex patterns of cellular positioning and cell-cell interactions with important roles in both cellular- and tissue-level physiology.
This webinar will describe a spatial analysis toolbox capable of leveraging these information-rich datasets: the histo-cytometric multidimensional analysis pipeline (CytoMAP). CytoMAP incorporates multiple approaches for data clustering, positional correlation, dimensionality reduction, and 2D/3D region reconstruction to reveal features of cellular heterogeneity, quantify patterning of these cells across tissues, and identify large-scale principles of tissue organization.
---
Best Practices to Recover from an Out-of-control Event
June 30, 2021 | 11:00 a.m. EDT | Register Here
Abstract: Quality control results are flagged on a daily basis, and each lab may have different procedures to resolve the issue. As bench technologists are faced with an abrupt stop to their workflow and delayed reports, there are immediate actions to take following an out of control event. This webinar will discuss steps to recover from an out of control event and how to continue evaluating patient results after recovery.
---
On demand training sessions from the community
The Changing Landscape of Diagnostic Biomarkers: Revealing the Future of Diagnostics, from Singleplex to Multiplex 
On Demand | Register Here
Abstract: Advancing personalized medicine is increasingly becoming the goal of many drug manufacturers and would be an obvious boon for both clinicians and patients. Immunohistochemistry (IHC)-based companion and complementary diagnostics that can help identify the right patient for the right drug are playing a major role in this trend. While a single-biomarker diagnostic test is clinically appealing due to its simplicity and low cost, the additional information that the right multi-biomarker test could offer is luring many developers to pursue multiplex strategies.
---
How Molecular Combing Technology is Transforming Genomic Research Through Visualizing DNA at the Single-Molecule Level
On Demand | Register Here
Abstract: Molecular combing provides unbiased quantification and characterization of DNA structure and dynamics by imaging single DNA molecules from cells, blood, and tissue samples. In this introductory webinar, you will discover the basics of DNA combing and discover how Genomic Vision can support your research.
---
Avoiding Hurdles in Molecular Assay Development
On Demand  | Register Here
Abstract: The global pandemic has increased focus and scrutiny on molecular diagnostic assay development, resulting in a need for assays that provide quick results while delivering expected performance and quality. The need for these types of assays in infectious disease diagnostics has become apparent on a wide scale, but molecular diagnostic testing is also poised to grow in other areas such as genetic testing, prenatal testing, oncology, and pharmacogenomics over the next several years. This webinar will demonstrate how small changes to assay components (such as enzyme selection) can overcome many of these hurdles during development and significantly impact the overall quality and accuracy of an assay.
---
Physiologic Medium to Study Human Cell Biology 
On Demand | Register Here
Abstract: Environmental factors influence human cell physiology and can also affect drug efficacy, but existing model systems used to study human cells have limitations for understanding these contributions. This webinar will discuss the initial development and use of human plasma-like medium (HPLM), a physiologic medium designed to more closely reflect the metabolic composition of human blood.
---
Hacking the Immune Response: Novel Vaccine Design to Combat Pandemic Diseases
On Demand | Register Here
Abstract: Vaccine design and development have always been an integral part of the biopharmaceutical industry. Investigators face numerous challenges during the vaccine discovery process, with rapidly mutating pathogens being chief among them, as they render vaccine responses obsolete.
In this GEN webinar, speakers from Centivax, will present data on computational immunology interrogation of the adaptive immune response to better understand why immune responses rarely target conserved epitopes.
---
Streamlined Targeted NGS Workflow for Comprehensive Genomic Profiling of Different Tumor Samples 
On Demand | Register Here
Abstract: Molecular tumor profiling has provided extensive value, both in tumor biology and oncology. While conventional technologies, such as FISH and PCR, allow accurate low-throughput detection, next-generation sequencing-based approaches enable comprehensive and simultaneous identification of various alterations.
Compared to conventional technologies, NGS-based approaches overcome the challenge of limited materials and reduce the turnaround time. Agilent Technologies will present several hybrid capture-based assays for various tumor entities using the SureSelect XT HS2 chemistry.
---
Past BioLab sessions
2020
Amnis® Multispectral Imaging Flow Cytometry for Single Cell Analysis: Tools and Applications
January 28, 2020
2019
Virtual Reality (VR) in Cancer Imaging: Project Theia – Interactive VR Cancer Research Lab
November 29, 2019
The Antibody Reproducibility Crisis
October 17, 2019
Targeting Epigenetic Mechanisms: Challenges and Solutions
October 15, 2019
BioTek's Cytation Multi-Mode Cell Imager: Practical Applications for Imaging and Quantification of Cell-Based Assays
September 18, 2019
Development and Implementation of Clinical Proteomics for Precision Oncology: Applications at the Bedside
August 6, 2019 | [Watch

Development and Implementation of Clinical Proteomics for Precision Oncology: Applications at the Bedside

on YouTube]
Magnetic 3D Bioprinting of Cells: an advance platform for developing tumor models for high throughput functional studies and drug screening
July 24, 2019 | [Watch

Magnetic 3D Bioprinting of Cells: an advance platform for developing tumor models for high throughput functional studies and drug screening

on YouTube]
Improving Communication through Visuals: 10 Tips for Better Science Figures
July 11, 2019
Artificial Intelligence in Cancer Imaging: Bridging the Gap between Pathologist and Algorithm
June 21, 2019 | [Watch

Artificial Intelligence in Cancer Imaging: Bridging the Gap between Pathologist and Algorithm

on YouTube]
Live Cell Imaging with OkoLab BioStation and Leica SP8 Microscope
May 30, 2019
IsoPlexis Single Cell Platform Links Functional Proteomics with Cancer Immunotherapy
May 28, 2019

Oncomine Technology and Solutions for Utilization of Liquid Biopsy Assays in Cancer Research and Clinical Practice
May 9, 2019
Confocal Laser Scanning Microscopy: Exploring Field of View and Mosaic Function to Assemble Single High-Resolution Images into a Large Super image
April 24, 2019
MACSQuant® Tyto® Flow Cell Sorter for Multiparametric Cell Sorting Based on Microchip Technology for Sterile and Gentle Cell Isolation
April 17, 2019
Confocal Laser Scanning Microscopy: Leica SP8 TCP Basics
April 10, 2019
Smarter Medicine: Getting Started in Computational Pathology
April 9, 2019 | [Download the slides

from May 9

]
Optimizing Ribonucleoprotein Delivery to Achieve Potent and Precise CRISPR/Cas9 genome editing
March 27, 2019
Simultaneous Detection of Noncoding RNAs and Protein Cell Surface Markers from PBMC Subpopulations
January 31 and February 1st, 2019
MaxCyte Flow Electroporation Technology: Choosing the Right Cell Engineering Technology from Discovery to Manufacturing
January 29, 2019
Simultaneous Detection of mRNA transcripts and Proteins in Different Immune Cell Subsets
January 22, 2019
Innovative Tools and Techniques for Isolation and Characterization of Cancer-Derived Exosomes (MACSPlex and MACSQuant)
January 16, 2019
2018
Novel Automated Platforms for CRISPR-Engineered Cell Lines and Synthetic sgRNA for Primary Cell and Screening Applications
November 29, 2018
PrimeFlow RNA Assay for simultaneous detection of RNA and Protein by Flow Cytometry
November 8, 2018 | PowerPoint slides

for Primeflow

Three-Dimensional Organoid Cultures as In Vitro Models for Cancer Research: Applications and Prospective
October 24, 2018
Tools and Techniques for Isolation and Multi-Plex Analysis of Cancer-Derived Exosomes via Flow Cytometry
October 10, 2018
The Moffitt Cancer Center approach to pathology diagnostics supporting the delivery of precision oncology and immune-oncology treatments
October 16, 2018 | Video

from October 16

Introduction to Multiphoton Microscopy and Fluorescent Lifetime Microscopy (FLIM)
October 16, 2018
Basics of Confocal Laser Scanning Microscopy
October 4, 2018
BioPlex 200 Analyzer: How to Use of xMAP Technology to Measure Complex Immune Responses
September 10, 2018
Global Transcriptome Profiling for Better Biomarkers
September 5, 2018
OkoLab BioStation for Live Cell Imaging by Leica SP8 Microscope
August 1st, 2018
The Future of Diagnosis: Learning To Recognize Similar Images In Digital Pathology
July 31, 2018
Computational Pathology Tools for Whole Slide Biomarker: ISH spot quantification at single cell resolution at the STTARR image analysis core facility
July 19, 2018
OkoLab BioStation for Live Cell Imaging by Leica SP8 Microscope
June 25, 2018
Circulating Tumor DNA (ctDNA): Detection and Applications in Curable Cancers
June 11, 2018
Preparation of Single Cell Suspensions from Tissues for Cell RNA Sequencing by 10XGenomics
May 7, 2018
Multiplexing and Applications of the QuantiGene™ Plex and ViewRNA™Assay in Cancer Research and Diagnostics
May 2, 2018
Basics of Leica Laser TCS SP8 Confocal Microscopy
April 24, 2018
Droplets for Cancer Detection in Liquid Biopsy
April 19, 2018
Advancing Oncology Research with High Content Imaging and 3D Models: Technology and Application Overview
April 5, 2018
MACS Technologies for Single Cell Omics: Methods for Sample Preparation, Cell Isolation and Single Cell Analysis for Cancer Research
March 29, 2018
Quantitative Intracellular and Intra-Nuclear Spot Analysis Using Cytation-3 Digital Microscopy
February 13, 2018
Visualize Gene Expression and Genetic Variations in Tumor Microenvironment: Applications of RNAscope and BaseScope ISH Technologies
February 5, 2018
Leader
Dr. Vanya Peltekova PhD
Lead, BioLab Operations, Ontario Institute for Cancer Research
All inquiries can be addressed to Dr. Peltekova at vanya.peltekova@oicr.on.ca.
---
Seminars and workshops are for educational purposes only and are not an endorsement of any products or services by BioLab or by OICR.