BioLab: learning, training and connecting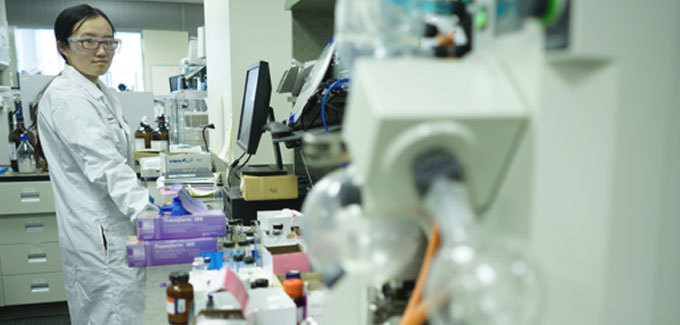 BioLab at OICR manages state-of-art equipment for translational cancer research and offers free educational seminars, advanced technology workshops and hands-on instrument training sessions led by instrument application specialists.
The mission of BioLab is to provide continuous education and training for the next generation of Ontario cancer researchers using existing and advanced cancer-related technologies, applications, tools and instrumentation.
BioLab Provides

BioLab goes beyond basic theory and training to provide application-driven experiences. BioLab training explores the full potential of state-of-art cancer research equipment from experimental design, through correct equipment usage and even covers project-driven applications.
The training sessions offered by BioLab foster collaboration in the cancer research community and provide a place to share experiences, build new collaborations and drive cancer research forward.
BioLab-Hub
To address the Coronavirus outbreak, BioLab has decided to extend its educational offerings by launching the BioLab-Hub initiative to better assist its users and subscribers.
BioLab-Hub will be posting bi-weekly selection of free webinars on cancer-related technologies and research innovations, and a monthly view and learn topic-driven collection of curated technical resources on recent and new technologies, instrumentation, applications, videos and protocols related to cancer research (Read More).
To keep abreast on the ongoing BioLab-Hub news, please subscribe to our mailing list https://lists.oicr.on.ca/mailman/listinfo/biolab (for OICR staff), https://lists.oicr.on.ca/mailman/listinfo/biolab-global (external users).
To help tailoring the BioLab-Hub initiative to favour your research interests, please, sharing your ideas, suggestions, links, sites, and webinars to vanya.peltekova@oicr.on.ca.
Read a message from the Lead about how BioLab is adapting to the COVID-19 pandemic [PDF]
---
Upcoming training sessions from the community June 2 – June 11
Dana-Farber/Harvard Cancer Center Science seminar series
Register/ Watch Here
It involves speakers who are leaders in cancer biology, immune oncology and other fields from across the world. Outstanding presentations will be shared with researchers around the globe and recorded for subsequent viewing.
Free Access to All JoVE Education Videos
Until June 15, 2020 | Register Here
JoVE is the world only peer-reviewed scientific video journal that produced over 9,500 videos demonstrating experiments from laboratories at top research institutions and delivered online to millions of scientists, educators, and students worldwide
---
The Future of Pre-clinical Drug Research: An Introduction to Organ-on-Chip
June 2, 2020 | 10:00 a.m. EDT | Register Here
Abstract: Current strategies for pre-clinical drug discovery produce potential therapies that fail 90% of the time in clinical trials. To improve this situation, we need new models for research.This webinar will discuss the potentially revolutionary technology behind organ-on-chip systems (OOC). These platforms could improve many aspects of the preclinical drug discovery process, enhancing throughput, reproducibility and usability. Our speaker, CN-Bio's Vaish Manoharan will introduce OOC systems and show how researchers are using these systems to understand cellular microenvironments.
Topics to be Covered:
The evolution of pre-clinical drug testing tools and current challenges
Opportunities for OOC systems across the drug discovery process
Building microphysiological systems – understanding and control cellular microenvironments
---
MGI Canada Virtual Symposium: CoolMPS,DNBSeq, and More
June 3, 2020 | 9:00 a.m. – 12 p.m. | Register Here
Abstract: Data quality concerns and high sequencing costs often limit the scale and scope of genomics research. Canada now has access to innovative new sequencing technologies from MGI, a BGI Group Company, to overcome these obstacles. Join us on June 3rd, 2020 to learn about MGI's disruptive DNA Nanoball Sequencing (DNBSEQ) platform and how it can help you generate high quality sequence data for a variety of applications. Attendees will hear from Canada's genomics leaders at the Michael Smith Genome Sciences Centre at BC Cancer, University of British Columbia, and McGill Genome Centre on their experiences using MGI's DNBSEQ platforms. MGI's Chief Scientific Officer, Rade Drmanac, will also update on innovative new sequencing advancements such as CoolMPS antibody sequencing chemistry, extreme-throughput sequencing, and long fragment reads.
---
Automating tumor-specific 3D cultures for anti-cancer drug screening
June 3, 2020 | 12:00 p.m. EDT | Register Here
Abstract: This webinar will discuss how 3D cell culture overcomes the limitations of traditional 2D culture when it comes to predicting the therapeutic potential of pharmaceutical compounds in development.
Topics to be Covered:
The fundamental differences between conventional 2D and 3D culture approaches and the pros and cons of using them for drug development
How tumor-specific microenvironment guides responds to treatment
How tumor microenvironment affects drug response and why it is crucial to incorporate it into preclinical models
---
Science Webinar: Unraveling the Link between the Gut Microbiome, Human Health , and Disease
June 3, 2020 | 12:00 p.m. EDT | Register Here
Abstract: This webinar will investigate how the makeup of the gut microbiome impacts NAFLD and CVD in particular, and human health in general, and how better understanding this impact might lead to the development of more effective therapiesThe relationship between the gut microbiota and conditions like nonalcoholic fatty liver disease (NAFLD) and cardiovascular disease (CVD) is an active area of research, with data hinting that the abundance of certain bacterial species, or an imbalance in the relative levels of different species, is linked to the incidence of these ailments.
---
Corning Masterclass Series: Introduction to and Getting Started with Ordanoids
June 3, 2020 | Opens 6:00 a.m. EDT | Register Here
Abstract: Organoids are radically changing basic research and medicine. These 3D, organ-like collections of cells create innovative approaches to drug development. But how do you get started? That's the subject of our next Organoids Master Class. Our in-house organoids expert will introduce you to organoid technology, explore organoid applications, and reveal culture tips and tricks that will put you on the path to organoid mastery
---
Immuno-Oncology 2020 Virtual Event
June 3, 2020 | Opens 6:00 a.m. EDT | Register Here
Abstract: The First Immuno-Oncology Virtual Event will take place on June 3, 2020. Immuno-oncology is considered by some to be one of the most promising areas of research in the world of anti-cancer therapeutics. Learn from our experts how immunotherapies can work alone, together, or in combination with other treatments to fight cancer.
Topics to be Covered:
Latest Trends in Immuno-Oncology
Immunotherapeutic Modalities
Development and Clinical Applications of Cancer Immunotherapies
---
Rapid Antibody Selection Methods for Immunotherapeutic Candidate Development
June 3, 2020 | 12:00 p.m. EDT | Register Here
Abstract: Selecting the best antibodies against targets of interest can prove challenging for immunotherapy biologic development. Join us as Single Cell Technology discusses the AbTheneum™ platform for downstream testing of candidate therapeutic antibodies. By sequencing many single cells simultaneously, the AbTheneum™ platform yields a large number of paired VH and VL sequences, providing a wider pool of options to test and ensuring that valuable antibodies are not excluded.
Topics to be Covered:
Strategies for selecting antibodies against immunotherapy targets (BCMA, TIGIT, B7-H3)
Methods for maximizing time and reagent value when running cell-based functional assays
Value of upfront sequences for a large panel of antibodies as a tool to select the best candidates
---
Vaccines for Treatment and Prevention of Cancer
June 3, 2020 | 11:00 a.m. EDT | Register Here
Abstract: Cancer vaccines are increasingly being developed and tested as a cancer treatment and prevention strategy. Designing cancer vaccines is complicated by a number factors including choice of antigen, immunization strategies and clinical application. This webinar will provide a detailed overview of the various types of approaches as well as cover some recent successfully applied vaccines.
Topics to be Covered:
Basic understanding of the human immune system.
Basic understanding of what is being targeted in cancer vaccines.
Basic overview of clinical trials currently evaluating cancer vaccines.
---
Cell and Developmental Biology Virtual Meeting
June 3-4, 2020 | Opens 6:00 a.m. EDT | Register Here
Abstract: First Cell and Developmental Biology Virtual Meeting on June 3 and 4, 2020. This virtual event will facilitate collaboration allowing you to interact with your peers and gain insights from industry experts from home at no cost. Moreover, the meeting will provide an opportunity to discuss recent discoveries in biological research, advancements in techniques, and introduce useful tools to achieve your research goals.
Topics to be Covered:
View webinars and posters—by scientists, for scientists.
Access a wide selection of resources such as white papers, application notes, technical handbooks, product demo videos, and product selection guides.
Connect with our application specialists
Visit booths to learn more about solutions for your application.
Connect with your peers in discussions and present your work.
---
Imaging HALO® Masterclass Webinar Series: The Highplex FL
June 4, 2020 | 11:00 a.m. EDT | Register Here
Abstract: These webinars are suitable for researchers who want to see a more in depth demonstration on Indica Labs HALO, HALO AI, HALO Link or HALO AP imaging analysis softwares
In this webinar, Adam Smith, our US-based Life Science Applications Director, will introduce and demonstrate the Highplex FL module, including new features designed to simplify analysis optimization of ultra-highplex imaging modalities. This masterclass will benefit existing customers who want to take a closer look at new features as well as those looking for a more in depth demonstration of multiplexed fluorescence analysis capabilities in HALO.
---
Imaris Homeschool Webinar Series: Applications of Quantitative Analysis with Imaris Imaging Software
June 4, 2020 | 11:00 a.m. EDT | Register Here
Abstract: In this webinar session James Shaw, will demonstrate applications of quantitative analysis using Imaris. James Shaw is the Imaris Regional Sales Engineer. He graduated in Biochemistry from McGill University at Montreal and University of Toronto, Canada.
This is an excellent opportunity for experienced users, as well as those less familiar with Imaris, to learn how the software can enhance their research projects while working remotely.
Topics to be Covered:
Shortest distance calculations between Spots and Surfaces
Using filters to select objects with given features
Adding object Labels to organize objects visually and get the most of the statistical output
---
NGS-based Assessment of Hematological Malignancies: Managing A Complex Molecular Workflow
June 8, 2020 | 11:00 a.m. EDT | Register Here
Abstract: The invention of novel high-throughput technologies, especially next-generation sequencing (NGS), has spurred our understanding of the development of human cancers and opened new avenues for rapid and comprehensive diagnosis. Especially in hematological malignancies, the availability of these novel high-throughput technologies has greatly enhanced our capabilities for the identification of disease, defining lesions and targets for tailored treatment. At the same time, these diagnostic tools have inherent aspects that make them vulnerable to false positives as well as false negatives. Major aspects are balanced coverage, the rate of detection of long insertions and deletions, as well as the sensitivity of the assay
Besides these technical aspects, the comprehensive and adequate interpretation of results, especially in the light of more recent discoveries regarding preleukemic, clonal hematopoiesis, such as clonal hematopoiesis with indeterminate potential (CHIP), adds an additional layer of complexity, which requires a substantial level of expertise to avoid over- as well as under interpretation of results.
---
Illumina Webinar: Enabling Scalable Comprehensive Genomic Profiling from FFPE Samples
June 9, 2020 | 1:00 p.m. EDT | Register Here
Abstract: Comprehensive genomic profiling (CGP) is becoming standard of care for cancer and allows pathology labs to consolidate individual biomarkers into a single NGS assay. It enables the assessment of all key biomarkers cited in guidelines and clinical trials using a minimal amount of formalin-fixed, paraffin-embedded (FFPE) tissue while increasing the chance of finding a positive biomarker for every sample.
Topics to be Covered:
Illumina's TruSight Oncology 500 High-Throughput assay enables labs to perform in-house CGP with scalability on a NovaSeq 6000 platform.
Providence Cancer Center's implementation of in-house CGP.
Illumina's solution enabling in-house CGP
---
BioTek Webinar: Functional Metabolic Measurements for High Throughput Screening
June 9, 2020 | 1:00 p.m. EDT | Register Here
Abstract: In this webinar you will learn about specific application areas where the Seahorse XF- and Soluble Sensor technologies are being used, and what other researchers have achieved. Discover more about new workflows and best practices.
The webinar will present the opportunity to use the soluble sensor assays as a tool for high throughput OCR and ECAR measurements, in plate reader format.
For research using immune cells, we will talk about the breakthrough discoveries in this field as well as discuss the workflow for immune cell research using the Seahorse XF Analyzers. For customers ready to take the next step into advanced mitochondrial research we will talk about the specific assays we can do with isolated mitochondria and permeabilized cells.
---
Imaris Homeschool Webinar Series: Introduction to Time Lapse Analysis with Imaris Imaging Software
June 11, 2020 | 11:00 a.m. EDT | Register Here
Abstract: In this webinar session Amanda Howard, will introduce time lapse analysis using Imaris. Amanda Howard, PhD is the Imaris regional sales engineer for the Midwest USA and Canada. She graduated in cell biology and molecular genetics from the University of Maryland, College Park and her doctoral research in virology was in the lab of Dr. Bernie Moss at the National Institute of Allergy and Infectious Diseases (NIAID).
This is an excellent opportunity for experienced users, as well as those less familiar with Imaris, to learn how the software can enhance their research projects while working remotely.
Topics to be Covered:
Principles of tracking in 2D and 3D
Application of available algorithms
Details of Imaris tracking wizards
Visualization of tracking results
---
Coping with COVID-19: Remaining Productive in Analytical Lab
On Demand | Register Here
Abstract: The COVID-19 pandemic means that analytical laboratory workers are facing a lot of uncertainty and new scenarios, which are likely to keep evolving over the coming days, weeks, and months. This web seminar is intended to help you cope with this situation, by offering some practical advice, specifically oriented to laboratory scientists, about safety, productivity, and planning. Appropriate for Lab Managers and analytical Chemists
Topics to be Covered:
How can you schedule work and plan rosters to keep laboratory analyses running efficiently while maintaining social distancing and minimizing staff overlaps
Some steps you can follow to protect workers when in the laboratory
Approaches to facilitating remote access to instruments and systems to enable as much remote work as possible
What adjustments to make to instruments to handle lower usage levels
How to prepare your instruments for shut down
How to use any newly found free time effectively with remote learning
---
Nanopore Sequencing: The Missing Puzzle Piece in Molecular Identification
On Demand | Register Here
Abstract: The gold standard of molecular testing is real-time PCR, which has limited target capability. Nanopore sequencing has paved the way for differentiation between closely-related microorganisms, identification of animal species, and detection of causative agents of an outbreak, as the technology enables onsite genome sequencing at point of need with high speed.
Topics to be Covered:
How to do nanopore sequencing with limited resources
Does extraction matter?
Which is best – MinION or Flongle?
Is there a need for a bioinformatician to analyze the sequencing data?
What are the applications of nanopore sequencing in molecular identification?
---
Drugging the Epitranscriptome as an Effective Anti-Cancer Strategy
On Demand | Register Here
Abstract: ​Dr. Konstantinos Tzelepis will present his research on uncovering epigenetic mechanisms that implicated in devastating malignancies, such as acute myeloid leukaemia (AML). His group is part of the Centre for Pathway Analysis at the Milner Therapeutics Institute (University of Cambridge, UK). Kostas completed his Ph.D. at the Wellcome Sanger Institute, where he pioneered the use of CRISPR-Cas9 technology to perform the first disease-focused genome-wide recessive screen in AML.
Topics to be Covered:
Learn about the first study demonstrating in vivo activity of RNA methyltransferase inhibitors.
Discover how RNA-modifying enzymes represent a new target class of anti-cancer therapeutics.
Understand the drug-like properties of METTL3 inhibitors.
Gain proof-of-concept of the efficacy of METTL3 inhibitors from their application in mouse acute myeloid leukemia and human patient-derived xenograft models
---
Past BioLab sessions
2020
Amnis® Multispectral Imaging Flow Cytometry for Single Cell Analysis: Tools and Applications
January 28, 2020
2019
Virtual Reality (VR) in Cancer Imaging: Project Theia – Interactive VR Cancer Research Lab
November 29, 2019
The Antibody Reproducibility Crisis
October 17, 2019 | [Download the slides

for October 17th

]
Targeting Epigenetic Mechanisms: Challenges and Solutions
October 15, 2019 |[Download the slides]
BioTek's Cytation Multi-Mode Cell Imager: Practical Applications for Imaging and Quantification of Cell-Based Assays
September 18, 2019
Development and Implementation of Clinical Proteomics for Precision Oncology: Applications at the Bedside
August 6, 2019 | [Watch

Development and Implementation of Clinical Proteomics for Precision Oncology: Applications at the Bedside

on YouTube]
Magnetic 3D Bioprinting of Cells: an advance platform for developing tumor models for high throughput functional studies and drug screening
July 24, 2019 | [Watch

Magnetic 3D Bioprinting of Cells: an advance platform for developing tumor models for high throughput functional studies and drug screening

on YouTube]
Improving Communication through Visuals: 10 Tips for Better Science Figures
July 11, 2019
Artificial Intelligence in Cancer Imaging: Bridging the Gap between Pathologist and Algorithm
June 21, 2019 | [Watch

Artificial Intelligence in Cancer Imaging: Bridging the Gap between Pathologist and Algorithm

on YouTube]
Live Cell Imaging with OkoLab BioStation and Leica SP8 Microscope
May 30, 2019
IsoPlexis Single Cell Platform Links Functional Proteomics with Cancer Immunotherapy
May 28, 2019

Oncomine Technology and Solutions for Utilization of Liquid Biopsy Assays in Cancer Research and Clinical Practice
May 9, 2019
Confocal Laser Scanning Microscopy: Exploring Field of View and Mosaic Function to Assemble Single High-Resolution Images into a Large Super image
April 24, 2019
MACSQuant® Tyto® Flow Cell Sorter for Multiparametric Cell Sorting Based on Microchip Technology for Sterile and Gentle Cell Isolation
April 17, 2019
Confocal Laser Scanning Microscopy: Leica SP8 TCP Basics
April 10, 2019
Smarter Medicine: Getting Started in Computational Pathology
April 9, 2019 | [Download the slides

from May 9

]
Optimizing Ribonucleoprotein Delivery to Achieve Potent and Precise CRISPR/Cas9 genome editing
March 27, 2019
Simultaneous Detection of Noncoding RNAs and Protein Cell Surface Markers from PBMC Subpopulations
January 31 and February 1st, 2019
MaxCyte Flow Electroporation Technology: Choosing the Right Cell Engineering Technology from Discovery to Manufacturing
January 29, 2019
Simultaneous Detection of mRNA transcripts and Proteins in Different Immune Cell Subsets
January 22, 2019
Innovative Tools and Techniques for Isolation and Characterization of Cancer-Derived Exosomes (MACSPlex and MACSQuant)
January 16, 2019
2018
Novel Automated Platforms for CRISPR-Engineered Cell Lines and Synthetic sgRNA for Primary Cell and Screening Applications
November 29, 2018
PrimeFlow RNA Assay for simultaneous detection of RNA and Protein by Flow Cytometry
November 8, 2018 | PowerPoint slides

for Primeflow

Three-Dimensional Organoid Cultures as In Vitro Models for Cancer Research: Applications and Prospective
October 24, 2018
Tools and Techniques for Isolation and Multi-Plex Analysis of Cancer-Derived Exosomes via Flow Cytometry
October 10, 2018
The Moffitt Cancer Center approach to pathology diagnostics supporting the delivery of precision oncology and immune-oncology treatments
October 16, 2018 | Video

from October 16

Introduction to Multiphoton Microscopy and Fluorescent Lifetime Microscopy (FLIM)
October 16, 2018
Basics of Confocal Laser Scanning Microscopy
October 4, 2018
BioPlex 200 Analyzer: How to Use of xMAP Technology to Measure Complex Immune Responses
September 10, 2018
Global Transcriptome Profiling for Better Biomarkers
September 5, 2018
OkoLab BioStation for Live Cell Imaging by Leica SP8 Microscope
August 1st, 2018
The Future of Diagnosis: Learning To Recognize Similar Images In Digital Pathology
July 31, 2018
Computational Pathology Tools for Whole Slide Biomarker: ISH spot quantification at single cell resolution at the STTARR image analysis core facility
July 19, 2018
OkoLab BioStation for Live Cell Imaging by Leica SP8 Microscope
June 25, 2018
Circulating Tumor DNA (ctDNA): Detection and Applications in Curable Cancers
June 11, 2018
Preparation of Single Cell Suspensions from Tissues for Cell RNA Sequencing by 10XGenomics
May 7, 2018
Multiplexing and Applications of the QuantiGene™ Plex and ViewRNA™Assay in Cancer Research and Diagnostics
May 2, 2018
Basics of Leica Laser TCS SP8 Confocal Microscopy
April 24, 2018
Droplets for Cancer Detection in Liquid Biopsy
April 19, 2018
Advancing Oncology Research with High Content Imaging and 3D Models: Technology and Application Overview
April 5, 2018
MACS Technologies for Single Cell Omics: Methods for Sample Preparation, Cell Isolation and Single Cell Analysis for Cancer Research
March 29, 2018
Quantitative Intracellular and Intra-Nuclear Spot Analysis Using Cytation-3 Digital Microscopy
February 13, 2018
Visualize Gene Expression and Genetic Variations in Tumor Microenvironment: Applications of RNAscope and BaseScope ISH Technologies
February 5, 2018
Leader
Dr. Vanya Peltekova PhD
Lead, BioLab Operations, Ontario Institute for Cancer Research
All inquiries can be addressed to Dr. Peltekova at vanya.peltekova@oicr.on.ca.
---
Seminars and workshops are for educational purposes only and are not an endorsement of any products or services by BioLab or by OICR.