BioLab: learning, training and connecting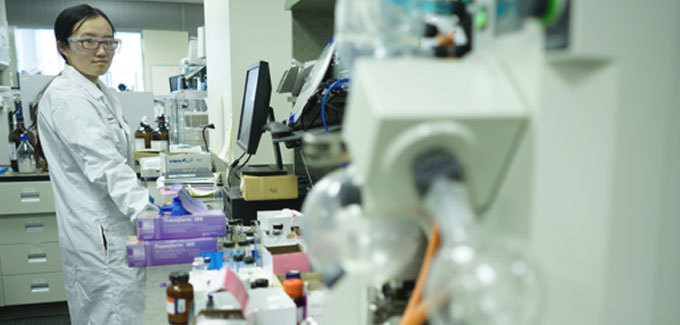 BioLab at OICR manages state-of-art equipment for translational cancer research and offers free educational seminars, advanced technology workshops and hands-on instrument training sessions led by instrument application specialists.
The mission of BioLab is to provide continuous education and training for the next generation of Ontario cancer researchers using existing and advanced cancer-related technologies, applications, tools and instrumentation.
BioLab Provides

BioLab goes beyond basic theory and training to provide application-driven experiences. BioLab training explores the full potential of state-of-art cancer research equipment from experimental design, through correct equipment usage and even covers project-driven applications.
The training sessions offered by BioLab foster collaboration in the cancer research community and provide a place to share experiences, build new collaborations and drive cancer research forward.
BioLab-Hub
To address the COVID-19 pandemic, BioLab has extended its educational offerings by launching the BioLab-Hub initiative to better assist BioLab users.
BioLab-Hub posts a selection of free webinars on cancer-related technologies and research innovations, and a monthly topic-driven, view-and-learn collection of curated technical resources on new technologies, instrumentation, applications, and protocols related to cancer research (Read More).
To keep abreast of BioLab-Hub news, please subscribe to our mailing list https://lists.oicr.on.ca/mailman/listinfo/biolab (for OICR staff), https://lists.oicr.on.ca/mailman/listinfo/biolab-global (external users).
To help us tailor the BioLab-Hub initiative to suit your research interests, please send your ideas, suggestions, links, and webinars to vanya.peltekova@oicr.on.ca.
Upcoming training sessions from the community
10xGenomics: Global Virtual Cancer Symposium
April 26 – 30, 2021 | Register Here
Abstract: Single cell and spatial multi omics are transforming the way we approach cancer, providing a holistic view of the tumor microenvironment and enabling deep characterization of cancer progression and therapeutic response and resistance.
Join the Global Virtual Cancer Symposium to learn how leading scientists are employing these multi omic tools to resolve cancer heterogeneity of the tumor microenvironment and provide a deeper understanding of cancer progression and therapeutic response and resistance. Sessions will include presentations, Q&A forums, and special updates on the upcoming Visium FFPE offering for spatial transcriptomics.
---
PCR Festival
April 26-30, 2021 | 10:00 a.m. EDT | Register Here
Abstract: The QIAGEN PCR Festival 2021 opens its virtual doors and welcomes PCR enthusiasts and experts from all around the world.
Topics to be Covered:
Actionable insight through expert-led panel discussions and webinars
A chance to engage with the community through live Q&As and polls
A multitude of curated content for the top applications of interest
Which PCR type are you? Get answered in an online personality test
Product demonstrations and 1:1 training opportunities
---
Metabolomics for Biomarker Discovery Research: From Discovery Profiling to Candidate Validation
April 27, 2021 | 11:00 a.m. EDT | Register Here
Abstract: in this webinar BGI's R&D Bioinformatics Scientist, Dr. Zhanlong Mei, gives a practical introduction to metabolomics research and study design, with useful tips and examples from real-world case studies. The presentation will take around 30 minutes, followed by a Q&A session.
Topics to be Covered:
An introduction to un-targeted and targeted metabolomics and the applications of each
The advantages and disadvantages of the different metabolomics platforms
A comprehensive overview of metabolite annotation and the available databases
Experiment design, sample considerations, and strategies for minimizing batch effect
Real-world case studies
---
Experimental Biology 2021 Virtual Conference
April 27-30, 2021 | Register Here
Abstract: Experimental Biology (EB) 2021 conference takes a deep dive into the vast offerings across five disciplines including anatomy, biochemistry and molecular biology, investigative pathology, pharmacology, and physiology.
To view the program and full schedule by sessions click here
---
Simplified Online Tools for CRISPR-Cas9 Gene Editing Design and Confirmation
April 27, 2021  | 11:00 a.m. EDT | Register Here
Abstract: The versatility of CRISPR-Cas9 has expanded the available tools of gene editing systems for life scientists. However, these experiments require detailed knowledge of the genomic sequences, both from public reference databases as well as the editing outcomes. Obtaining proper bioinformatics support for either of these steps can be a challenge for both novices and experts. Thermo Fisher Scientific has built several software solutions to improve the usability of the CRISPR-Cas9 system by addressing two major challenges; the design of gRNAs and corresponding donor sequences, and confirmation of editing success at the sequence level through Sanger sequencing deconvolution.
Topics to be Covered:
Design reagents for a custom knockout or knock-in CRISPR-Cas9 experiment
Properly pair knock-in donor and gRNA design together
Import and analyze Sanger sequence reads for gene editing confirmation
Successfully infer outcomes from sequencing results and take appropriate next steps
---
Optimizing Fluorescence-Activated Cell Sorting
April 28, 2021 | 2:00 p.m. EDT | Register Here
Abstract: Fluorescence-activated cell sorting (FACS) is an important tool for gaining deep biological insights. To obtain viable cells for subsequent assays that still maintain their physiological properties, cells need to be prepared properly and handled carefully. In this webinar, brought to you by BD Bioscience, flow cytometry core laboratory experts will discuss the key factors impacting flow cytometry sorting experiments and how to obtain the best cell samples possible.
Topics to be Covered:
The scientific questions that FACS can help answer
How to prepare cellular samples for optimal FACS results
How to handle cells post-sorting
---
Utilizing Next-Generation Sequencing to Power Precision Medicine
April 28, 2021 | 1:00 p.m. – 4:30 p.m. EDT | Register Here
Abstract: An exciting half-day Illumina and Clinical OMICs sponsored symposium dedicated to the NGS revolution in the clinical space. Dynamic presentations and interactive roundtables with live Q&A will cover the state-of-the-field across three key areas: Applications in Genetic Testing, Oncology/Cancer Diagnostics, and Infectious Disease Detection and Testing.
Topics to be Covered: The plenary talks will cover three key areas:
Applications in Genetic Testing
Oncology/Cancer Diagnostics
Infectious Disease Detection and Testing
---
Physiologic medium to study human cell biology
April 28, 2021 | 12:00 p.m. EDT | Register Here
Abstract: Environmental factors influence human cell physiology and affect drug efficacy, but existing model systems used to study human cells have limitations for understanding these contributions.This webinar will discuss the initial development and use of human plasma-like medium (HPLM), a physiologic medium designed to more closely reflect the metabolic composition of human blood.
Topics to be Covered:
Find out about Human Plasma-Like Medium (HPLM), a relatively new physiologic basal medium designed to more closely reflect the metabolic composition of human blood
What are the HPLM potentials in improving the understanding and interpretation of biological and pharmacological studies
---
Combining protein proximity detection with chromogenic multiplex: Discovering the PD1/PDL1 interactions
April 28, 2021  | 12:00 p.m. EDT | Register Here
Abstract: DISCOVERY Proximity detection is a powerful technique for demonstrating the presence of 2 unique targets in direct proximity of each other in tissue sections. It allows visualization of interacting proteins at a distance of 40 nm. Recently this technique became available on the Roche DISCOVERY ULTRA staining platform. With the DISCOVERY Proximity detection you can not only detect the presence/absence of a protein, but also to determine its functional states.
Topics to be Covered:
How to set up the Proximity detection on Roche DISCOVERY ULTRA Platform
How to add chromogenic IHC multiplexing to Proximity detection
Understand PD-1/PD-L1 interactions in Tumor Draining Lymph Nodes (TDLN)
---
Specialized Tools for Gene Delivery and Expression Modulation
April 28, 2021 | 1:00 p.m. EDT | Register Here
Abstract: Efficient gene delivery and controllable gene expression are critical for a range of research and development applications, but every project has its own unique needs and constraints. The webinar will introduce specialized tools SBI offers for gene delivery including non-viral methods and a promoter that enables inducible, titratable expression control.
Topics to be Covered:
PiggyBac: Basis of approach, product offering, and applications in research
EEV System and target applications
Modulation of gene expression using the Cumate System: Features, Research Applications
Lentiviral-based Tools as a de facto standard for gene delivery to many cell types for research
---
OncomineWorld 2021: A virtual NGS education meeting
April 29, 2021 | 10:00 p.m. EDT | Register Here
Abstract: A free, one-day event to hear from pathology labs on important topics like hot and emerging biomarker testing, such as genomic instability, and new user experiences with the Ion Torrent Genexus NGS System in ion and stability, cell and gene therapy production, and manufacturing.
Topics Covered:
 Dozens of on-demand educational presentations from our 2020 meetings
Demonstrations of the Ion Torrent Genexus System, recorded from a Thermo Fisher lab
The latest NGS research from Thermo Fisher 
New content in the Precision Oncology Hall, with all about why and how genomic profiling for precision oncology should be done in-house, locally and close to patients
---
Quantitative western blotting analysis: tips, considerations, and streamlining analysis using Invitrogen iBright Analysis Software
April 29, 2021 | 1:00 p.m. EDT | Register Here
Abstract: Western blotting is a fundamental application used in life science research to better understand target proteins and their function in complex systems. Performing accurate quantitative data analysis from a western blot has been an ongoing challenge due to numerous factors that can introduce variability and affect results. This webinar will highlight key considerations for achieving high quality quantitative western blotting including a demonstration on quantitative data analysis using the Invitrogen™ iBright™ Analysis Software.
Topics to be Covered:
Gain insights to best practices for improvement the quality of western blots and subsequent quantitative data analysis
Learn how using optimized normalization techniques, including the novel Invitrogen™ No-Stain™ Protein Labeling Reagent
Demonstrate quantitative data analysis workflows using the iBright Analysis Software
---
The Role of the Enhancer-Promoter Interactome in Determining Cell Identity
May 4, 2021  | 12:00 p.m. EDT | Register Here
Abstract: The webinar will investigate the role of the enhancer-promoter interactome in determining cell identity and contextualizing disease-associated polymorphisms.
Topics to be Covered:
The role of genome conformation in gene regulation
Why topological interactions paint a more complete picture of gene regulation
How topology can be used in development, gene regulation, and disease studies
How to combine different types of 3D data of Hi-C with other NGS data to construct translational models
---
Everyday Cell Culture Practice: Improve reproducibility of your cell culture 
May 6, 2021  | 10:00 a.m. EDT | Register Here
Abstract: Eukaryotic cell cultures respond to the most subtle influence. Apart from the risk of contamination, minimal changes in cultivation parameters can affect the viability, growth and metabolism of the cells.This webinar we will discuss topics like Mycoplasma test methods, effects of passage numbers, and the usage of FBS.
Topics to be Covered:
Optimize your workflow from cell seeding to cell banking
Get to know your cells: Discuss how to document and monitor correctly
An overview of cell line authentication
---
Detecting rare disease: Revealing the methods, motivations, and implications
May 6, 2021  | 12:00 p.m. EDT | Register Here
Abstract: By their nature, rare diseases are difficult to detect because of their low overall occurrence in most populations. Improving identification and detection of these disorders, particularly early in the life of the patient, can have profound effects on the course of the disease and the quality of life of the patient and their family. This webinar will examine methods for detecting patients with rare diseases, particularly those with underlying genetic causes, explained in plain language. The speaker's panel will describe the benefits and limitations of genetic testing, recent advances, and new technologies, including how developments in artificial intelligence might help uncover hidden rare diseases.
Topics to be Covered:
Learn how DNA mutations can lead to disease
Hear about the latest tests to detect rare diseases and identify their causes
Learn about the application of artificial intelligence in detecting causative factors in rare diseases
Gain an understanding of how results from genetic tests can be interpreted and acted upon.
---
SelectScience® Virtual Cancer and Immunology Research Summit 2021?
May 11-12, 2021 | Register Here
Abstract: The Summit will feature a diverse range of technologies, applications and topics across immunology and COVID-19, CAR T-cell therapy, immunotherapy, genomic research and CRISPR technology, cancer diagnostics, liquid biopsies, cancer imaging, drug delivery mechanisms, the microbiome and more. For more details on the speakers and agenda click here
---
Miltenyi's World of T cells – Solutions to enhance your T cell experiments
May 11, 2021 | 11:00 a.m. EDT | Register Here
Abstract: T cells are most important from basic research to therapeutic approaches and play a pivotal role in many diverse application fields such as basic immunology, immuno-oncology, infectious diseases, auto-immunity, allergology and cellular therapy. This webinar will give an overview of Miltenyi's T cell product solutions and workflow applications, including CAR T cell manufacturing, antigen- and virus specific T cells, T cell culture and T cell flow analysis. WLearn about the relevance and utility of ultrasensitive immunoassays in life science research
Overview of Miltenyi Biotec's most innovative T cell research products
Understanding of full T cell research workflows from cell separation to culture to analysis
Synopsis of the most important T cell research topics in immuno-oncology and infectious diseases
---
Multimodal Analysis of Anticancer Drug Testing In Tumor-Specific 3D Cell Culture Models
May 12, 2021 | 11:00 a.m. EDT | Register Here
Abstract: The webinar will discuss the advantages of using 3D culture models, emphasizing the importance of tumor microenvironment and tissue-relevant extracellular matrix (ECM) in obtaining accurate drug response data.
Topics to be Covered:
Learn the fundamental differences between conventional 2D and 3D cell culture approaches and the pros and cons of using them for drug development.
Learn how tumor microenvironment affects tissue organization and response to treatment and why it is crucial to incorporate it into preclinical models.
Discover Tecan's D300e and Spark Cyto and their use to analyze drug response in 3D cultures.
---
Physicochemical Characterization of Antibody-Drug Conjugates
May 13, 2021 | 11:00 a.m. EDT | Register Here
Abstract: Antibodies are the most rapidly growing form of biotherapeutics. High-throughput methods of characterization are essential as companies and researchers move to develop new candidates. This webinar will discuss advanced characterization techniques to assess antibody-drug conjugates (ADCs). For ADCs, the level of payload and site of conjugation are determined using LC/MS. Thermal stability and binding affinity are characterized using DSC, IR, and ITC. These methods can be used for the in-depth analysis of these biologics and for routine product validation.
On demand training sessions from the community
Enabling Precision Engineering with Synthetic Mutant Libraries
On Demand | Register Here
Abstract: In this webinar, GenScript's team discusses how precise libraries simplify protein engineering workflows. An introduction to GenScript's precision mutant library services will be followed by a presentation of several case studies illustrating the power of this approach for protein and enzyme engineering. A panel of protein engineering experts will discuss the advantages of precision mutant libraries for a broad range of research areas
Topics to be Covered:
Discover how precision mutant libraries can be used to speed up engineering of enzymes, antibodies, and viral vectors.
Learn how precision engineering can be applied to protein optimization, and what the future holds for protein engineering.
---
Transferring Cell Counting Methods: Best Practices
On Demand | Register Here
Abstract: Cell counting is an integral part of processes that use living cells. Most labs have standard operating procedures (SOP) for counting cells.
Many factors may drive a change to the current SOP, such as:
Obsolescence of equipment or materials
Need for higher throughput or capacity
Need to decrease variability and improve precision
Process improvement for increased efficiency
In this presentation you will learn a few best practices for successfully transferring to a new cell counting method.
---
Highly specific multiplexed RNA imaging in tissues with split-FISH
On Demand | Register Here
Abstract: Split-FISH is a multiplexed fluorescence in situ hybridization method that leverages a split-probe design to achieve enhanced specificity. Split-FISH reduces off-target background fluorescence, decreases false positives and enables accurate RNA profiling in uncleared tissues.This webinar will demonstrate the efficacy of split-FISH on various mouse tissues by quantifying the distribution and abundance of 317 genes in single cells and reveal diverse localization patterns for spatial regulation of the transcriptome in complex tissues.
Topics to be Covered:
Multiplexed FISH is an attractive tool for spatial transcriptomics.
Advantages of split-FISH design in lowering background and false positive noise
Example applications in profiling RNA localizations in mouse organs
---
Keynote Presentation: Moving Precision Medicine from 'Exotic' to 'Normal'
On Demand | Register Here
Abstract: Pharmacogenomics has had rapid implementation over the past decade, with recent growth in application in oncology, mental health, solid organ transplantation, and more. There has been much focus on specific drug-gene-action relationships, such that there are now a number of actionable pharmacogenomics examples. With the application of panel testing, there are often additional opportunities to impact a patient's care, beyond the specific disease focus area. This shift from the gene/drug pairing to the broader look across the patient's current and future needs is an inflection point in moving pharmacogenomics into routine usage.
Topics to be Covered:
Define the impact of pharmacogenomics on a patient's risk:benefit decision
Identify various challenges in implementing pharmacogenomics from research to practice
Explain current approaches to applying pharmacogenomics panel testing in the clinic
---
Role of Chromosomal Microarray in the Era of Genome Sequencing
On Demand | Register Here
Abstract: Advancements in technologies have revolutionized the genetic landscape. Chromosomal microarray analysis (CMA) becomes a proven method and is implemented to detect gains and losses of DNA and absence of heterozygosity across the genome. Next-generation sequencing technologies have brought opportunities and challenges to genetic testing, its prenatal application is an emerging field. We describe our experience using FetalChip, a CMA for prenatal research developed in our laboratory and describe the role of CMA in the era of genome sequencing.
Topics to be Covered:
The role of chromosomal microarray analysis (CMA) in prenatal genetic clinical research.
CMA is a well-established and proven technology to identify pathogenic CNVs
The utility of genome sequencing
---
Facilitating transcriptomics of sensitive target cells with gentle cell sorting
On Demand | Register Here
Abstract: Sequencing of bulk cells, single cells, and nuclei is opening doors in the understanding of complex biological processes. However, the success and reliability of these methods depends strongly on the quality of the sample. A poor sample quality, for example containing a lot of dead cells, debris, and contamination from cell-free DNA and RNA, impairs sequencing results and also the costs of an experiment. In this webinar, Miltenyi Biotec will highlight the importance of gentle, multi-parametric cell sorting prior to genomic analyses, and how to achieve this by using the microchip-based MACSQuant® Tyto® Cell Sorter.
Topics to be Covered:
Steps in a genomics workflow are most likely to impair sample quality and how to improve them, especially when specific target cells need to be enriched based on multiple parameters
Critical cell sorting steps can be designed to have less of an impact on cells by using the right technology
Gentle cell sorting of primary human pancreatic MVECs that allowed for their transcriptomic analysis
---
Using Single-Cell Proteomics and Transcriptomics to Understand Gene Regulation
On Demand | Register Here
Abstract: In this webinar, Dr. Nikolai Slavov will describe how the SCoPE2 method can increase quantitative accuracy and throughput while lowering cost and hands-on time by introducing automated and miniaturized sample preparation, enabling analysis of the emergence of cellular heterogeneity as homogeneous monocytes differentiated into macrophage-like cells in the absence of polarizing cytokine.
Topics to be Covered:
How to quantitatively analyze proteins in single cells
How to set up automation and miniaturize sample preparation
How to jointly analyze transcriptomics and proteomics data from single cells
---
Past BioLab sessions
2020
Amnis® Multispectral Imaging Flow Cytometry for Single Cell Analysis: Tools and Applications
January 28, 2020
2019
Virtual Reality (VR) in Cancer Imaging: Project Theia – Interactive VR Cancer Research Lab
November 29, 2019
The Antibody Reproducibility Crisis
October 17, 2019
Targeting Epigenetic Mechanisms: Challenges and Solutions
October 15, 2019
BioTek's Cytation Multi-Mode Cell Imager: Practical Applications for Imaging and Quantification of Cell-Based Assays
September 18, 2019
Development and Implementation of Clinical Proteomics for Precision Oncology: Applications at the Bedside
August 6, 2019 | [Watch

Development and Implementation of Clinical Proteomics for Precision Oncology: Applications at the Bedside

on YouTube]
Magnetic 3D Bioprinting of Cells: an advance platform for developing tumor models for high throughput functional studies and drug screening
July 24, 2019 | [Watch

Magnetic 3D Bioprinting of Cells: an advance platform for developing tumor models for high throughput functional studies and drug screening

on YouTube]
Improving Communication through Visuals: 10 Tips for Better Science Figures
July 11, 2019
Artificial Intelligence in Cancer Imaging: Bridging the Gap between Pathologist and Algorithm
June 21, 2019 | [Watch

Artificial Intelligence in Cancer Imaging: Bridging the Gap between Pathologist and Algorithm

on YouTube]
Live Cell Imaging with OkoLab BioStation and Leica SP8 Microscope
May 30, 2019
IsoPlexis Single Cell Platform Links Functional Proteomics with Cancer Immunotherapy
May 28, 2019

Oncomine Technology and Solutions for Utilization of Liquid Biopsy Assays in Cancer Research and Clinical Practice
May 9, 2019
Confocal Laser Scanning Microscopy: Exploring Field of View and Mosaic Function to Assemble Single High-Resolution Images into a Large Super image
April 24, 2019
MACSQuant® Tyto® Flow Cell Sorter for Multiparametric Cell Sorting Based on Microchip Technology for Sterile and Gentle Cell Isolation
April 17, 2019
Confocal Laser Scanning Microscopy: Leica SP8 TCP Basics
April 10, 2019
Smarter Medicine: Getting Started in Computational Pathology
April 9, 2019 | [Download the slides

from May 9

]
Optimizing Ribonucleoprotein Delivery to Achieve Potent and Precise CRISPR/Cas9 genome editing
March 27, 2019
Simultaneous Detection of Noncoding RNAs and Protein Cell Surface Markers from PBMC Subpopulations
January 31 and February 1st, 2019
MaxCyte Flow Electroporation Technology: Choosing the Right Cell Engineering Technology from Discovery to Manufacturing
January 29, 2019
Simultaneous Detection of mRNA transcripts and Proteins in Different Immune Cell Subsets
January 22, 2019
Innovative Tools and Techniques for Isolation and Characterization of Cancer-Derived Exosomes (MACSPlex and MACSQuant)
January 16, 2019
2018
Novel Automated Platforms for CRISPR-Engineered Cell Lines and Synthetic sgRNA for Primary Cell and Screening Applications
November 29, 2018
PrimeFlow RNA Assay for simultaneous detection of RNA and Protein by Flow Cytometry
November 8, 2018 | PowerPoint slides

for Primeflow

Three-Dimensional Organoid Cultures as In Vitro Models for Cancer Research: Applications and Prospective
October 24, 2018
Tools and Techniques for Isolation and Multi-Plex Analysis of Cancer-Derived Exosomes via Flow Cytometry
October 10, 2018
The Moffitt Cancer Center approach to pathology diagnostics supporting the delivery of precision oncology and immune-oncology treatments
October 16, 2018 | Video

from October 16

Introduction to Multiphoton Microscopy and Fluorescent Lifetime Microscopy (FLIM)
October 16, 2018
Basics of Confocal Laser Scanning Microscopy
October 4, 2018
BioPlex 200 Analyzer: How to Use of xMAP Technology to Measure Complex Immune Responses
September 10, 2018
Global Transcriptome Profiling for Better Biomarkers
September 5, 2018
OkoLab BioStation for Live Cell Imaging by Leica SP8 Microscope
August 1st, 2018
The Future of Diagnosis: Learning To Recognize Similar Images In Digital Pathology
July 31, 2018
Computational Pathology Tools for Whole Slide Biomarker: ISH spot quantification at single cell resolution at the STTARR image analysis core facility
July 19, 2018
OkoLab BioStation for Live Cell Imaging by Leica SP8 Microscope
June 25, 2018
Circulating Tumor DNA (ctDNA): Detection and Applications in Curable Cancers
June 11, 2018
Preparation of Single Cell Suspensions from Tissues for Cell RNA Sequencing by 10XGenomics
May 7, 2018
Multiplexing and Applications of the QuantiGene™ Plex and ViewRNA™Assay in Cancer Research and Diagnostics
May 2, 2018
Basics of Leica Laser TCS SP8 Confocal Microscopy
April 24, 2018
Droplets for Cancer Detection in Liquid Biopsy
April 19, 2018
Advancing Oncology Research with High Content Imaging and 3D Models: Technology and Application Overview
April 5, 2018
MACS Technologies for Single Cell Omics: Methods for Sample Preparation, Cell Isolation and Single Cell Analysis for Cancer Research
March 29, 2018
Quantitative Intracellular and Intra-Nuclear Spot Analysis Using Cytation-3 Digital Microscopy
February 13, 2018
Visualize Gene Expression and Genetic Variations in Tumor Microenvironment: Applications of RNAscope and BaseScope ISH Technologies
February 5, 2018
Leader
Dr. Vanya Peltekova PhD
Lead, BioLab Operations, Ontario Institute for Cancer Research
All inquiries can be addressed to Dr. Peltekova at vanya.peltekova@oicr.on.ca.
---
Seminars and workshops are for educational purposes only and are not an endorsement of any products or services by BioLab or by OICR.