BioLab: learning, training and connecting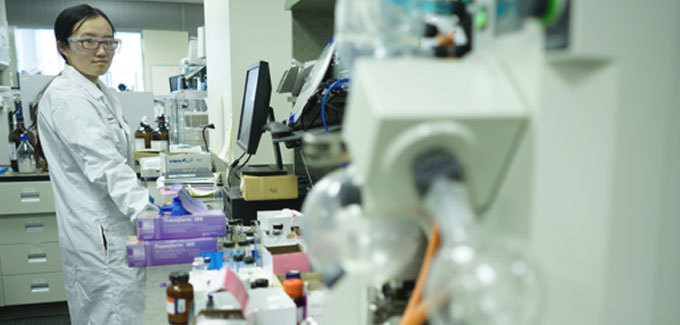 BioLab at OICR manages state-of-art equipment for translational cancer research and offers free educational seminars, advanced technology workshops and hands-on instrument training sessions led by instrument application specialists.
The mission of BioLab is to provide continuous education and training for the next generation of Ontario cancer researchers using existing and advanced cancer-related technologies, applications, tools and instrumentation.
BioLab Provides

BioLab goes beyond basic theory and training to provide application-driven experiences. BioLab training explores the full potential of state-of-art cancer research equipment from experimental design, through correct equipment usage and even covers project-driven applications.
The training sessions offered by BioLab foster collaboration in the cancer research community and provide a place to share experiences, build new collaborations and drive cancer research forward.
BioLab-Hub
To address the COVID-19 pandemic, BioLab has extended its educational offerings by launching the BioLab-Hub initiative to better assist BioLab users.
BioLab-Hub posts a selection of free webinars on cancer-related technologies and research innovations, and a monthly topic-driven, view-and-learn collection of curated technical resources on new technologies, instrumentation, applications, and protocols related to cancer research (Read More).
To keep abreast of BioLab-Hub news, please subscribe to our mailing list https://lists.oicr.on.ca/mailman/listinfo/biolab (for OICR staff), https://lists.oicr.on.ca/mailman/listinfo/biolab-global (external users).
To help us tailor the BioLab-Hub initiative to suit your research interests, please send your ideas, suggestions, links, and webinars to vanya.peltekova@oicr.on.ca.
Read a message from the Lead about how BioLab is adapting to the COVID-19 pandemic [PDF]
Upcoming training sessions from the community
Engineered Bio Vesicles: A New Platform for Cancer Immunotherapeutics
February 22, 2021 | 1:30 p.m. EDT | Register Here
Abstract: Bio vesicles are a class of tiny synthetic or biological particles that can be used for disease diagnosis or therapeutic delivery. To coordinate activities within and between our different tissue types, we have evolved a variety of intercellular communication networks. There is now world-wide scientific evidence to support the notion that we can engineer and use bio vesicles as nanomedicines to carry therapeutic information for the treatment of a wide spectrum of human diseases, including cancers.Scientist has developed a novel therapeutic platform for producing therapeutic bio vesicles in situ in the tumour niche. This webinar will discuss the strategy to "hack" into the natural communication system using bio vesicles to transmit therapeutic information between cells and promote effective anti-tumour immunity.
---
Quantitation of free light chains in serum and the need for standardization
February 23, 2021 | 11:00 a.m. EDT | Register Here
Abstract: The analysis of serum free light chains (FLC) is now standard of care in the screening, diagnosis, and monitoring of patients suspected of/having multiple myeloma (MM) or other monoclonal gammopathies (MG). Recently, a new FLC immunoassay has become available from Diazyme. The objectives of our study were to analytically validate the Diazyme assay and to determine clinical interchangeability of two different FLC assays in patients with MG and in a presumed healthy population.
---
NanoString's 3rd Annual Spatial Genomics Summit
February 23 – 24, 2021 | 9:00 a.m. EDT | Register Here
Abstract: Join NanoString and leaders in this field at the Third Annual Spatial Genomics Summit, a Pre-AGBT tradition. We welcome everyone to join us in the virtual world for an exciting journey through spatial genomics with a keynote panel of academic and industry leaders, an exciting selection of Rapid Application Presentations (RAP) and an exploration of the power and sensitivity of spatial genomics data! Finally, Joseph Beechem, NanoString's Chief Scientific Officer and Vice President of R&D, will share notable technology developments in spatial genomics and single molecule imaging.
---
Lipidomics and Lipidomics in Research
February 24, 2021 | 3:00 a.m. EDT | Register Here
Abstract: There are approximately 2000 distinct lipids which are believed to influence health and disease in humans. Their molecular interplay with genes, proteins and metabolites is strongly affected by the cellular supply of each of these lipids. A disordered lipid metabolism, system-wide or on a cellular basis, can fuel the development of diseases, including cancer. Lipidomics is the systems biology of lipids and lipid pathways and studies their role in health and disease. Here we show how lipidomics was applied in a variety of research projects ranging from basic science to clinical and industrial research, from organellar samples to tissue and body fluids, and from small scale pilot projects to population cohort analyses with several thousands of lipidomics profiles.
---
4th Annual Drug Discovery & Development Virtual Conference
February 24, 2021 | 8:30 a.m. EDT | Register Here
Abstract: The Drug Discovery planning committee have carefully planned and selected speakers that best represent the key challenges, opportunities, and issues in the current Drug Discovery and Development landscape. These industry leaders will discuss the advancements, challenges and successes of discovery and develop new medications and therapies.
The event will remain open for 2 years from the date of the live event, and the webinars will be available for unlimited on-demand viewing.
---
Get your Assay in Gear: Removing Analytical Bottlenecks on the Path to Clinical Readiness
February 24, 2021 | 10:00 a.m. EDT | Register Here
Abstract: Numerous cellular therapy candidates are quickly progressing to clinical stage manufacturing. However, many therapeutics are delayed getting into the clinic due to lack of suitable analytical methods at an appropriate level of quality.
Flow cytometry is the predominant modality in cell therapy, employed to determine incoming product quality and composition, perform in-process-control (IPC), and ensure cellular identity and purity of final drug products.
Miltenyi Biotec will present their efforts toward standardization and automation of analytical characterization technologies that allow streamlined IPC/quality control of cellular therapies.
---
DeepCLIP: Predicting the effect of mutations on protein-RNA binding with deep learning
February 24, 2021 | 10:00 a.m. EDT | Register Here
Abstract: Nucleotide variants can cause functional changes by altering protein–RNA binding in various ways that are not easy to predict. This can affect processes such as splicing, nuclear shuttling, and stability of the transcript. Correct modeling of protein–RNA binding is critical when predicting the effects of sequence variations. Many RNA-binding proteins recognize a diverse set of motifs and binding is typically also dependent on the genomic context, making this task particularly challenging. Here, we present DeepCLIP, the first method for context-aware modeling and predicting protein binding to RNA nucleic acids using exclusively sequence data as input. DeepCLIP is freely available as a stand-alone application and as a webtool at http://deepclip.compbio.sdu.dk.
---
Perfecting Dose Response Assays
February 25, 2021 | 2:30 p.m. EDT | Register Here
Abstract: Researchers performing basic research and developing therapeutics carefully assess the biological mechanisms and toxicity of novel molecules. Dose response assays are indispensable when determining the appropriate dose for in vitro or in vivo applications; however, researchers must perform these experiments with accuracy and precision to produce reliable results. In this webinar brought to you by Thermo Fisher Scientific, Jeffrey Weidner will discuss how to design ideal dose response assays, and Eric Niederkofler will highlight how automated liquid handlers simplify dose response assays.
---
Agilent Cell Analysis Immuno-Oncology Roadshow: Challenges and Breakthroughs in Immuno-Oncology Research
February 25, 2021 | 11:00 a.m. EDT | Register Here
Abstract: The next generation of immune cell therapies require a new generation of analysis tools. Join this webinar to learn how current technologies are supporting these next-generation therapies by providing key technologies to enable high-efficiency gene editing and assessment of real-time cell function, phenotype, and fate. Agilent & BioTek technology industry leaders will present their tools and solutions to measure and control immune cell function, thus enabling translational researchers and developers to achieve the necessary level of therapeutic potency and safety.
---
Technique Talk: 2D Stem Cell Culture
February 25, 2021 | 11:00 a.m. EDT | Register Here
Abstract: Working with stem cells is a game-changer for scientists researching developmental biology and formulating life-saving therapeutics. Researchers must carefully cultivate these precious cells and guide their differentiation and expansion in 2D tissue culture. Success in these endeavors requires careful attention to detail and excellent cell culture techniques.
---
Responding to Emerging SARS-CoV-2 Variants:The Impact on Existing Diagnostic Testing and the Clinical Utility of Differentiation Assays
February 26, 2021 | 1:00 p.m. EDT | Register Here
Abstract: Understanding the impact of emerging SARS-CoV-2 variants on molecular testing methods and how labs can address this added complexity is important to managing the diagnostic response to the ongoing pandemic.
---
Advances in Genome Biology and Technology (AGBT)
March 1 – 3, 2021 | 8:30 a.m. EDT | Register Here
Abstract: AGBT is the world-renowned not-for-profit provider of three prestigious conference and networking events for the leading luminaries and change-makers of the life sciences and global biotech community.
The General Meeting in March is AGBT's flagship event for bringing together global leaders, researchers, and innovators.
Significant scientific advances are announced and showcased, science and industry forge enduring partnerships, and significant investments and notable acquisitions are made
---
Harnessing the power of tumor-infiltrating lymphocytes
March 3, 2021 | 11:00 a.m. EDT | Register Here
Abstract: There are currently several effective immuno-oncology applications, however many challenges persist in using effector cells for adoptive cell therapy. Join Dr. Sandy Pelletier, Adoptive Cell Transfer (ACT) Immunotherapy Program at Centre de Recherche du CHUM, as she discusses her Montreal-based team's approach to tackling these obstacles using the MACSQuant® Tyto® Cell Sorter, to successfully isolate rare tumor-infiltrating lymphocytes from solid tumors.
---
Murine March Madness: From Man to Fish to Mouse
March 4, 2021 | 1:00 p.m. EDT | Register Here
Abstract: This webinar is part of series of webinars focused on the integration of nCounter® and GeoMx® Digital Spatial Profling approaches to mouse model research. Learn how the field is advancing with the insights gained by bulk analysis combined with spatial resolution. In the first webinar, Dr. Jurynec will talk about his lab's approach to the discovery of osteoarthritis (OA) susceptibility genes using genetics and gene expression analysis, from using both zebrafish and mouse models to test the functional impact of candidate variants to using a mouse model to understand the impact of human variants on the onset and progression of OA.
---
Ultrahigh-content imaging: a breath of fresh air for lung cancer research
March 9, 2021 | 11:00 a.m. EDT | Register Here
Abstract: Lung cancer is one of the three most common types of cancer. Representing 85% of all lung cancers, non-small cell lung cancer has the highest cancer mortality rate worldwide. In this webinar, Dr. Telma Santos, Global Product Manager for Ultrahigh-Content Imaging at Miltenyi Biotec, will demonstrate how the MACSima™ Imaging Platform unlocks truly unprecedented insight into the spatial organization and complex functional interrelationship of cells in the tumor microenvironment. MICS (MACSima Imaging Cyclic Staining) technology allows imaging of hundreds of markers on a single sample and multiple samples in a single experiment. See how more than 150 antibodies were used to investigate two of the most common non-small-cell lung cancers (lung adenocarcinoma and squamous-cell carcinoma) with special focus on the infiltration of immune cells into the tumor tissue.
---
A highly quantitative in vitro method for mechanistic genotoxicity screening
March 11, 2021 | 11:00 a.m. EDT | Register Here
Abstract: Identifying the toxicity profile of a compound is a necessity across industries and the various stages of drug development. Early stage mechanism-based in vitro assays can not only speed up the compound development pipeline, but also can reduce animal testing requirements. Information about the mode-of-action of genotoxic compounds can be vital for both screening and regulatory applications.
In this webinar, Miltenyi Biotec and Toxys will highlight the potential of using flow cytometry for high content toxicity analysis.
---
Murine March Madness: Using mice to unravel the mysteries of COVID-19 disease
March 11, 2021 | 1:00 p.m. EDT | Register Here
Abstract: This webinar is part of series of webinars focused on the integration of nCounter® and GeoMx® Digital Spatial Profling approaches to mouse model research. Learn how the field is advancing with the insights gained by bulk analysis combined with spatial resolution.
In the webinar, JAX in collaboration with NIAID/Rocky Mountain Laboratories will present their study on COVID-19 in humanized mouse panels whose genetic diversity parallel or even exceed human genetic variations.
The JAX/RML teams will share their work in creating even more refined COVID-19 mouse models for future research.
---
The latest developments for enriching and analyzing antigen- and virus-specific T cells
March 16, 2021 | 11:00 a.m. EDT | Register Here
Abstract: The COVID-19 pandemic has placed urgency on precise analysis of rare antigen- and virus-specific T cells. At Miltenyi Biotec, we offer a complete workflow for isolation, stimulation, sorting and analysis of antigen- and virus-specific T cells. Analysis of these rare cells is essential for understanding fundamental immunological processes in immuno-oncology and immune tolerance. Working with antigen-specific T cells can prove challenging to researchers. Critically low cell frequencies, inflammatory environments, nonspecific labeling and high background often hamper reliable analysis. Our workflow has been optimized at every step to address key challenges faced by researchers working with these rare cells.
---
Facilitating transcriptomics of sensitive target cells with gentle cell sorting
March 18, 2021 | 11:00 a.m. EDT | Register Here
Abstract: Sequencing of bulk cells, single cells, and nuclei is opening doors in the understanding of complex biological processes. However, the success and reliability of these methods depends strongly on the quality of the sample. A poor sample quality, for example containing a lot of dead cells, debris, and contamination from cell-free DNA and RNA, impairs sequencing results and also the costs of an experiment. In this webinar, Miltenyi Biotec will highlight the importance of gentle, multi-parametric cell sorting prior to genomic analyses, and how to achieve this by using the microchip-based MACSQuant® Tyto® Cell Sorter.
---
On demand training sessions from the community
Cytokine Evaluation for Identification and Treatment of Autoinflammation and Autoimmunity
On Demand | Register Here
Abstract: This webinar will present the options and limitations of evaluating cytokine profiles of patients suffering from autoinflammatory and autoimmune diseases, along with discussing how the patients' secretome, may help develop better methods in disease identification and guide the choice of biologics for more efficient and selected treatments
---
Driving Lab Productivity With PCR Power
On Demand | Register Here
Abstract: In this webinar, we will cover time-saving tips for your PCR productivity and address common PCR pitfalls that can be avoided with innovations in enzymes, instruments, and plastics. We will discuss PCR tools that are available to researchers who wish to push the boundaries of PCR to overcome research limitations. 
---
Harnessing Single-Cell Multi-Omic Energy States for Integrated Cancer Biology
On Demand | Register Here
Abstract: With the multi-omic energy state application, researchers can connect metabolites from single cells directly to that cell's energy state to identify functional activation pathways and metabolic function. By using this unique application, independent trajectories to drug tolerance can be revealed, enabling researchers to develop better combination therapies to combat this drug-resistant cell state and prevent drug resistance.
In this webinar you will learn how scientists use multi-omic approaches to identify functional changes leading to cancer cell drug resistance and devise new treatment strategies.
---
From Cell Seeding to Analysis – Getting the Best Out of Your Cell-based Assay
On Demand | Register Here
Abstract: The assessment of cell health and cellular responses after experimental manipulation continue to be a very important aspect of experimental biology. Reproducibility of cell-based assays is one of the key points when it comes to reliability of experimental data.
In this webinar Eppendorf and Promega are joining forces to optimize your assay results and discuss measures for getting the best out of your cell-based assay.
---
The New GenapSys Sequencer: Highly Accurate, Scalable, and Affordable Sequencer for Everyone 
On Demand | Register Here
Abstract: GenapSys has developed a novel electrical-based platform capable of accurately detecting single base incorporations. The semiconductor chip-based detection modality allows the system to be compact, scalable, and affordable.
Learn about the new proprietary NGS technology with proven Sequencing-by-Synthesis (SBS) chemistry that employs electrical-based detection of single nucleotide incorporations.
---
Cytation C10: An Affordable Confocal Imaging Reader for your Research Laboratory
On Demand | Register Here
Abstract: Cytation C10 Confocal Imaging Reader combines automated digital confocal and widefield microscopy with conventional multi-mode microplate reading in a compact, modular design. The spinning disk confocal module provides exquisite detail and resolution in a wide variety of sample types that benefit from confocality.
Learn more about Cytation C10 and its use as both confocal and wide field imager and multimode reader and how to apply its efficiency to your lab workflows and assays.
---
cfDNA Analysis: From Plasma to Variants
On Demand | Register Here
Abstract: As the cost of sequencing continues to drop, the throughput and complexity of NGS assays have risen precipitously. At the same time, the types of samples being used for these assays have expanded as researchers find value in studying low-input, degraded, biological samples, such as cell-free DNA (cfDNA). In this webinar, Integrated DNA Technologies presents a complete workflow for effective analysis of <1% variant allele frequency (VAF) in cfDNA.
---
Code Ocean: A Tool to Support the Delivery of Reproducible Analysis with Dr. Benjamin Haibe-Kains
On Demand | Register Here
Abstract: To improve the reproducibility of published research articles, authors are often urged to provide additional important details about their reported studies. These details include identifiers for the reagents and tools used in the study, step-by-step protocols, software code, and experimental design details such as sex, blinding, randomization and power analysis. Implemented into a new AACR submission workflow, Code Ocean captures a self-contained executable compute capsule which includes the code, data, results, and run environment. This compute capsule included in the peer review process along with the article, provides substantial internal operational benefits to the research group itself and offers opportunities to provide updates on published results.
This recording of the AACR Journals Webinar is featuring Dr. Benjamin Haibe-Kains, Sr. Scientist at the Princess Margaret Cancer Centre (PM), UHN, an Associate Professor in the Medical Biophysics department of the University of Toronto.
---
Past BioLab sessions
2020
Amnis® Multispectral Imaging Flow Cytometry for Single Cell Analysis: Tools and Applications
January 28, 2020
2019
Virtual Reality (VR) in Cancer Imaging: Project Theia – Interactive VR Cancer Research Lab
November 29, 2019
The Antibody Reproducibility Crisis
October 17, 2019
Targeting Epigenetic Mechanisms: Challenges and Solutions
October 15, 2019
BioTek's Cytation Multi-Mode Cell Imager: Practical Applications for Imaging and Quantification of Cell-Based Assays
September 18, 2019
Development and Implementation of Clinical Proteomics for Precision Oncology: Applications at the Bedside
August 6, 2019 | [Watch

Development and Implementation of Clinical Proteomics for Precision Oncology: Applications at the Bedside

on YouTube]
Magnetic 3D Bioprinting of Cells: an advance platform for developing tumor models for high throughput functional studies and drug screening
July 24, 2019 | [Watch

Magnetic 3D Bioprinting of Cells: an advance platform for developing tumor models for high throughput functional studies and drug screening

on YouTube]
Improving Communication through Visuals: 10 Tips for Better Science Figures
July 11, 2019
Artificial Intelligence in Cancer Imaging: Bridging the Gap between Pathologist and Algorithm
June 21, 2019 | [Watch

Artificial Intelligence in Cancer Imaging: Bridging the Gap between Pathologist and Algorithm

on YouTube]
Live Cell Imaging with OkoLab BioStation and Leica SP8 Microscope
May 30, 2019
IsoPlexis Single Cell Platform Links Functional Proteomics with Cancer Immunotherapy
May 28, 2019

Oncomine Technology and Solutions for Utilization of Liquid Biopsy Assays in Cancer Research and Clinical Practice
May 9, 2019
Confocal Laser Scanning Microscopy: Exploring Field of View and Mosaic Function to Assemble Single High-Resolution Images into a Large Super image
April 24, 2019
MACSQuant® Tyto® Flow Cell Sorter for Multiparametric Cell Sorting Based on Microchip Technology for Sterile and Gentle Cell Isolation
April 17, 2019
Confocal Laser Scanning Microscopy: Leica SP8 TCP Basics
April 10, 2019
Smarter Medicine: Getting Started in Computational Pathology
April 9, 2019 | [Download the slides

from May 9

]
Optimizing Ribonucleoprotein Delivery to Achieve Potent and Precise CRISPR/Cas9 genome editing
March 27, 2019
Simultaneous Detection of Noncoding RNAs and Protein Cell Surface Markers from PBMC Subpopulations
January 31 and February 1st, 2019
MaxCyte Flow Electroporation Technology: Choosing the Right Cell Engineering Technology from Discovery to Manufacturing
January 29, 2019
Simultaneous Detection of mRNA transcripts and Proteins in Different Immune Cell Subsets
January 22, 2019
Innovative Tools and Techniques for Isolation and Characterization of Cancer-Derived Exosomes (MACSPlex and MACSQuant)
January 16, 2019
2018
Novel Automated Platforms for CRISPR-Engineered Cell Lines and Synthetic sgRNA for Primary Cell and Screening Applications
November 29, 2018
PrimeFlow RNA Assay for simultaneous detection of RNA and Protein by Flow Cytometry
November 8, 2018 | PowerPoint slides

for Primeflow

Three-Dimensional Organoid Cultures as In Vitro Models for Cancer Research: Applications and Prospective
October 24, 2018
Tools and Techniques for Isolation and Multi-Plex Analysis of Cancer-Derived Exosomes via Flow Cytometry
October 10, 2018
The Moffitt Cancer Center approach to pathology diagnostics supporting the delivery of precision oncology and immune-oncology treatments
October 16, 2018 | Video

from October 16

Introduction to Multiphoton Microscopy and Fluorescent Lifetime Microscopy (FLIM)
October 16, 2018
Basics of Confocal Laser Scanning Microscopy
October 4, 2018
BioPlex 200 Analyzer: How to Use of xMAP Technology to Measure Complex Immune Responses
September 10, 2018
Global Transcriptome Profiling for Better Biomarkers
September 5, 2018
OkoLab BioStation for Live Cell Imaging by Leica SP8 Microscope
August 1st, 2018
The Future of Diagnosis: Learning To Recognize Similar Images In Digital Pathology
July 31, 2018
Computational Pathology Tools for Whole Slide Biomarker: ISH spot quantification at single cell resolution at the STTARR image analysis core facility
July 19, 2018
OkoLab BioStation for Live Cell Imaging by Leica SP8 Microscope
June 25, 2018
Circulating Tumor DNA (ctDNA): Detection and Applications in Curable Cancers
June 11, 2018
Preparation of Single Cell Suspensions from Tissues for Cell RNA Sequencing by 10XGenomics
May 7, 2018
Multiplexing and Applications of the QuantiGene™ Plex and ViewRNA™Assay in Cancer Research and Diagnostics
May 2, 2018
Basics of Leica Laser TCS SP8 Confocal Microscopy
April 24, 2018
Droplets for Cancer Detection in Liquid Biopsy
April 19, 2018
Advancing Oncology Research with High Content Imaging and 3D Models: Technology and Application Overview
April 5, 2018
MACS Technologies for Single Cell Omics: Methods for Sample Preparation, Cell Isolation and Single Cell Analysis for Cancer Research
March 29, 2018
Quantitative Intracellular and Intra-Nuclear Spot Analysis Using Cytation-3 Digital Microscopy
February 13, 2018
Visualize Gene Expression and Genetic Variations in Tumor Microenvironment: Applications of RNAscope and BaseScope ISH Technologies
February 5, 2018
Leader
Dr. Vanya Peltekova PhD
Lead, BioLab Operations, Ontario Institute for Cancer Research
All inquiries can be addressed to Dr. Peltekova at vanya.peltekova@oicr.on.ca.
---
Seminars and workshops are for educational purposes only and are not an endorsement of any products or services by BioLab or by OICR.