BioLab: learning, training and connecting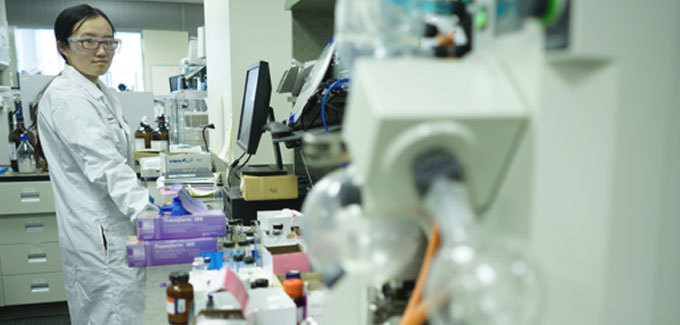 BioLab at OICR manages state-of-art equipment for translational cancer research and offers free educational seminars, advanced technology workshops and hands-on instrument training sessions led by instrument application specialists.
The mission of BioLab is to provide continuous education and training for the next generation of Ontario cancer researchers using existing and advanced cancer-related technologies, applications, tools and instrumentation.
BioLab Provides

BioLab goes beyond basic theory and training to provide application-driven experiences. BioLab training explores the full potential of state-of-art cancer research equipment from experimental design, through correct equipment usage and even covers project-driven applications.
The training sessions offered by BioLab foster collaboration in the cancer research community and provide a place to share experiences, build new collaborations and drive cancer research forward.
BioLab-Hub
To address the Coronavirus outbreak, BioLab has decided to extend its educational offerings by launching the BioLab-Hub initiative to better assist its users and subscribers.
BioLab-Hub will be posting bi-weekly selection of free webinars on cancer-related technologies and research innovations, and a monthly view and learn topic-driven collection of curated technical resources on recent and new technologies, instrumentation, applications, videos and protocols related to cancer research (Read More).
To keep abreast on the ongoing BioLab-Hub news, please subscribe to our mailing list https://lists.oicr.on.ca/mailman/listinfo/biolab (for OICR staff), https://lists.oicr.on.ca/mailman/listinfo/biolab-global (external users).
To help tailoring the BioLab-Hub initiative to favour your research interests, please, sharing your ideas, suggestions, links, sites, and webinars to vanya.peltekova@oicr.on.ca.
Read a message from the Lead about how BioLab is adapting to the COVID-19 pandemic [PDF]
---
Upcoming training sessions from the community August 4 – August 20
Dana-Farber/Harvard Cancer Center Science seminar series
Register/ Watch Here
It involves speakers who are leaders in cancer biology, immune oncology and other fields from across the world. Outstanding presentations will be shared with researchers around the globe and recorded for subsequent viewing.
---
Flexible, Clinically Adaptable, Non-Viral Approaches to CAR TCR Methodologies
August 4, 2020 | 11:00 a.m. EDT | Register Here
Abstract: The webinar will demonstrate the successful use of MaxCyte's clinically validated, scalable electroporation system in the pre-clinical and clinical scale engineering of resting and activated T cells using a mesothelin specific CARmRNA.
The webinar will demonstrate how MaxCyte's ExPERT platform can enable the next-generation non-viral CAR T therapies including allogeneic, off-the-shelf modalities with the potential for enhanced effectiveness for refractory cancer.
Topics to be Covered:
Discover next-generation non-viral CAR approaches
Compare detailed case studies of both autologous and allogeneic therapeutic solutions
Assess the advantages of scalable non-viral approach throughout development and manufacturing process
---
The use of genetically modified mouse models and in vitro cell culture models for efficacy studies in immuno-oncology
August 5, 2020 |10:00 a.m. EDT | Register Here
Abstract: Mouse models are an integral part of cancer research. Syngeneic tumor models and human immune cell-engrafted mice are two of the popular preclinical tools in immuno-oncology studies. The webinar will discuss challenges in immuno-oncology research and in vitro cell-based assays that can be used to overcome these.
Topics to be Covered:
Genetically humanized mice for antibody efficacy studies in syngeneic cancer models
Use of severely immuno-deficient B-NDG mice to characterize human immune cells activities (T and NK cells)
Immune cell functional assays to assess viability, cell health, and cell proliferation
Complex co-culture assays to measure specificity of immunotherapies
Personalized organoid models for cell-mediated cytotoxicity
---
T cell characterization combining advanced flow cytometry with live cell analysis
August 5, 2020 | 11:00 a.m. EDT | Register Here
Abstract: Immunotherapy, to help patients' own immune systems target and kill cancerous cells, while sparing their healthy cells, requires a deep understanding of T cell biology.
Individual cell analysis techniques continue to advance, but a combination of in vitro assay types, can maximize the understanding of T cells.
This webinar provides an overview of advanced cell analysis techniques and details how to combine them, for maximum insight into T cell biology.
Topics to be Covered:
The use of advanced flow cytometry to link T cell function to marker expression and cytokine release
Mechanistic insights into T cell activation, killing, exhaustion, and memory through the characterization of bispecific antibodies
Combining Incucyte® Live-Cell Analysis and iQue® advanced flow cytometry, to obtain additional insight into T cell function
---
Single Cell Antibody Discovery Using 'Islands of Automation'
August 6, 2020 | 1:00 p.m. EDT | Register Here
Abstract: In recent years Lilly has implemented a Next Generation Research (NGR) initiative to improve the value output of the R&D portfolio. One of the NGR pillars focuses on decreasing the timeline to bring medicines to patients. As part of this initiative Lilly has invested in 'Islands of Automation' to advance the B cell antibody discovery platform with the goal of significantly increasing throughput and reducing project timelines. On this webinar you will learn on the automated approach to antibody discovery to meet aggressive timelines and to dramatically increase throughput
Topics to be Covered:
Monoclonal antibody discovery from single B cells
Modular automated systems that allow for maximum flexibility
Automated system design and optimization
---
Miltenyi Biotec: How to Derive and Expand Primary Tumor Cell Cultures
August 11, 2020 | 1:00 p.m. EDT | Register Here
Abstract: Established cancer cell lines often fail to reflect the histological and functional features of primary human tumors in contrast to cell cultures derived from primary tumors. However, the derivation of primary tumor cell cultures is challenging.
This webinar covers the latest solutions for improved culture of primary and xenotransplanted tumor cells.
Topics to be Covered:
Dissociation of fresh tumor samples into viable single-cell suspensions
Untouched isolation of fully viable, heterogeneous tumor cells
In vitro derivation and expansion of primary and xenotransplanted tumor cell cultures while preserving parental tumor heterogeneity, tumor-initiating capacity, and genetic stability
---
Ontario CRISPR Seminar Series by Synthego: 
I. Applications of CRISPR Engineered Cell Lines
August 11, 2020 | 1:00 p.m. EDT | Register Here
Abstract: CRISPR has quickly become a popular tool in the genome engineering community due to its precision. While the list of potential applications of CRISPR is growing, the experimental workflow is not easy.
This webinar will be focused on Synthego's Engineered Cells for editing immortalized cells. She will cover our 200-point optimization process used across 200+ cell lines and feature KO data and application notes using KOCP to validate protein function.
II. Increased Confidence in Target Discovery and Validation through Unbiased and Reproducible CRISPR Knockouts
August 19, 2020 | 1:00 p.m. EDT | Register Here
Abstract: Loss of function studies is often the first step in target discovery to identify novel gene targets and understand their role in biological pathways or in disease states. Using CRISPR-Cas9 as a tool for target identification and validation in an arrayed format allows researchers to perform a high-throughput loss-of-function screen and clearly link complex phenotypes to genotypes.
Some challenges in screening include assay compatibility, delivery into primary cells, and ensuring minimal false negatives and positives.
In this webinar, learn how Synthego's screening library portfolio has been designed and formatted to support every step of your loss-of-function screening pipeline for more accurate and reproducible results.
---
A Novel Method for the Isolation of Highly Pure Carcinoma Cell Populations from FFPE Tissue Improves Sensitivity for Detecting Somatic Mutations
August 20, 2020 | 1:00 p.m. EDT | Register Here
Abstract: Millions of formalin-fixed paraffin-embedded (FFPE) tissue specimens are archived annually. Historically used for immunohistochemistry to examine the morphology of tissues and protein biomarkers, FFPE tissue is now increasingly devoted to genetic analysis.
There are many challenges associated with genetic analysis of FFPE tissue, such as the difficulty of isolating different cell populations from highly heterogeneous tissues like tumors. The webinar will present a novel method for isolating highly pure populations of carcinoma cells from FFPE tissue for analysis by next generation sequencing.
Topics to be Covered:
FFPE tumor tissue as a plentiful and valuable resource for studying the genetics of cancer and advancing precision medicine.
Separating carcinoma cells from stromal cells is an effective method to increase sensitivity for detecting somatic mutations
The FFPE Tissue Dissociation Kit, in conjunction with the gentleMACS Octo Dissociator with Heaters, quickly and effectively generates single-cell suspensions
---
IncuCyte Resources: Live-Cell Analysis of Cell Subsets and Heterogeneity
On Demand | Register Here
Abstract: The webinar will present the new IncuCyte cell-by-cell analysis module that allows users to 'count and classify' heterogeneity in cell populations over time.
The software uses novel algorithms to segment the HD phase-contrast images which facilitates (1) label-free true cell counting (2) extraction of basic morphological features of individual cells (e.g. size, shape), and (3) measurement of fluorescence intensity that originates from within each cell ('fluorescence within a phase boundary').
Topics to be Covered:
Overview and validation of the cell-by-cell analysis module
Cell-by-cell analysis for monitoring and quantification of dynamic phenotypic changes in heterogeneous populations
Examples of how the software may be used for cell subset identification
---
Harnessing Neoantigens for Individualized Cancer Immunotherapy
On Demand | Register Here
Abstract: Neoantigens resulting from the presentation of mutated peptides on MHC molecules are attractive therapeutic targets. They are tumor specific, elicit CD8 and CD4 T cell responses by being recognized as foreign by the immune system, and there is emerging evidence that neoantigens are drivers of protective immunity to cancer.
A challenge with harnessing neoantigens is that most neoantigens are patient tumor specific and require the development of individualized immunotherapy.
Topics to be Covered:
An overview of the approaches currently in development, which target neoantigens
A discussion on the rules defining immunogenic neoepitopes
Review of the current efforts aimed at improving neoantigen selection methods
Study of the definition of the mechanistic drivers of efficacy, following preclinical study vaccination with the RNA-LPX vaccine
---
Capture the Dark Genome: From Repeat-Expansions to CRISPR Unintended Mutations
On Demand | Register Here
Abstract: Sequenced genomes retain a surprisingly large number of "dark" regions – sections that have proven difficult to characterise via short-read sequencing and PCR-based approaches. Potentially valuable information or disease-relevant function of tandem repeats, structural variants, and CG-rich regions is obscured by amplification bias, ambiguous read mapping, or simply the time and cost of alternative techniques.
This webinar will explore a new enrichment method that uses short (~150 bp) detection sequences to indirectly capture target stretches of DNA generating a high-fidelity enriched sample of long regions (>100 kb) that can be used in both short- and long-read targeted sequencing.
Topics to be Covered:
Current sequencing technologies deal with "dark" and challenging genomic regions
Overview of currently available tools for genetic diagnostics and CRISPR validation
Genomic approaches capable of coupling target enrichment and long-read sequencing
Principles and outcomes of indirect sequence capture and how it works
Single-Cell Omics for Drug Targets
On Demand | Register Here
Abstract: Single cell technologies can be utilised by pharmaceutical companies to strengthen their pipeline by uncovering drug targets across multiple disease areas. This webinar will bring you examples of the adoption and lessons learned from Pharma, and how you can simplify the data analysis.
Topics to be Covered:
"Challenges to cell type annotation in patient CNS tissue samples" – Jonathan Proto, Principal Scientist, Sanofi
"Disease associated cell populations for drug discovery" – Caroline Gubser Keller, Data Science Site Head, Chemical Biology & Therapeutics, Novartis
"How to Simplify your Multi-omics Single Cell Data Analysis" – Simit Patel, FAS, Partek
---
Past BioLab sessions
2020
Amnis® Multispectral Imaging Flow Cytometry for Single Cell Analysis: Tools and Applications
January 28, 2020
2019
Virtual Reality (VR) in Cancer Imaging: Project Theia – Interactive VR Cancer Research Lab
November 29, 2019
The Antibody Reproducibility Crisis
October 17, 2019
Targeting Epigenetic Mechanisms: Challenges and Solutions
October 15, 2019
BioTek's Cytation Multi-Mode Cell Imager: Practical Applications for Imaging and Quantification of Cell-Based Assays
September 18, 2019
Development and Implementation of Clinical Proteomics for Precision Oncology: Applications at the Bedside
August 6, 2019 | [Watch

Development and Implementation of Clinical Proteomics for Precision Oncology: Applications at the Bedside

on YouTube]
Magnetic 3D Bioprinting of Cells: an advance platform for developing tumor models for high throughput functional studies and drug screening
July 24, 2019 | [Watch

Magnetic 3D Bioprinting of Cells: an advance platform for developing tumor models for high throughput functional studies and drug screening

on YouTube]
Improving Communication through Visuals: 10 Tips for Better Science Figures
July 11, 2019
Artificial Intelligence in Cancer Imaging: Bridging the Gap between Pathologist and Algorithm
June 21, 2019 | [Watch

Artificial Intelligence in Cancer Imaging: Bridging the Gap between Pathologist and Algorithm

on YouTube]
Live Cell Imaging with OkoLab BioStation and Leica SP8 Microscope
May 30, 2019
IsoPlexis Single Cell Platform Links Functional Proteomics with Cancer Immunotherapy
May 28, 2019

Oncomine Technology and Solutions for Utilization of Liquid Biopsy Assays in Cancer Research and Clinical Practice
May 9, 2019
Confocal Laser Scanning Microscopy: Exploring Field of View and Mosaic Function to Assemble Single High-Resolution Images into a Large Super image
April 24, 2019
MACSQuant® Tyto® Flow Cell Sorter for Multiparametric Cell Sorting Based on Microchip Technology for Sterile and Gentle Cell Isolation
April 17, 2019
Confocal Laser Scanning Microscopy: Leica SP8 TCP Basics
April 10, 2019
Smarter Medicine: Getting Started in Computational Pathology
April 9, 2019 | [Download the slides

from May 9

]
Optimizing Ribonucleoprotein Delivery to Achieve Potent and Precise CRISPR/Cas9 genome editing
March 27, 2019
Simultaneous Detection of Noncoding RNAs and Protein Cell Surface Markers from PBMC Subpopulations
January 31 and February 1st, 2019
MaxCyte Flow Electroporation Technology: Choosing the Right Cell Engineering Technology from Discovery to Manufacturing
January 29, 2019
Simultaneous Detection of mRNA transcripts and Proteins in Different Immune Cell Subsets
January 22, 2019
Innovative Tools and Techniques for Isolation and Characterization of Cancer-Derived Exosomes (MACSPlex and MACSQuant)
January 16, 2019
2018
Novel Automated Platforms for CRISPR-Engineered Cell Lines and Synthetic sgRNA for Primary Cell and Screening Applications
November 29, 2018
PrimeFlow RNA Assay for simultaneous detection of RNA and Protein by Flow Cytometry
November 8, 2018 | PowerPoint slides

for Primeflow

Three-Dimensional Organoid Cultures as In Vitro Models for Cancer Research: Applications and Prospective
October 24, 2018
Tools and Techniques for Isolation and Multi-Plex Analysis of Cancer-Derived Exosomes via Flow Cytometry
October 10, 2018
The Moffitt Cancer Center approach to pathology diagnostics supporting the delivery of precision oncology and immune-oncology treatments
October 16, 2018 | Video

from October 16

Introduction to Multiphoton Microscopy and Fluorescent Lifetime Microscopy (FLIM)
October 16, 2018
Basics of Confocal Laser Scanning Microscopy
October 4, 2018
BioPlex 200 Analyzer: How to Use of xMAP Technology to Measure Complex Immune Responses
September 10, 2018
Global Transcriptome Profiling for Better Biomarkers
September 5, 2018
OkoLab BioStation for Live Cell Imaging by Leica SP8 Microscope
August 1st, 2018
The Future of Diagnosis: Learning To Recognize Similar Images In Digital Pathology
July 31, 2018
Computational Pathology Tools for Whole Slide Biomarker: ISH spot quantification at single cell resolution at the STTARR image analysis core facility
July 19, 2018
OkoLab BioStation for Live Cell Imaging by Leica SP8 Microscope
June 25, 2018
Circulating Tumor DNA (ctDNA): Detection and Applications in Curable Cancers
June 11, 2018
Preparation of Single Cell Suspensions from Tissues for Cell RNA Sequencing by 10XGenomics
May 7, 2018
Multiplexing and Applications of the QuantiGene™ Plex and ViewRNA™Assay in Cancer Research and Diagnostics
May 2, 2018
Basics of Leica Laser TCS SP8 Confocal Microscopy
April 24, 2018
Droplets for Cancer Detection in Liquid Biopsy
April 19, 2018
Advancing Oncology Research with High Content Imaging and 3D Models: Technology and Application Overview
April 5, 2018
MACS Technologies for Single Cell Omics: Methods for Sample Preparation, Cell Isolation and Single Cell Analysis for Cancer Research
March 29, 2018
Quantitative Intracellular and Intra-Nuclear Spot Analysis Using Cytation-3 Digital Microscopy
February 13, 2018
Visualize Gene Expression and Genetic Variations in Tumor Microenvironment: Applications of RNAscope and BaseScope ISH Technologies
February 5, 2018
Leader
Dr. Vanya Peltekova PhD
Lead, BioLab Operations, Ontario Institute for Cancer Research
All inquiries can be addressed to Dr. Peltekova at vanya.peltekova@oicr.on.ca.
---
Seminars and workshops are for educational purposes only and are not an endorsement of any products or services by BioLab or by OICR.