BioLab: learning, training and connecting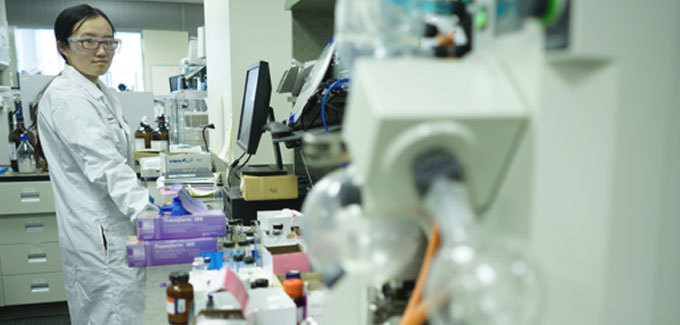 BioLab at OICR manages state-of-art equipment for translational cancer research and offers free educational seminars, advanced technology workshops and hands-on instrument training sessions led by instrument application specialists.
The mission of BioLab is to provide continuous education and training for the next generation of Ontario cancer researchers using existing and advanced cancer-related technologies, applications, tools and instrumentation.
BioLab Provides

BioLab goes beyond basic theory and training to provide application-driven experiences. BioLab training explores the full potential of state-of-art cancer research equipment from experimental design, through correct equipment usage and even covers project-driven applications.
The training sessions offered by BioLab foster collaboration in the cancer research community and provide a place to share experiences, build new collaborations and drive cancer research forward.
BioLab-Hub
To address the COVID-19 pandemic, BioLab has extended its educational offerings by launching the BioLab-Hub initiative to better assist BioLab users.
BioLab-Hub posts a selection of free webinars on cancer-related technologies and research innovations, and a monthly topic-driven, view-and-learn collection of curated technical resources on new technologies, instrumentation, applications, and protocols related to cancer research (Read More).
To keep abreast of BioLab-Hub news, please subscribe to our mailing list https://lists.oicr.on.ca/mailman/listinfo/biolab (for OICR staff), https://lists.oicr.on.ca/mailman/listinfo/biolab-global (external users).
To help us tailor the BioLab-Hub initiative to suit your research interests, please send your ideas, suggestions, links, and webinars to vanya.peltekova@oicr.on.ca.
Read a message from the Lead about how BioLab is adapting to the COVID-19 pandemic [PDF]
Upcoming training sessions from the community
Target 2035 Webinar: Computational and AI methods for ligand discovery and optimization
January 11, 2021 | 10:00 a.m. EDT | Register Here
Abstract: Target 2035 is an international federation of biomedical scientists from the public and private sectors developing and applying new technologies to create by year 2035 chemogenomic libraries, chemical probes, and/or biological probes for the entire proteome (Carter, A.J. et al. Target 2035: probing the human proteome, Drug Discov Today (2019).
This webinar will discuss the computational and AI methods for generation chemical and biological reagents for the understudied proteins that will enable research and lead to the validation of novel therapeutic targets, and the discovery of better medicines.
---
How T Cells Fight SARS-CoV-2
January 12, 2021 | 2:30 p.m. EDT | Register Here
Abstract: Many immunologists are looking at T cells to understand the potential for lasting immunity to SARS-CoV-2. In this webinar from The Scientist, Alessandro Sette and Shane Crotty will present the latest findings in T cell function following SARS-CoV-2 infection and the implications for vaccine development and lasting immune memory.
---
The Inhibitory Role of Specific Macrophages in RCC
January 19, 2021 | 11:00 a.m. EDT | Register Here
Abstract: Only a small subset of patients with clear cell Renal Cell Carcinoma (ccRCC) respond to immunotherapy with checkpoint inhibitors. Research has shown that additional mechanisms of inhibition prevent the majority of patients from successful treatment. Recent studies on the inhibitory role of macrophages portend that these cells are associated with lower survival rate in several different cancer types. The webinar,will present research on specific macrophages in RCC ("ercDCs") which are associated with poor outcome and their potential as new targets in immunotherapy.
---
Sample preparation and enrichment for single-cell sequencing assays
January 20, 2020 | 11:00 a.m. EDT | Register Here
Abstract: Single-cell RNA sequencing (scRNA seq) has emerged as a powerful tool that can reveal complex and rare cell populations, uncover regulatory relationships between genes, and trace connections between cellular lineages in different cell types and rare populations. The high sensitivity of scRNA seq requires careful processing of the sample to ensure optimal results.
This webinar will discuss the basics of sample preparation, sample cleanup and enrichment methods to obtain quality data from single-cell sequencing assays.
---
Combinatorial Immunotherapy Approaches for Patients with Advanced Solid Tumors
January 21, 2021  | 11:00 a.m. EDT | Register Here
Abstract: This GEN webinar, sponsored by Ultivue, we will explore the intratumoral administration of autologous, non-manipulated myeloid dendritic cells in combination with immune checkpoint inhibitors in patients with advanced solid tumors and in combination with the oncolytic virus talimogene laherparepvec (Imlygic®) in patients with advanced melanoma in phase | clinical trials.
---
Launch of ICON™ and STUDIUS™ – New Products for an Integrated Cell Line Development Workflow
January 25, 2021  | 11:00 a.m. EDT | Register Here
Abstract: From the original notion of monoclonal antibodies as "magic bullets" right through to the latest generation of COVID-19 vaccines, stem cell therapies and exosomes, cell line development is experiencing a rapid expansion in both scope and output of novel biotherapeutics. Clonality, and the gathering of quality evidence, has been central to cell line development for the last decade, and with it, driving the rise of high-caliber seeding and imaging technologies.
In this webinar, market leader Solentim will introduce two new products, an instrument named ICON™, that is designed to empower laboratories to make better decisions faster, and an over-arching software platform called STUDIUS™.
---
High-throughput CRISPR editing using the Onyx™ platform identifies essential residues in proteins
January 26, 2020 | 11:00 a.m. EDT | Register Here
Abstract: Over the past years, CRISPR/Cas genome editing has quickly become the method of choice for genetic manipulation, owing to its ease-of-use, flexibility, and efficiency. However, another main advantage of CRISPR technology is its scalability. In the study presented during this webinar, we used the high-throughput CRISPR-based Onyx platform to perform saturation mutagenesis to probe the essentiality of different residues.
On demand training sessions from the community
Adding Dimensions to Multiplex Molecular Imaging
On Demand | Register Here
Abstract: Molecular imaging of living specimens offers a means to draw upon the growing body of high-throughput molecular data to better understand the underlying cellular and molecular mechanisms of complex disease processes.
Leica's two-photon light-sheet microscope combines the deep penetration of two-photon microscopy and the speed of light sheet microscopy to generate images with more than ten-fold improved imaging speed and sensitivity.
---
Troubleshooting Cell-based Assays – Avoid Common Pitfalls from Cell Seeding to Analysis
On Demand | Register Here
Abstract: The assessment of cell health and cellular responses after experimental manipulation continue to be a very important aspect of experimental biology. Despite choosing the appropriate assay type there are many more factors to be considered to mitigate data variability. This joined (Promega and Eppendorf) webinar offers a comprehensive overview of the cell culture workflow and introduces measures to maximize the outcome of your cell-based assay.
---
From Cell Seeding to Analysis – Getting the Best Out of Your Cell-based Assay
On Demand | Register Here
Abstract: The assessment of cell health and cellular responses after experimental manipulation continue to be a very important aspect of experimental biology. Reproducibility of cell-based assays is one of the key points when it comes to reliability of experimental data.
In this webinar Eppendorf and Promega are joining forces to optimize your assay results and discuss measures for getting the best out of your cell-based assay.
---
LABTalk: Strategies to Prevent Contamination in a Cell Culture Lab
On Demand | Register Here
Abstract: This webinar provides the strategies paramount to preventing contamination in a cell culture lab. Learn more about advance tips and tricks regarding cell culture.
---
10XGenomics: Single-Cell Multi-omics to Profile the Immune System
On Demand | Register Here
Abstract: Profiling the immune system of cancer patients at the single-cell level promises to uncover signatures of response and mechanisms of drug action. While single-cell technologies have developed at a rapid pace, applying them to large numbers of clinical samples remains challenging. Researchers had developed an integrated platform that enables high-quality analysis of single-cell multi-omics data on hundreds of PBMC samples from cancer patients. Using 10x Genomics technology and ML approaches to correct for sample heterogeneity and mitigate batch effects, this platform enables characterization of the transcriptome, cell surface proteins, and adaptive immune repertoire of large sample numbers at the single-cell level.
---
IsoPlexis: Fully Automated High-Plex Proteomics to Enable Accelerated Immune Medicine
On Demand | Register Here
Abstract: IsoPlexis is offering unique new high-plex automated immunoassay solutions to uniquely enable decentralization of multiplexed and fully automated functional proteomics for accelerated insights. This technology can identify 20-30 cytokines in bulk, with only 11 µL of sample per chip, analyzed on the fully automated, benchtop IsoLight system. IsoPlexis' proteomics platform widens access to advanced insights provided by improved and re-engineered ELISA technology, with a small footprint and end-to-end automation.
Several speakers will describe how high-plex automated immunoassays facilitate critical discoveries in immune medicine.
---
Predicting COVID-19 Severity From Genetic and Other Biomarkers: A Virtual Roundtable Discussion
On Demand | Register Here
Abstract: The unfolding of the COVID-19 pandemic has shown that disease severity does not always correlate with age, pre existing medical conditions, or other clinical features. While some individuals can be infected with SARS-CoV-2 with few or no symptoms, others become severely ill with the disease.
This panel discussion explores a variety of ongoing research projects and approaches that aim to discover genetic and other biomarkers to help predict who is at risk of developing severe COVID-19.
The panelists discuss the opportunities and challenges of implementing their findings into clinical care, particularly within the context of other predictors of disease severity.
---
Rapid WGS: How Rady Children's Institute Is Increasing Diagnostic Yield and Improving Outcomes
On Demand | Register Here
Abstract: Rapid whole-genome sequencing (rWGS) is an emerging method that can provide molecular diagnosis in time to alter acute medical or surgical management and improve outcomes in acutely ill children. The clinical utility of rWGS depends on the ability to rapidly analyze and interpret large amounts of sequencing data.
In this webinar, Dr. Stephen Kingsmore, President and CEO of Rady Children's Institute for Genomic Medicine, gives an overview of the two-time world-record-setting Rady rWGS method, followed by a deeper examination of the institute's analysis and interpretation pipeline by Dr. Katarzyna Ellsworth.
---
Designing and Executing a Successful Spatial Profiling Experiment
On Demand | Register Here
Abstract: NanoString's GeoMx™ Digital Spatial Profiler* combines standard immunofluorescence techniques with digital optical barcoding technology to perform highly multiplexed, spatially resolved profiling experiments. In a single reaction, the DSP technology performs whole slide imaging with up to four fluorescent stains to capture tissue morphology and select regions of interest for high plex profiling. The DSP chemistry enables spatially resolved high plex profiling of RNA and protein targets on just two serial sample sections.
This is a practical webinar on designing experiments for the GeoMx® Digital Spatial Profiler (DSP). During the webinar, you will review tips and tricks on the experimental design process and a review of several high impact case studies utilizing this technology
---
The Tumor Neighborhood Watch: How Spatial Architecture and Cellular Neighborhoods Correlate to Colorectal Cancer Outcomes
On Demand | Register Here
Abstract: Most recent single-cell and spatial biology studies have focused on the network of interactions between different cell types and their spatial context.
Dr. Garry Nolan, Stanford University, in collaboration with the University of Bern has conducted deep single-cell phenotyping and spatial analysis on a cohort of colorectal cancer FFPE samples using the CODEX platform, Akoya Biosciences. As a result, the authors discovered nine distinct cellular neighborhoods, each uniquely composed of certain immune and cancer cell types. These cellular neighborhoods were found to interact with one another in a manner that correlated with disease progression and prognosis.
---
Past BioLab sessions
2020
Amnis® Multispectral Imaging Flow Cytometry for Single Cell Analysis: Tools and Applications
January 28, 2020
2019
Virtual Reality (VR) in Cancer Imaging: Project Theia – Interactive VR Cancer Research Lab
November 29, 2019
The Antibody Reproducibility Crisis
October 17, 2019
Targeting Epigenetic Mechanisms: Challenges and Solutions
October 15, 2019
BioTek's Cytation Multi-Mode Cell Imager: Practical Applications for Imaging and Quantification of Cell-Based Assays
September 18, 2019
Development and Implementation of Clinical Proteomics for Precision Oncology: Applications at the Bedside
August 6, 2019 | [Watch

Development and Implementation of Clinical Proteomics for Precision Oncology: Applications at the Bedside

on YouTube]
Magnetic 3D Bioprinting of Cells: an advance platform for developing tumor models for high throughput functional studies and drug screening
July 24, 2019 | [Watch

Magnetic 3D Bioprinting of Cells: an advance platform for developing tumor models for high throughput functional studies and drug screening

on YouTube]
Improving Communication through Visuals: 10 Tips for Better Science Figures
July 11, 2019
Artificial Intelligence in Cancer Imaging: Bridging the Gap between Pathologist and Algorithm
June 21, 2019 | [Watch

Artificial Intelligence in Cancer Imaging: Bridging the Gap between Pathologist and Algorithm

on YouTube]
Live Cell Imaging with OkoLab BioStation and Leica SP8 Microscope
May 30, 2019
IsoPlexis Single Cell Platform Links Functional Proteomics with Cancer Immunotherapy
May 28, 2019

Oncomine Technology and Solutions for Utilization of Liquid Biopsy Assays in Cancer Research and Clinical Practice
May 9, 2019
Confocal Laser Scanning Microscopy: Exploring Field of View and Mosaic Function to Assemble Single High-Resolution Images into a Large Super image
April 24, 2019
MACSQuant® Tyto® Flow Cell Sorter for Multiparametric Cell Sorting Based on Microchip Technology for Sterile and Gentle Cell Isolation
April 17, 2019
Confocal Laser Scanning Microscopy: Leica SP8 TCP Basics
April 10, 2019
Smarter Medicine: Getting Started in Computational Pathology
April 9, 2019 | [Download the slides

from May 9

]
Optimizing Ribonucleoprotein Delivery to Achieve Potent and Precise CRISPR/Cas9 genome editing
March 27, 2019
Simultaneous Detection of Noncoding RNAs and Protein Cell Surface Markers from PBMC Subpopulations
January 31 and February 1st, 2019
MaxCyte Flow Electroporation Technology: Choosing the Right Cell Engineering Technology from Discovery to Manufacturing
January 29, 2019
Simultaneous Detection of mRNA transcripts and Proteins in Different Immune Cell Subsets
January 22, 2019
Innovative Tools and Techniques for Isolation and Characterization of Cancer-Derived Exosomes (MACSPlex and MACSQuant)
January 16, 2019
2018
Novel Automated Platforms for CRISPR-Engineered Cell Lines and Synthetic sgRNA for Primary Cell and Screening Applications
November 29, 2018
PrimeFlow RNA Assay for simultaneous detection of RNA and Protein by Flow Cytometry
November 8, 2018 | PowerPoint slides

for Primeflow

Three-Dimensional Organoid Cultures as In Vitro Models for Cancer Research: Applications and Prospective
October 24, 2018
Tools and Techniques for Isolation and Multi-Plex Analysis of Cancer-Derived Exosomes via Flow Cytometry
October 10, 2018
The Moffitt Cancer Center approach to pathology diagnostics supporting the delivery of precision oncology and immune-oncology treatments
October 16, 2018 | Video

from October 16

Introduction to Multiphoton Microscopy and Fluorescent Lifetime Microscopy (FLIM)
October 16, 2018
Basics of Confocal Laser Scanning Microscopy
October 4, 2018
BioPlex 200 Analyzer: How to Use of xMAP Technology to Measure Complex Immune Responses
September 10, 2018
Global Transcriptome Profiling for Better Biomarkers
September 5, 2018
OkoLab BioStation for Live Cell Imaging by Leica SP8 Microscope
August 1st, 2018
The Future of Diagnosis: Learning To Recognize Similar Images In Digital Pathology
July 31, 2018
Computational Pathology Tools for Whole Slide Biomarker: ISH spot quantification at single cell resolution at the STTARR image analysis core facility
July 19, 2018
OkoLab BioStation for Live Cell Imaging by Leica SP8 Microscope
June 25, 2018
Circulating Tumor DNA (ctDNA): Detection and Applications in Curable Cancers
June 11, 2018
Preparation of Single Cell Suspensions from Tissues for Cell RNA Sequencing by 10XGenomics
May 7, 2018
Multiplexing and Applications of the QuantiGene™ Plex and ViewRNA™Assay in Cancer Research and Diagnostics
May 2, 2018
Basics of Leica Laser TCS SP8 Confocal Microscopy
April 24, 2018
Droplets for Cancer Detection in Liquid Biopsy
April 19, 2018
Advancing Oncology Research with High Content Imaging and 3D Models: Technology and Application Overview
April 5, 2018
MACS Technologies for Single Cell Omics: Methods for Sample Preparation, Cell Isolation and Single Cell Analysis for Cancer Research
March 29, 2018
Quantitative Intracellular and Intra-Nuclear Spot Analysis Using Cytation-3 Digital Microscopy
February 13, 2018
Visualize Gene Expression and Genetic Variations in Tumor Microenvironment: Applications of RNAscope and BaseScope ISH Technologies
February 5, 2018
Leader
Dr. Vanya Peltekova PhD
Lead, BioLab Operations, Ontario Institute for Cancer Research
All inquiries can be addressed to Dr. Peltekova at vanya.peltekova@oicr.on.ca.
---
Seminars and workshops are for educational purposes only and are not an endorsement of any products or services by BioLab or by OICR.