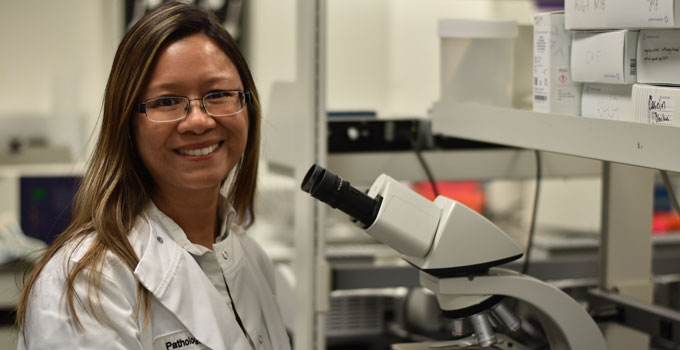 OICR takes part in international multicentre study to standardize promising breast cancer digital pathology test
The Ki67 immunohistochemistry assay is a test that can help evaluate the aggressiveness of breast tumours, predict disease outcomes, monitor cancer progression and identify patients who are more likely to respond to a given therapy. Despite its potential to help patients with breast cancer, the analysis of Ki67 has not been widely adopted in the clinic, mostly due to the lack of standardization across laboratories.
Under the leadership of Dr. John Bartlett, OICR's Diagnostic Development team has taken part in an international multicentre study to evaluate if automating the Ki67 analysis could achieve standardization. The most recent results of the study, which were recently published in Modern Pathology, showed that digital Ki67 analysis was more reproducible than manual scoring across 14 laboratories in six countries.
"We see that Ki67 is promising and useful, but every lab performs the test in a slightly different way," says Dr. Jane Bayani, Scientific Associate at OICR. "This study allowed us to compare our Ki67 digital pathology methods to those from the other labs, which used different image analysis tools, and we found our results were similar to the other labs participating in the study."
This research was conducted by the International Ki67 in Breast Cancer Working Group, which over the past eight years has built an integrated network of laboratories to assess the utility of Ki67 and compare scoring methods. With their recent findings, they will continue to establish standardized digital techniques, making the Ki67 assay even more reliable and consistent across laboratories.
"We are significantly closer to clinical utility now than we were a few years ago," says Bartlett. "With tested standardization methods and appropriate quality controls, we can actualize the benefits of the Ki67 assay and help better inform clinical decision making for patients with breast cancer."