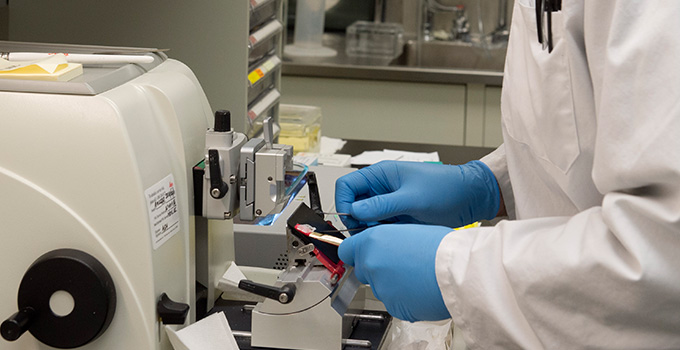 Researchers from the Lunenfeld-Tanenbaum Research Institute at Mount Sinai Hospital have enlisted the help of OICR's Transformative Pathology Program in their ongoing research to identify common biomarkers for breast cancer – and ultimately to better diagnose and target treatment for patients.

Dr. Irene Andrulis is a molecular biologist at the Lunenfeld-Tanenbaum Research Institute at Mount Sinai Hospital in Toronto and pioneer in the field of breast cancer research. Almost 20 years ago her lab established two patient cohorts to study and better understand breast cancer.
One is the Ontario Familial Breast Cancer Registry, which has studied a cohort of women and their families over the last two decades to follow their outcomes after diagnosis, risk of secondary cancers and risk of cancer in their family members. The other cohort is made up specifically of node negative breast cancer patients (patients whose breast cancer had not spread to the lymph nodes when diagnosed) from the Toronto area. Andrulis and her team are looking at their tumours for changes at the molecular level.
The findings generated from both studies are being used to help identify common biomarkers that can be used to better diagnose disease and to help target treatments for breast cancer patients.
Both cohorts have provided a huge amount of important data for Andrulis and her team over the past two decades. Now Andrulis is working with Dr. John Bartlett's Transformative Pathology group at OICR on a project called "Validation of lymphocytic infiltration as biomarkers of breast cancer" to get more information from the samples collected, some of which technology did not allow at the time of collection.
The group is working with over 1,000 tissue samples and training staff in Andrulis' lab to help in the development of new tests.
"For the women diagnosed a long time ago, we don't have molecular information," Andrulis says. "But we do have information on long term follow up to work with where we can see how patients have responded to the treatment they received. That's a tremendous amount of information about risk factors, epidemiological data and family data. In terms of our own research now we want to pull all that data together."
The Transformative Pathology Program at OICR is identifying particular characteristics of breast cancer tissue at the molecular level using a technique called immunohistochemistry in order to help better classify them for treatment and validation of biomarkers. Immunohistochemistry is especially useful in assessing which tumours are most likely to respond to therapy, and those that will not. The group is working with over 1,000 tissue samples and training staff in Andrulis' lab to help in the development of new tests.
In the node-negative breast cancer cohort, the teams are working together studying one particular protein of potential interest. Bartlett was also able to provide access to additional sample cohorts because of another collaborative study, which will be used to validate the findings in Andrulis' cohort. In doing so, they can ensure the findings are reproducible and accurate.
Andrulis says she prefers the experience of working collaboratively rather than simply sending samples to a lab for processing and appreciated the expertise of the Transformative Pathology group.
"When you put people together they might be coming at a question from a different point of view and may bounce questions off of one another," says Andrulis. "You get something more through collaboration than you would get just sending your research out to a service. You are really able to work on the ideas together and hopefully all sides get something out of it."
She says they are currently working on identifying other markers and there is still more opportunity to collaborate. "I don't see this as a one time collaboration," she adds. "This is something that will continue to develop over time."
The Transformative Pathology group at OICR has not only been helpful but has made extra efforts to make sure the project is successful
Ultimately she hopes the research project will identify markers that will help to distinguish which patients have tumours that falsely indicate poor prognosis (in other words, identifying tumours that appear aggressive in testing but actually do not require aggressive treatment). In doing so researchers could begin to identify which patients would benefit from some form of immunotherapy in conjunction with some form of chemotherapy, and which patients could be spared these treatments and their side effects. Eventually it is hoped the project's findings would move into clinical trials and eventually into routine care.
"The Transformative Pathology group at OICR has not only been helpful but has made extra efforts to make sure the project is successful," Andrulis says. "The team is made up of talented people who are passionate about their work, which has made the project go very smoothly and quickly and helped us to get the results we need."