Commercialization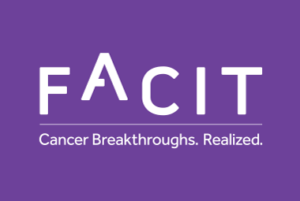 From oncology innovation to real-world impact with FACIT
OICR bridges academia and the clinic, helping propel early technologies into clinical research and patient trials where they can have real impact on the lives of cancer patients. Doing so demands a strategic, driven and resourceful approach to commercialization.
That's why OICR created FACIT, the Fight Against Cancer Innovation Trust. Operating today as a separate, independent commercial engine and investor, FACIT partners with OICR and applies innovative models to support, develop and deliver breakthrough cancer research, therapies, diagnostics and technologies to the market.
Close collaboration for integrated results
OICR and FACIT work in concert to ensure that research and commercialization function as integrated parts of a collaborative planning process. Following the principles of need, assessment and monitoring, OICR builds FACIT into project selection and planning early on to ensure alignment with industry drivers, feasibility and market relevance, all of which contribute to better uptake of oncology innovations.
FACIT takes on a greater role as projects advance, de-risking and positioning the assets developed for private-sector investment, licensing, company formation and/or acquisition, as shown in the graphic below. This ensures OICR and FACIT's shared vision benefits patients, researchers, investors and Ontario's economy.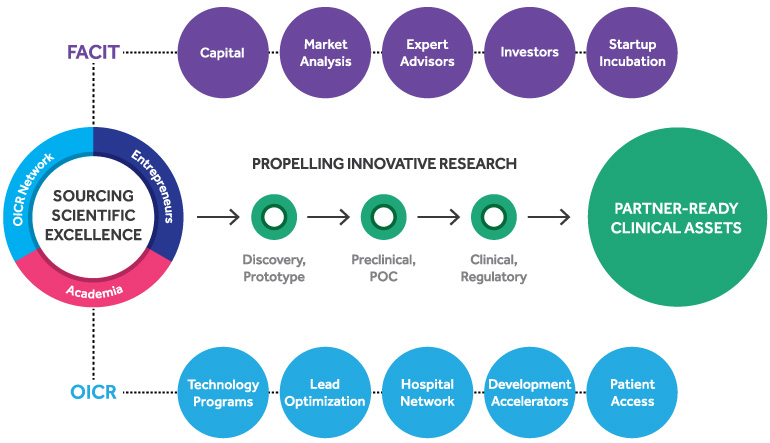 OICR + FACIT = Partner-ready oncology innovations
With scientific rigour, OICR identifies promising, high-quality oncology innovations — drawing on its access to hospitals, patients and networks of experts. FACIT brings understanding of the market, professional management, investor connections and experience in driving breakthrough technologies forward. Together, the two propel the development of de-risked, partner-ready clinical assets.
Why de-risking matters
Moving oncology innovations out of the lab and into the marketplace requires experienced management, access to early risk capital and a network of corporate partners and investors. FACIT de-risks early stage technologies by surrounding them with commercial teams of leaders experienced in intellectual property management, product development, business-planning and financing. This fills critical gaps and helps remove barriers to commercialization that otherwise prevent novel technologies from reaching their full potential.
FACIT also creates start-up companies and supports them until they are sufficiently developed to attract partners and investors on their own, contributing to high-value, sustainable job creation in the process.