Contact
If you have a question for us, please don't hesitate to contact us using the form below. The Ontario Institute for Cancer Research conducts research, but does not provide medical advice or treatment.
If you are looking for a clinical trial for cancer, please visit the following websites:
Clinical trials in Canada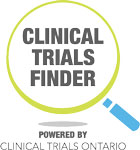 Clinical trials in Ontario
Clinical trials in the United States
The National Cancer Institute (NCI) in the United States lists NCI-sponsored cancer clinical trials.
Submit your question:
Additional contact information
Address:
Ontario Institute for Cancer Research
MaRS Centre
661 University Avenue, Suite 510
Toronto, Ontario
Canada, M5G 0A3
Phone:
Telephone: +1-416-977-7599
Toll-free number: +1-866-678-6427
Email
Email: info@oicr.on.ca