---
Al-awar joins OICR's executive team with plans to expand drug discovery and development initiatives across Ontario
Dr. Rima Al-awar has joined OICR's executive team as Head, Therapeutic Innovation and Drug Discovery. In this role, she will lead one of OICR's three key priority areas, Therapeutic Innovation, which focuses on validating novel cancer drug targets and advancing therapeutic candidates through pre-clinical development. She will continue leading OICR's Drug Discovery Program and will build upon that team's exceptional work in her new position.
Here she discusses her new role and her plans to grow OICR's Therapeutic Innovation platform.
What does this promotion mean for you and your team?
Since joining OICR, I have spent several years building an experienced and talented team that I'm very proud of. We have developed great assets and established fruitful partnerships with collaborators and industry partners. We have a very rich and promising portfolio of potential new cancer therapeutics.
I believe we are in a great position to expand and capitalize on our successes. My new position will allow me to take a strategic role in therapeutic innovation at OICR so that we can enable future successes both here, in Toronto, and across the province. I need to think of creative and strategic funding models, how best to strengthen the platform's structure and establish additional synergistic partnerships in the community. In the long run, this means advancing more projects into development.
How will this new role allow you to do that?
I'll have a seat at the table in strategic conversations with our executive team. I'll bring a unique perspective with my expertise in drug discovery and development, and I look forward to representing Therapeutic Innovation, an important part of OICR.
In this role I will also help ensure that resources are allocated to the most promising projects. I'm a big proponent of focusing on select projects and doing them well and in a timely and competitive fashion as opposed to stretching our resources across too many projects, which often ends up slowing progress. In this position, I believe I can do that more effectively.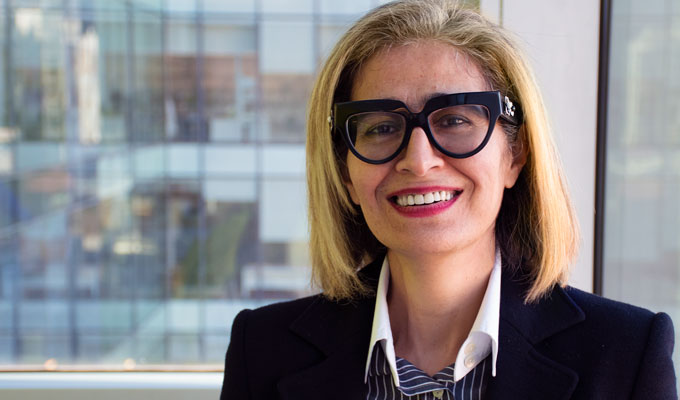 How does this new appointment differ from your previous position as Director of Drug Discovery?
I will still be leading the Drug Discovery team, but I'll be relying on leaders within the team to take on some of my previous day-to-day responsibilities, and in turn, they will delegate some of their current responsibilities. I see this role as an opportunity to strengthen the Drug Discovery team and encourage the pace of career development within the team.
Within the scope of my new role, we are going to have to think creatively about progressing additional projects forward faster, which will mean harnessing new technologies and recruiting new expertise in different scientific disciplines.
When it comes to collaborations, I expect that my role will be just as collaborative as it was before. My goal is to continue to strengthen our current collaborations and forge new ones. We can't bring new therapeutics to patients on our own.
What can we expect to see over the next year?
I want to explore the idea of expanding our breadth of collaborations to include biologics, immunotherapies, and novel drug delivery methods, technologies and models that impact drug discovery. I will be travelling to different research institutes across the province and outside of Ontario to look for more opportunities. The goal of this effort would be to identify and build on strengths in the community. We're looking to enable and facilitate new, promising projects in areas of unmet needs. Expanding our network across Ontario is very important. We have built a strong foundation, we have deep expertise, a rich portfolio and now we are going to take it to the next level. I look forward to encouraging more synergy across our organization and Ontario.