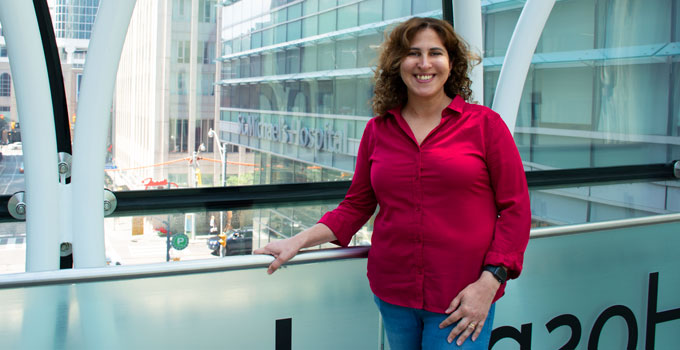 OMPRN grantee and former Transformative Pathology Fellow discusses her recently-awarded faculty appointment with the University of Toronto
Despite research advances in identifying the subtypes of kidney cancer, treatment decisions are often based on the size of a patient's tumour. Dr. Rola Saleeb, who has been studying kidney cancer for nearly a decade, thinks there's a better way to make these decisions.
"Each month, more than 500 people are diagnosed with kidney cancer in Canada," says Saleeb. "These individuals and their oncologists face tough decisions to make about their treatment options and I want to help make that decision easier."
Saleeb, a former OICR Transformative Pathology Fellow and two-time Ontario Molecular Pathology Network (OMPRN) grantee, has recently become a certified pathologist and faculty member in the Department of Laboratory Medicine and Pathobiology at the University of Toronto.
Throughout her doctoral research, Saleeb developed a classification system that could help pathologists distinguish between aggressive kidney cancers and less aggressive cancers. She says this system could, one day, help spare patients from unnecessary surgery if they don't have aggressive tumours. Additionally, she says classifying these tumours could enable the development of new therapies for these subtypes.
Now as a certified pathologist, Saleeb is the second Transformative Pathology Fellow to have been recruited to a faculty position. Both former fellows have committed to a career where research and development is central to their practice of pathology.
"Not all pathologists do research," says Saleeb. "But for me, I feel like I can help more patients if I can help find solutions to unsolved problems."
Saleeb is currently completing a validation study on her classification system. She looks forward to implementing the system at St. Michael's Hospital and broadening her research to study the molecular origins of kidney cancers and new kidney cancer prevention strategies.
Read more about OMPRN here or find current pathology funding opportunities here.