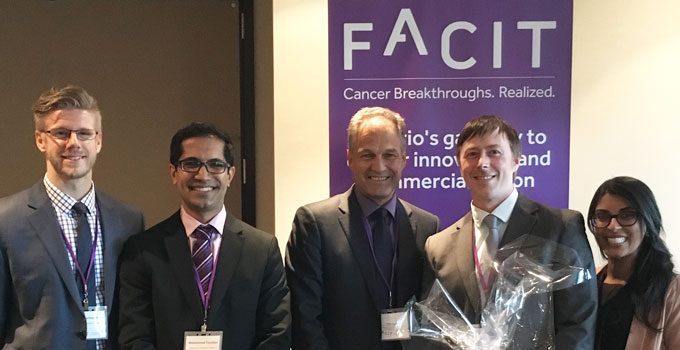 (from left to right) John Matheson, Medical Innovation Fellow, Western University, Mohammad Tavallaei, Medical Innovation Fellow, Western University, Jeff Courtney, CCO, FACIT, Nicholas Power Surgeon, London Health Sciences Centre, Asha Parekh Medical Innovation Fellow, Western University
Millions worldwide watch Dragons' Den and Shark Tank where ambitious entrepreneurs try to convince deep-pocketed investors to provide funding for their innovative ideas. On June 1, 2016, a lucky group of cancer researchers from across Ontario had the opportunity to take part in a similar and perhaps 'kinder' pitch competition – the FACIT Falcons' Fortunes event. The Fight Against Cancer Innovation Trust (FACIT) holds the competition every year to learn about some of the most exciting ideas in oncology research, provide funding for the best pitch, and to enhance, support and celebrate a culture of commercialization within Ontario.
In this year's competition, six teams competed for the Ernsting Entrepreneurship Award, named in honour of the late Dr. Mark Ernsting, who was a Senior Biomedical Engineer at the Ontario Institute for Cancer Research. For their shot at the $50,000 award, the pitch candidates had 10 minutes to present their innovative technologies to a four-member investor panel ('the Falcons') and convince them on the value of their idea and how the funding would help accelerate development.
all of the participants in this event demonstrated the great potential of Ontario's innovators
After careful deliberation the Falcons selected Dr. Nicholas Power from the London Health Sciences Centre as the Ernsting Entrepreneurship Award recipient for his compelling and effective pitch on the 'MY-osto-ME' project. This economical port, bag and belt system for urostomy patients aims to reduce their rate of complications, facilitate application, and reduce social stigma; overall helping to improve their quality of life. Urostomy is a technique used to bypass the bladder in cases where the bladder is not functioning properly or has been partially or fully removed. It is a common surgery in patients who have been treated for bladder cancer. Dr. Power's presentation won over the crowd as he also received the Audience Choice Award for best pitch.
A returning participant, Dr. Power had been selected to pitch in last year's Falcons' Fortunes competition although for a different innovation. While he was not successful the first time around, it was clear Dr. Power embraced much of last year's feedback and lessons to effectively elevate his pitch strategy to a winning level, demonstrating persistence and resiliency – key entrepreneurial traits. This also illustrates the impact of FACIT's event towards empowering Ontario researchers to have an entrepreneurial mindset and figure out how to commercialize their research ideas.
"Not only the winning candidate, but all of the participants in this event demonstrated the great potential of Ontario's innovators, both in terms of helping cancer patients and the province's economy," said Mr. Jeff Courtney, Chief Commercial Officer at FACIT and a member of the investor panel. "Dr. Power's technology has enormous potential to improve the life of urostomy patients in Ontario and worldwide, including those with cancer."
The Ernsting Entrepreneurship Award is funded through FACIT's Catalyst Fund and due diligence of the MY-osto-ME innovation is underway.