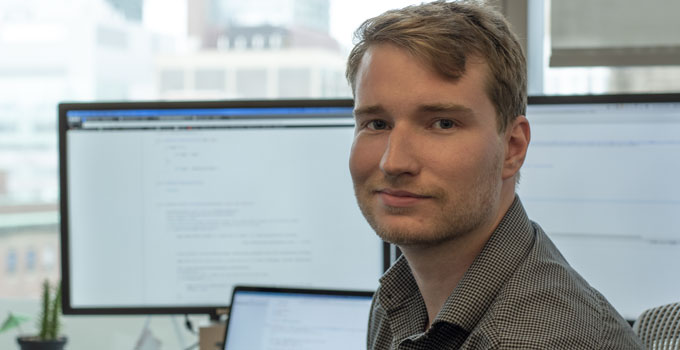 OICR-developed software tool, Heliotrope, gains attention from the private sector for its potential to analyze large amounts of genomic information and inform clinical decision making
The staggering growth of genomic sequencing and academic publishing has made staying up-to-date a challenge for oncologists and other clinicians. This means that finding the most current information and well-suited treatment tailored to each patient is difficult, especially considering the vast number of genetic factors that are at play in each patient's unique cancer.
To address this challenge, OICR developers created Heliotrope – a web application that provides clinicians the information that they need to make informed treatment decisions based on the genetic makeup of each patient's tumour. Ziliomics Inc., the start-up company spun-out by FACIT to manage the development and commercialization of Heliotrope, has received seed funding from FACIT's Prospects Oncology Fund to lead Heliotrope into its next era of development – collaborating with the private sector to bring Heliotrope to the clinic.
Heliotrope automatically curates large amounts of data from highly reputable drug and genomic databases and organizes this information in a searchable way. It's able to draw tumour-specific insights from its collection of information on over three million key cancer mutations, then deliver these insights to clinicians through a user-friendly interface. Heliotrope allows clinicians to easily find and interpret the information that they need within minutes, rather than hours or days.
"We have always been driven by the need to amalgamate gene variant information from the multitude of sources available so that patients can get the right treatment, tailored to their disease's genomic profile," says Justin Cook, lead software developer of Heliotrope, who is also a Software Developer at OICR. "Our technology allows doctors to easily find therapies that work well for specific mutations."
After the initial development of its knowledgebase, Heliotrope entered a new stage of growth where the development team – led by Dr. Lincoln Stein, Head of Adaptive Oncology at OICR – built new analysis features into Heliotrope. These features include the ability for clinicians to input their patient's genetic information and to retrieve a shortlist of recommendations and resources they can use to make treatment decisions for their patients. The analysis feature outputs suggestions in a faster, and often better, way than methods currently used in practice.
"We were able to add features to Heliotrope that could rapidly and effortlessly capture key information just as well as what would typically require hours of manual work – and then some extra," says Cook.
FACIT recognized Heliotrope's potential early its development and continues to support its growth by providing corporate management and investment capital to Ziliomics. FACIT's support is helping develop the platform into a commercial product by driving the validation and implementation of Heliotrope in real-world settings.
 "It's easy to imagine Heliotrope helping patients," Cook says, "and it will be really rewarding to see that goal come to fruition."