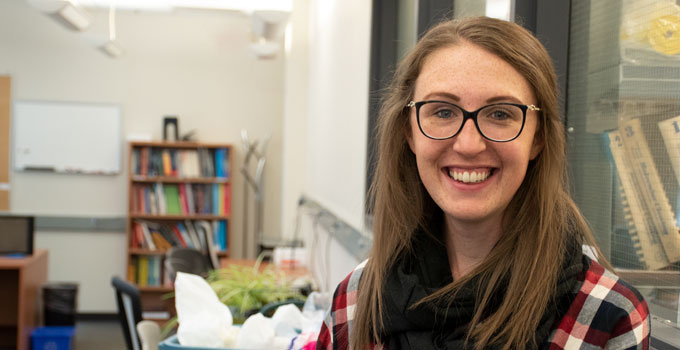 International study, led by researchers at OICR, takes a deep dive into how prostate cancer is inherited and points to new opportunities for improved screening, monitoring, treatment and prevention
Prostate cancer is one of the most common cancers in men, but remains one of the most difficult to prevent and a challenge to treat. Some DNA mutations that lead to prostate cancer are inherited yet some collect over a lifetime. Understanding how these mutations interact and contribute to the disease could help patients and their doctors better manage the disease.
In a study, published today in Nature Medicine, Kathleen Houlahan et al. take a deep dive into the inherited factors driving prostate cancer and how these factors affect the course of the disease at a cellular level.
"Prostate cancer is thought to be, in part, an inherited disease," says Houlahan, first author of the study and a PhD candidate at OICR. "The DNA that a man is born with has an effect on whether he will develop prostate cancer and how aggressive the cancer will be. We set out to uncover how this happens."
The study investigated the connection between inherited mutations – also known as germline mutations – and a range of important DNA-regulating processes, like DNA methylation.
The associations found in the study, Houlahan says, are a resource that can help bridge our gap in understanding between germline mutations and the mutations that men acquire over their lifetime that eventually lead to prostate cancer.
"When we understand how inherited mutations work, patients with these mutations can be screened and monitored more effectively to ensure the patient is receiving the most appropriate treatment and avoiding unnecessary side effects," says Houlahan. "We've seen this work for patients with mutations in the BRCA genes, but we still need more personalized options for the many men who are living with prostate cancer."
Since germline mutations can be inherited and are present in nearly all cells in a man's body, this research demonstrates the possibility of using non-invasive blood-based tests, rather than invasive tumour biopsies, to monitor prostate cancers.
"We could use these findings to help identify a man's risk of cancer and catch it earlier," says Houlahan. "Detecting the disease earlier could significantly improve treatment success."
Houlahan's study was enabled by data from the Canadian Prostate Cancer Genome Network (CPC-GENE), which have previously been used to find a DNA signature of aggressive prostate cancers and link how a prostate tumour evolves with the severity of the tumour, amongst other significant advancements. CPC-GENE findings serve as a resource for future research and a scaffold on which diagnostic tests and new therapies can be built.
This research was supported in part by OICR, Prostate Cancer Canada, the Terry Fox Research Institute, the Canadian Institutes for Health Research, the Canadian Cancer Society, the Movember Foundation and the National Cancer Institute.