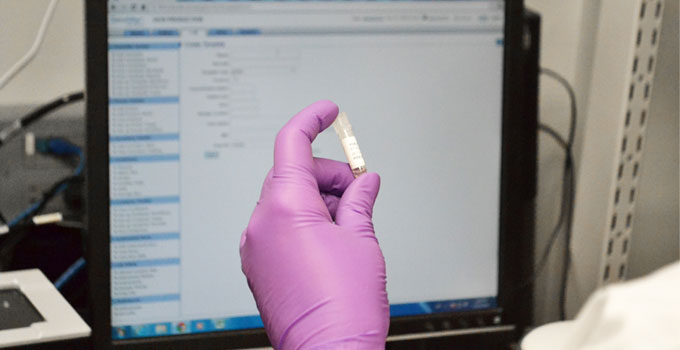 Keeping track of samples and organizing their associated data is a crucial part of the research process. Like many labs around the world, those at OICR were using a commercially available Laboratory Information Management System (LIMS) to perform this task. However, the researchers using it found that this tool placed far too many constraints on their work. So what did they do? They built their own in partnership with the Earlham Institute (EI) in the U.K. This collaboration has resulted in powerful, flexible and open source software called MISO (Managing Information for Sequencing Operations).

"We didn't want to start from scratch. We knew about the LIMS that had been developed by the group at Earlham Institute in the U.K. and reached out," explains Lars Jorgensen, Director of Genome Sequence Informatics (GSI) at OICR. "Together our teams worked to improve this software and expanded the system to capture more information about samples such as tissue type. OICR's strength in dealing with metadata was very useful here."
The beauty of MISO is in its flexibility. It can be run in labs both large and small and can be adapted to the needs of different research projects. "MISO avoids the need for huge workarounds that are required with commercial systems when you want to add a new feature or capability. Its flexibility enables our genomics team to experiment with new genomic technologies and have the LIMS reflect the actual lab processes," says Morgan Taschuk, Senior Manager, GSI. "The detail that MISO captures about our samples and experiments is then used to automate analysis downstream."
MISO will be demonstrated on February 15 at the Advances in Genome Biology and Technology (AGBT) General Meeting in Hollywood Beach, Florida. The open source program can now be downloaded for free on GitHub.
MISO forms the beginning of OICR's data pipeline and was introduced as part of a larger 're-architecturing' of the group's systems. While they will continue to improve MISO further, Jorgensen is very pleased with the outcome so far. "MISO works well with our other tools and has reduced errors in data entry and in analysis, saving time, resources and headaches," he says. "By using this new system we have been able to cut down the turnaround time on data analysis by about two days. We also aim to reduce delays caused by re-processing of data flagged by our QC mechanism. For example, problems caused by metadata errors, which are a common problem in many labs."
Taschuk agrees, "With MISO we are able to put the necessary constraints in place to ensure the proper data are being collected, but at the same time provide a tool that can change as the needs of researchers change. We won't be caught out when a commercial supplier stops supporting their software or can't add the features we need. And because it is open source, our investment in MISO benefits labs other than OICR and Earlham Institute."
Robert Davey, Data Infrastructure group leader and original developer of MISO at EI, says, "The collaboration with the OICR team has been critical in seeing MISO advance beyond its original goals and it's incredibly exciting to see the community grow around our now shared product."
The team at OICR will continue working with their partners at the Earlham Institute to improve MISO and add new features so that the entire scientific community can benefit. "This is open source so it provides organizations with a very powerful tool that we hope will enable and accelerate research," says Jorgensen. "We hope to one day see a large community of users helping to improve MISO and support other users. The more we can help each other the less we all have to spend on infrastructure – and we can focus those resources towards generating research results faster."
For more information about MISO, visit: http://tgac.github.io/miso-lims/