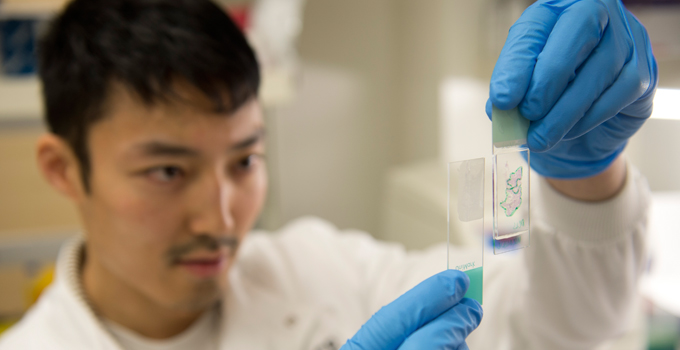 Today is International Pathology Day. Around the world and here in Ontario events will be held to raise awareness of the field and its contributions to modern medicine. The work of the Transformative Pathology Program, coupled with the launch of the Ontario Molecular Pathology Research Network (OMPRN), has made for a very successful year thus far for OICR's efforts in pathology research. Here are some of the highlights.
Dr. John Bartlett discusses why new retrospective breast cancer study could lead to better diagnosis and treatment for patients
OICR's Transformative Pathology Program contributes to recent PanCuRx findings
New partnership brings Toronto researchers together to better understand the molecular origins of breast cancer
OICR funding new network to enhance molecular pathology research in Ontario
An interview with Dr. David LeBrun, leader of OICR's new molecular pathology network
Pathology Matters: One attendee's reflections on OMPRN's first gathering of Ontario pathologists
Events in Toronto
OICR and OMPRN will be hosting the public for two unique opportunities to learn more about pathology. Be sure to join in these fun and interactive events.
Café Scientifique: Beyond the crime scene: You don't have to be dead to need a pathologist
November 16
6 – 8 p.m.
Duke of York Pub, 39 Prince Arthur Ave.
Registration and more information
Hands on DNA fingerprinting: Solve the mystery of the split banana
November 17
7 – 9 p.m.
The Hacklab, 1266 Queen St W, Unit 6