Dr. Bradly G. Wouters
Senior Investigator and Board Member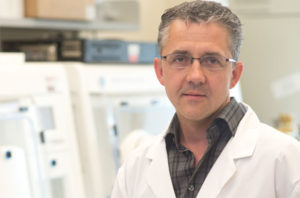 Dr. Brad Wouters' lab has identified new signalling pathways that influence how tumours respond to environments with reduced oxygenation. Unlike most tissue, tumour cells can survive and thrive in environments starved of oxygen. Characterized by extreme differences in nutrient supply, pH, and oxygenation, these environments promote tumour malignancy and prevent effective treatment for patients. Using high-throughput approaches the lab is defining the molecular basis of these signalling pathways and establishing their importance for future cancer therapies.
Current affiliations
Senior Investigator and Board Member, OICR
Executive Vice President, Science and Research, University Health Network
Professor, Department of Radiation Oncology, University of Toronto
Canada Research Chair in Hypoxia and Tumour Microenvironment
Select publications
See Dr. Wouters' recent publications on Pubmed or on Google Scholar.
Previous experience and education
Full Professor and Head Scientist, Maastricht Radiation Oncology Laboratory (Maastro Lab) azM/University of Maastricht/GROW Research Institute, GROW Research Institute
Associate Professor and Head Scientist, Maastricht Radiation Oncology Laboratory (Maastro Lab ) azM/University of Maastricht, GROW Research Institute
Assistant Professor, Department of Radiology, Faculty of Medicine, University of Ottawa
Associate Research Scientist, Research Institute, Ottawa General Hospital
Career Scientist, Centre for Cancer Therapeutics, The Ottawa Hospital Cancer Centre (TOHCC)
Postdoctoral Fellow, School of Medicine, Department of Radiation Oncology, Stanford University
PhD in Physics, Department of Medical Biophysics, Supervisor: Dr. Lloyd D. Skarsgard, University of British Columbia
Related links
University Health Network – Dr. Bradly Wouters
Twitter: @bradwouters
Opportunities to collaborate and contact
Dr. Wouters welcomes collaboration. Contact Dr. Wouters at bwouters@uhnresearch.ca for more information.
Visit OICR's Collaborative Research Resources directory for more opportunities to collaborate with OICR researchers.