Dr. Vincent Ferretti
Associate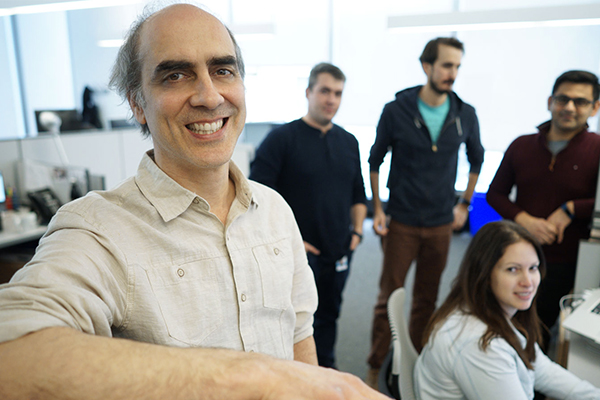 Dr. Vincent Ferretti has expertise in bioinformatics with experience in both large-scale software development and computational genomics.
Ferretti is co-heading the International Cancer Genome Consortium (ICGC) Data Coordination Center, which is responsible for building the consortium's databases and public data web portal (dcc.icgc.org). Ferretti is also co-PI of NCI Genomic Data Commons (GDC) in which he is developing the GDC data portal user interfaces (gdc-portal.nci.nih.gov). In 2017, the US National Institutes of Health (NIH) awarded his team a grant to build the data portal of the Gabriella Miller Kids First Data Resource Center, led by the Children Hospital of Philadelphia.
Ferretti is also co-PI of the Cancer Genome Collaboratory, an infrastructure project which aims to provide the research community with a biomedical compute cloud resource hosting ICGC data on 25,000 tumour genomes. Ferretti's team is building the compute infrastructure and developing software solutions for searching and accessing efficiently ICGC protected data hosted on the Collaboratory.
Ferretti also conducts an independent research program with the objective of developing innovative genome-wide bioinformatics tools to identify new viruses as causative agents in human cancer. His laboratory is developing the CaPSID platform allowing the identification of viral sequences in tumour genomes and transcriptomes generated by next generation sequencing technologies.
Finally, Ferretti is contributing to several research projects in genomic epidemiology. He is Co-Principal Investigator of the Maelstrom Research program. Within this context, he currently leads an independent software development program, called OBiBa, which aims to provide the biobanking community with a free and high-quality open source biobank information management system. OBiBa software is used by several worldwide and Canadian cohort studies including the Canadian Longitudinal Study on Aging (CLSA) and the Canadian Partnership for Tomorrow Project (CPTP).
Current affiliations
OICR Senior Principal Investigator.
Select publications
Grossman RL, Heath AP, Ferretti V, Varmus HE, Lowy DR, Kibbe WA, Staudt LM.
Toward a shared vision for cancer genomic data.
N Engl J Med. 2016; 375(12):1109-12.
Fortier I, Raina P, van den Heuvel E, Griffith LE, Craig C, Saliba M, Doiron D, Stolk R, Knoppers BM, Ferretti V, Granda P, Burton P.
Maelstrom Research Guidelines for Rigorous Retrospective Data Harmonization.
Int J Epidemiol. 2017; 46(1):103-105.
Borozan I, Ferretti V.
CSSSCL: a python package that uses combined sequence similarity scores for accurate taxonomic classification of long and short sequence reads.
Bioinformatics. 2016; 32(3):453-5.
Borozan I, Watt S, Ferretti V.
Integrating alignment-based and alignment-free sequence similarity measures for biological sequence classification.
Bioinformatics. 2015; 31(9):1396-404.
Doiron D, Burton P, Marcon Y, Gaye A, Wolffenbutter BHR, Perola M, Stolk RP, Foco L, Minelli C, Waldenberger M, Holle R, Kvaloy K, HIllege HL, Tasse AM, Ferretti V, Fortier I.
Data harmonization and federated analysis of population-based studies: the BioSHaRE project.
Emerg Themes Epidemiol. 2013; 10(1):12.
See Dr. Ferretti's recent publications on PubMed or on Google Scholar.
Software
Related links
National Cancer Institute Genomic Data Commons researcher page – Vincent Ferretti
Maelstrom Research investigator page – Vincent Ferretti
Opportunities to collaborate
Visit OICR's Collaborative Research Resources directory for more opportunities to collaborate with OICR researchers.