Clinical trials have helped millions. Yet most patients still aren't aware that they may be eligible for a clinical trial and that enrolling in a trial could help them.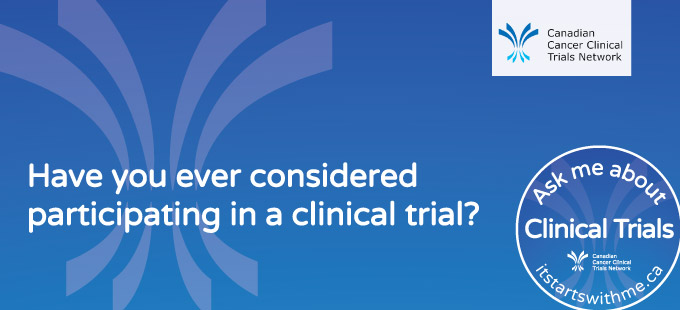 The first step in addressing this problem is to get a conversation started between patients and their health care providers, which is why this month the Canadian Cancer Clinical Trials Network (3CTN) launched the Ask Me Campaign in hospitals across Canada.
The Ask Me Campaign takes a low-tech, one-on-one approach to the problem. Using posters in clinics and buttons for health care providers to wear when seeing patients, the program has a simple goal: to let people know that asking questions about trials is OK.
We spoke with Sujata Pokhrel, A Clinical Research Associate with the Royal Victoria Regional Health Centre in Barrie, about her role in the campaign and the response she's seen from patients in the clinic so far.
Why is the Ask Me Campaign necessary, and why now?  
We have seen an increase in cancer patients here at the Simcoe Muskoka Regional Cancer Centre over the years and we hope this campaign can provide them with more information and empower them in the decisions they make over their treatment journey. This campaign will hopefully raise awareness not only among patients and their families but also with healthcare personnel. The "Ask me about Clinical Trials" button is a great way to generate interest and start a conversation about clinical trials.
People know what a clinical trial is but they are not always aware that there may be trials available
How familiar would you say the patients you see on a daily basis are with cancer clinical trials?
They are not very familiar with them. Most patients are not aware of the clinical trials we offer at our centre. People know what a clinical trial is but they are not always aware that there may be trials available that they could participate in.
What do you think the biggest misperceptions about clinical trials are?  
There is still a stigma with regard to clinical trials and people are often apprehensive to go on a clinical trial because they know it is experimental. There is a fear of the unknown. Patients are already overwhelmed and unsure about their health and future well-being. We hope to reassure them about the positive aspects of trials.
What has the response been in your hospital to the campaign so far?
We have had great success with the campaign so far. People are approaching us who do not have an "Ask me about Clinical Trials" button who would like to know more. We're finding more people would like to be a part of this initiative.
What do you hope the Ask Me Campaign changes?
We hope it will change the way people perceive clinical trials and that it will remove some of the misconceptions and stigma surrounding research and clinical trials. I also hope that it will provide an opportunity for future patients to consider trials and increase recruitment.