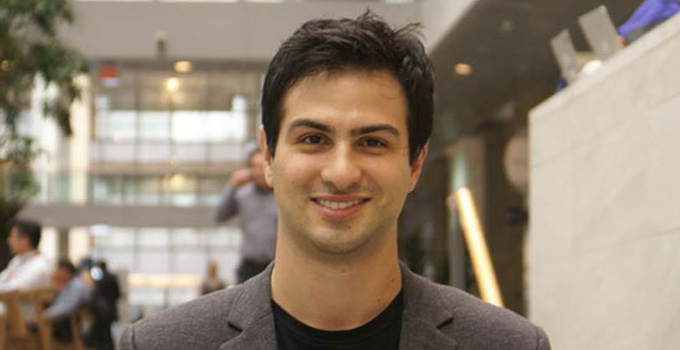 Formalizing his longstanding relationship with OICR, Dr. Marc Fiume joins the Institute as an Associate to turn big data into a cure
"We know there are valuable – potentially life-saving – genomics and clinical data that are locked away in the sever rooms in hospital basements," says Dr. Marc Fiume, CEO of DNAstack, Adjunct Professor at the University of Toronto, and OICR's newest Associate. "We're working to make these data more findable, accessible and useful to help researchers find cures for diseases faster than ever before."
Fiume, computer scientist turned start-up CEO, has built his career on data sharing and accessibility. In every aspect of his work, he is breaking down the barriers to genomic data sharing so that researchers can use these data to find cures for diseases. Joining OICR as an Associate complements his mission to enable safe and secure genomic data sharing around the world.
"These important data are locked up for a variety of reasons – some technical, some ethical, some political and some regulatory," Fiume says. "I'm working to address some of these challenges, and so is OICR. Together we can accelerate our progress for the benefit of patients not only with cancer, but in other complex disease areas like autism and rare diseases as well."
Fiume is a key leader in Global Alliance for Genomics and Health (GA4GH), which OICR's Peter Goodhand, has helped establish and lead over the past five years. Fiume co-leads GA4GH's Discovery Work Stream, an international group of organizations working to create a unified data discovery platform that makes it easier to find and use data for genomics and clinical analyses. He is also the Co-Chair of the Beacon project, which is working to create a 'Google for genomics'.
Fiume has also been involved with OICR as an instructor of the Canadian Bioinformatics Workshop (CBW) series for the past eight years. As a CBW Instructor, Adjunct Professor at the University of Toronto, and avid mentor of up-and-coming computer scientists, Fiume's dedication to education and training reflects his commitment to the future of data sharing.
"The CBW has helped educate bioinformaticians and computer scientists to use the latest genomics tools to power their research," says Fiume. "Any opportunity we have to power our bioinformatics community is one that we should take."
By joining OICR, Fiume will be able to accelerate some of his existing initiatives with GA4GH and contribute to projects like Dockstore, which he describes as "an app store for genomics that allows the community to create and share best-in-class apps for your genomic datasets." He will also be working on various Adaptive Oncology projects alongside Dr. Lincoln Stein, Head of Adaptive Oncology at OICR.
"OICR's leaders are global leaders in data sharing and creating standards through the Global Alliance," Fiume says. "They champion things that I am passionate about and that's why I'm so excited to join the team."