About > Leadership
Jeanette Dias D'Souza, CPA, CA, ICD.D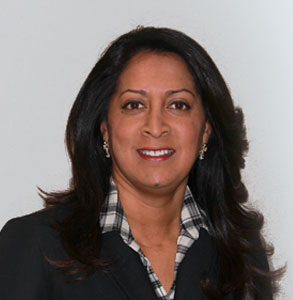 Contact
Jeanette Dias D'Souza, CPA, CA, ICD.D
Senior Vice President, Corporate Services and Group Chief Financial Officer of OICR and FACIT
Maria Jurado
Senior Executive Assistant
mjurado@oicr.on.ca
Senior Vice President, Corporate Services and Group Chief Financial Officer of OICR and FACIT
Ms. Jeanette Dias D'Souza is a senior financial and corporate executive with over 30 years of experience in the public, broader public and private sectors.
As Senior Vice President, Corporate Services and Group Chief Financial Officer of OICR and FACIT, Dias D'Souza holds broad and diverse governance and compliance responsibilities, providing accountability for OICR and FACIT finances and support in fulfilling OICR's financial accountability requirements. She oversees the finances of multiple companies, new deals and investments, as well as managing and investing new funding sources. She also leads major projects that enhance service, save costs, embrace best practices and mitigate risks for OICR and FACIT.
Dias D'Souza also provides strategic business leadership in the areas of financial planning and fiscal management, human resources, enterprise risk, legal, privacy, administration and facilities.
Dias D'Souza contributes her expertise and experience broadly through her work as Audit Chair for the Office of the Public Guardian and Trustee (Ontario) and as a member of the Audit Committee for the National Sciences and Engineering Research Council of Canada (NSERC) and the Social Sciences and Humanities Research Council (SSHRC).
Dias D'Souza has held executive positions in the colleges and universities sector, and prior to that held the role of Assistant Deputy Minister for a number of ministries within the Government of Ontario. She began her career at KPMG.
Dias D'Souza is a Chartered Professional Accountant (CPA, CA) and holds an ICD.D designation from the Institute of Corporate Directors. She obtained her Bachelor of Commerce and Master of Education from the University of Toronto.
Looking Ahead
Receive the latest news, event invites, funding opportunities and more from the Ontario Institute for Cancer Research.