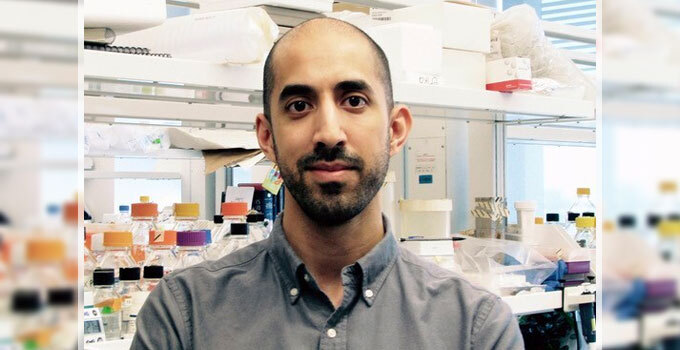 OICR-funded researchers pinpoint short-lived cells that give rise to childhood brain tumours
Childhood brain tumours are remarkably complex, but understanding their origins could help researchers develop drugs to eliminate them. Where can these cells be found? How early do they appear? How do they lead to tumours? For Dr. Hayden Selvadurai, these unresolved questions were a call to action.
In a recent study, published in Cell Reports, Selvadurai and collaborators at The Hospital for Sick Children (SickKids) discovered a rare type of stem cell that gives rise to medulloblastoma, the most common type of brain cancer in children. Their study shows that these cells arise early in brain development and exist for a brief period of time – a developmental window which scientists can now home in on.
"If we can't eliminate the stem cells at the root of medulloblastoma, we can't effectively treat the disease," says Selvadurai, who was a Postdoctoral Fellow under the supervision of Dr. Peter Dirks while leading this study. Dirks is Head of the Division of Neurosurgery at SickKids, Principal Investigator at The Arthur and Sonia Labatt Brain Tumour Research Centre, Professor at the University of Toronto and Co-leader of OICR's Brain Cancer Translational Research Initiative (TRI). "These problematic cells arise amid a complex and intricate process of fetal brain development and we were able to pinpoint exactly when that happens."
The study builds on the research group's previous publication in Cancer Cell that traced the origins of medulloblastoma growth back to a small group of cells that distinctively expressed the SOX2 gene. Using single-cell RNA sequencing, lineage tracing and advanced imaging techniques, the team showed that these stem cells were responsible for generating all other tumour cells and could give rise to new tumours if not fully eliminated.
"I'm proud of these findings because we were able to unify our knowledge of developmental neurobiology with cancer biology," says Selvadurai. "We were able to build on our understanding of medulloblastoma growth while improving our experimental models of brain cancer. Together, this work could help the community develop new effective treatments for patients with the disease."
Dirks' research group plans to further investigate the genes involved in the early stages of medulloblastoma in collaboration with OICR's Brain Cancer TRI team.
This study was supported in part by the Canadian Institutes of Health Research and OICR through the Stand Up to Cancer (SU2C) Canada Cancer Stem Cell Dream Team.