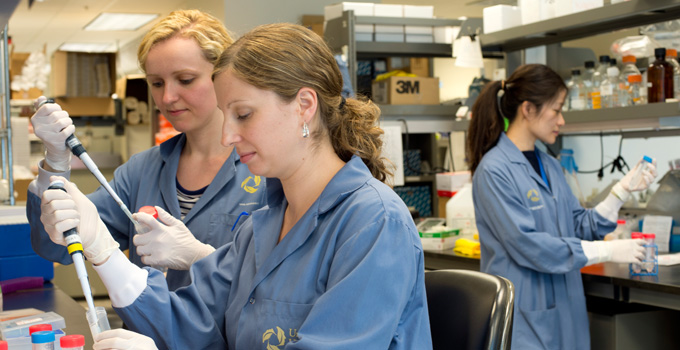 The rising use of stem cell-based therapies has illustrated the power of stem cells to treat a number of diseases. Now a group of Ontario researchers are looking at the promise of stem cells from a different perspective. Amongst other efforts, they are developing and testing new therapies that target and kill leukemic stem cells to lessen the chances of acute leukemias (AL) coming back following standard treatment.
In May, OICR announced $24 million in new funding for translational research, which included the establishment of four new Translational Research Initiatives (TRIs). These interdisciplinary teams are tackling the challenges in diagnosing and treating some of the most deadly forms of cancer by bringing together some of Ontario's top researchers and clinicians.
Drs. Aaron Schimmer and John Dick, both of the University Health Network's Princess Margaret Cancer Centre, are, respectively, the clinical and scientific leaders of OICR's newly established Acute Leukemia Translational Research Initiative (TRI). This ambitious effort will build on Ontario's world-leading expertise and OICR's previous eight-year investment in cancer stem cell research. This TRI is one of five that have been established to find solutions to some of the most lethal forms of cancer.
Like all of OICR's TRIs the goal is to move new research discoveries into the clinic as quickly as possible to help patients. While there has been some progress in the treatment of AL, return of disease after treatment and the side effects of chemotherapy remain major issues, with side effects disproportionately affecting children and the elderly.
"Leukemia is an aggressive blood cancer. Unfortunately for the majority of patients, despite aggressive therapy, most continue to relapse and continue to succumb to this disease," says Schimmer. "For this reason it is important to develop new markers that better predict patient outcome and better ways of monitoring the disease before, during, and after therapy."
Dick and Schimmer's team will focus on four main projects that will allow them to develop and test new technologies. These projects aim to: 1) better understand the factors behind the self-renewal properties of leukemic stem cells (LSCs) – which will be key to achieving durable remission in patients; 2) identify and carryout preclinical development of new strategies that target LSCs in the course of treatment; 3) investigate the cellular origins of AL's initiation and relapse; and 4) establish a clinical research network in Ontario.
By establishing a clinical research network within the province, the TRI will enable the development of new biomarkers and therapies that target LSCs. The network will allow cancer centres to provide uniform care and monitoring and allow for the collection of leukemia samples throughout the different stages of disease and treatment. These samples can be used to discover biomarkers to stratify patients based upon risk at the time of diagnosis. They will also be used to find new ways to monitor patients with minimal residual disease following treatment.
The network will also conduct a pan-Ontario clinical trial to tests risk stratification methods and find ways to better predict how patients will respond to therapy and if /when they will relapse. Additional clinical trials will be used to evaluate other biomarkers, immunotherapies and small molecule therapies. The strong connection to the clinic provided by the network will help move the TRI research into Ontario's hospitals more quickly.
Collectively the TRI's four major projects will allow researchers to further learn about and exploit LSCs to advance treatment for acute leukemias. "What we have built on is the idea that not every cell in a cancer is equal. There are some cells in cancer that have very 'stem-like' properties. These are cells can lie dormant for a very long time but they have very high ability to regenerate a cancer," says Dick. "So these cells become the most important to study in cancer and particularly in leukemia."
More information about the Acute Leukemia TRI: https://oicr.on.ca/research-portfolio/acute-leukemia/