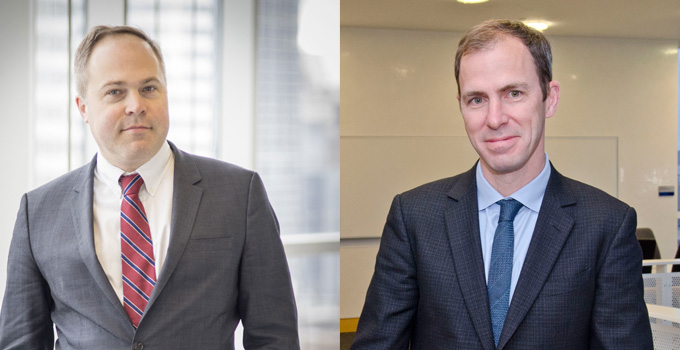 This year, almost 3,000 Canadians will be diagnosed with brain cancer – one of the hardest forms of cancer to treat. In May, OICR launched its Brain Cancer Translational Research Initiative (TRI) to leverage recent insights into the genomic heterogeneity in two common types of brain cancer – Medulloblastoma (MB) and Glioblastoma Multiforme (GBM). Developing a better understanding of the genes and pathways central to MB and GBM will enable the development of new drugs and provide a much needed improvement in treatment options for patients, many of whom are children and young adults and are particularly susceptible to long-term side effects from treatment.
In May, OICR announced $24 million in new funding for translational research, which included the establishment of four new Translational Research Initiatives (TRIs). These interdisciplinary teams are tackling the challenges in diagnosing and treating some of the most deadly forms of cancer by bringing together some of Ontario's top researchers and clinicians.
"Not every patient's cancer is the same. Brain cancer from one patient to the next can be very different. We are trying to understand this complexity and simplify it to make better treatments for patients," says Dr. Peter Dirks, of the Hospital for Sick Children (SickKids), who is the TRI's clinical leader.
This concept of heterogeneity will be used as the basis to seek new treatments for brain cancer that can help overcome some of the challenges that exist with current approaches. These are: the location of tumours can lessen the effectiveness of surgery, the use of radiation is limited due to the risk of toxicity to the central nervous system and chemotherapy is hampered by the blood-brain barrier. There is a robust need to overcome these challenges as, even with the extensive research that has been done to date, the average survival rate at the time of diagnosis for GBM is one year.
The TRI's research projects represent a new way of thinking about the biology of brain cancer. "Most of the research that's done in 2017 in Toronto and around the world is done on untreated brain cancer (samples). However, most of the time when we do clinical trials testing new drugs to treat patients with brain cancer, we test those drugs on patients who have received a large amount of radiation and chemotherapy," explains Dr. Michael Taylor of SickKids, scientific leader of the TRI. "This has always been based on the assumption that the tumour doesn't really change over time, that it is static over time. But it turns out that it's not true. Brain cancer changes."
Taylor says that thinking about brain cancer in this way is key to moving research forward. "If we try to apply the rules and the discoveries from when the tumour is first taken out (when in its 'infancy') and use them to try and treat the 'adult' brain cancer its no surprise they don't work. So, in this TRI, we are going to study the 'grown-up', post-treatment form of brain cancer so that we can more quickly come to effective therapies."
To put this thinking into action Dirks and Taylor have assembled a multi-disciplinary team of accomplished researchers and clinicians. The group's focus will be on three key areas: 1) investigating the heterogeneity within tumours to understand what drives brain cancers to form, recur and metastasize; 2) testing newly identified drivers of brain cancer; and 3) clinically testing a made-in-Ontario virus-based immunotherapy, which is not affected by tumour heterogeneity as much as other treatments.
Ontario is an ideal setting for such an ambitious research project given its well-established expertise in experimental brain cancer research as well as deep capacity in fields such as genomics, bioinformatics and immuno-oncology. Bringing together the province's top researchers and clinicians in a patient-focused effort will help brain cancer patients at home and around the world.
More information about the Brain Cancer TRI: https://oicr.on.ca/research-portfolio/brain-cancer/