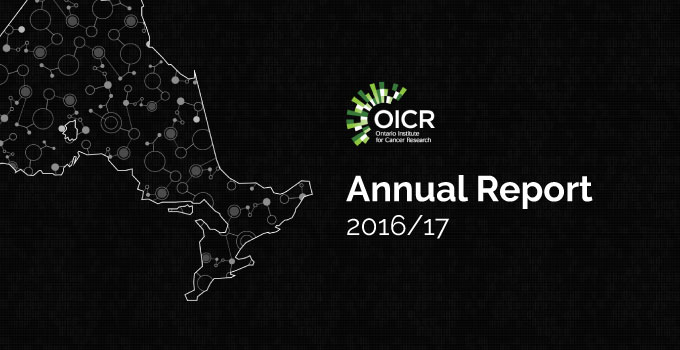 We are pleased to share the Ontario Institute for Cancer Research (OICR) Annual Report for 2016/17.
We are living in an era of unprecedented innovation in cancer research. Recent advances have helped us to better understand cancer and allowed for collaboration on a scale that was previously not possible. This work is happening now and it is happening right here in Ontario.
This report highlights OICR's many successes over the past year, including:
The launch of new Ontario-wide OICR initiatives to help enable more excellent cutting-edge research;
PanCuRx's advances in the understanding of pancreatic cancer and the launch of a new clinical trial to help better match therapies to patients;
The CPC-GENE project's identification of two new signatures that improve the detection of aggressive prostate cancer and outperform all published and clinically approved tests currently available;
How OICR and the Fight Against Cancer Innovation Trust, working together, helped develop a cancer-fighting virus and launched Turnstone Biologics, a company that raised $54 million – the second largest round of biotech venture capital funding in Canada last year.
We hope you enjoy reading more about how OICR is moving cancer research forward at home and around the world and welcome your feedback at info@oicr.on.ca.