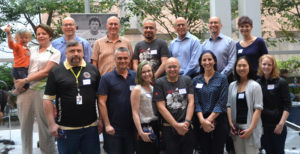 The Great Canadian Hair "Do" in support of the Terry Fox Foundation (TFF) has grown to become a fall tradition at OICR and MaRS and this year's edition was one of the most successful yet. Fourteen brave individuals either shaved their heads or had their hair coloured and styled in wild-looking "Dos". A few of the participants donated their hair to make wigs for cancer patients. Justin Lewis, a survivor of colon cancer, attended and shared his experience with cancer with the audience and spoke about the importance of fundraising and research. Francis D'Souza of CityTV once again acted as MC. This year's team shattered their fundraising goal of $10,000 by hauling in a total of $12,950.
This year's Hair "Do" had a special visitor. Fred Fox, the brother of Terry Fox, was on hand to share Terry's message, thank OICR's researchers and kick-off the MaRS Centre 35-Hour Run. Between September 9 and 16, 35 participants ran or walked for one hour on a treadmill and raised $7,320 for the TFF.
The running and fundraising didn't end there – a team of OICR staff members also participated in the Terry Fox Run in the Beaches on September 20. Through their efforts this team raised $2,070 for the TFF. Together, the participants of the Hair "Do", 35-Hour Run and Terry Fox Run raised an outstanding $22,340 for the TFF.
"I would like to congratulate all of the participants in our events this year and thank those who donated," says Dr. Tom Hudson, President and Scientific Director of OICR. "By supporting the important work of the Terry Fox Foundation they have made a real difference in the fight against cancer."