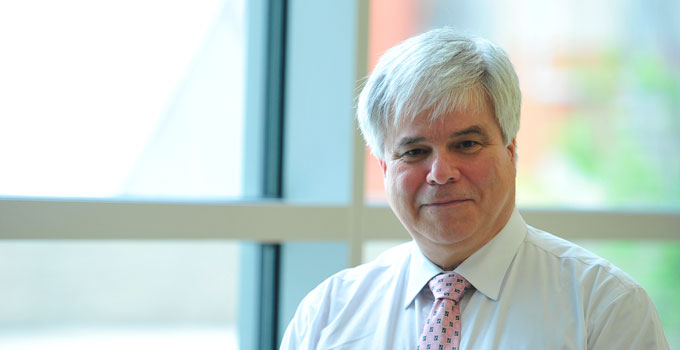 Three cancer researchers were invested into the Order of Canada over the weekend, including Dr. Mark Levine, C.M., who was honoured for his contributions as an oncologist, researcher and clinician and because he has developed several new treatments for cancer patients that are now used as standard of practice in Canada.
Levine is Director of the Ontario Clinical Oncology Group (OCOG), Chair of the Department of Oncology for the Michael G. DeGroote School of Medicine at McMaster University and a medical oncologist at Juravinski Cancer Centre at Hamilton Health Sciences.
Levine was a member of the board of directors for OICR's predecessor organization, the Ontario Cancer Research Network, and on the board of directors of OICR from 2005-2007. He was also a Program Management Committee member for OICR's High Impact Clinical Trials Program, an OICR clinical trial lead and an OICR Principal Investigator.
Levine is currently involved in the PRECISE clinical trial, announced on June 1, 2016 and supported by OICR, Prostate Cancer Canada and the Movember Foundation. The trial uses MRI technology to help better detect prostate cancer and avoid invasive biopsy. Dr. Levine's team at OCOG will be conducting data management and analysis for the trial. (Read more here).
The two other distinguished researchers are Eduardo L. Franco O.C. and Gerald Batist, C.M., both from Montréal. Franco was honoured for his groundbreaking contributions to the prevention of cervical cancer in Canada and around the world, while Batist was honoured for his advances in applying personalized medicine to cancer treatment and for his leadership in creating research networks in his field.
OICR congratulates all three researchers on this honour and for their contributions to cancer research in Canada.